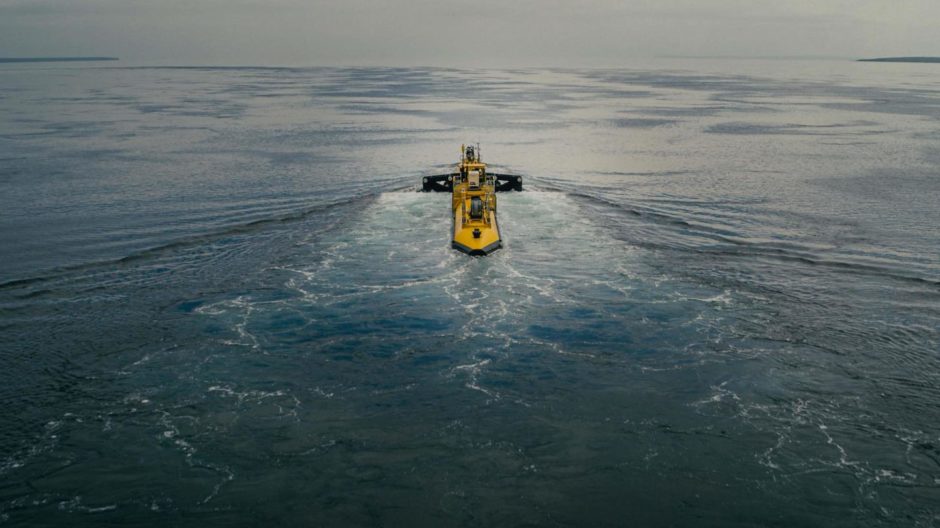 The government has announced it will provide £20 million per year in ringfenced tidal stream project support as part of the upcoming Contract for Difference (CfD) round, following pressure from industry and MPs.
The Department for Business, Energy & Industrial Strategy (BEIS) said it would ensure an additional £20 million per year is ringfenced for tidal stream projects, enabling the marine energy sector to develop technology and lower its costs in the same manner as offshore wind.
The announcement follows calls from tidal project developers for targeted support. Proponents say the majority of technologies against which tidal stream projects are competing have far lower strike prices than the estimated £240/MWh they require at present.
With the support of some MPs, the sector has argued for ring-fenced support for wave and tidal to enable projects to secure investment, scale up and reduce costs.
Indeed, a recent study found that tidal stream power could reach 11.5 GW of installed capacity by 2050 – enough to meet around 11% of the UK's electricity needs – but warned that time is of the essence if the technology is to be commercialised in time.
The upcoming CfD allocation round (AR4) is due to open next month, with the potential to procure up 12GW of electricity capacity.
124 megawatts (MW) of prospective tidal stream capacity is currently eligible to bid for subsidy support. This includes the 80-MW MeyGen 1C, 30-MW Perpetuus Tidal Energy Centre and 14-MW Morlais projects.
The £20m has been welcomed by the industry, though it falls short of the £71m initially requested to ensure all projects can proceed.
Commenting on the announcement, Business and Energy Secretary Kwasi Kwarteng said: "We hope to see marine energy follow in the successful footprints of other renewable technologies, where we've seen costs fall dramatically in recent years thanks to UK government support."
Between the first CfD round in 2015 and the most recent round in 2019, the price per unit (MWh) of offshore wind fell by around 65%, BEIS said.
"The investment today provides a major push for tidal power to become a key part of the next generation of renewable electricity projects needed to strengthen energy security as we work to reduce our dependency on volatile fossil fuels," Mr Kwarteng added.
Energy Minister Greg Hands also welcomed the announcement on Twitter.
Great news, as £20m per year dedicated funding for tidal 🌊 stream power announced today.

Part of our Contracts for Difference scheme, designed to reduce the cost of renewable technology & strengthen the UK's energy sector.

— Greg Hands (@GregHands) November 24, 2021
Renewable UK CEO, Dan McGrail, said: "Ring-fenced funding for tidal stream doesn't just unlock private investment and secure green jobs today – it also puts us in pole position to capitalise on exports to the global market in due course. That's why we've been calling for this dedicated pot of funding for tidal power."
'A no-brainer'
Orkney and Shetland MP Alistair Carmichael, who led much of the political push for support, welcomed news that the government had "reversed course", and praised the case made by sector representatives.
"By making a full-court press in support of tidal stream – demonstrating that this was not just a hypothetical but a fully-developed business case – they converted sceptics across government to our team," Mr Carmichael said.
"Putting fiscal support behind these proven technologies was a no-brainer and I am glad that the government now agrees."
"I could quibble over the exact amount given – and of course there will be a great deal of work to be done to get this support into action – but now it is time to recognise a genuine win for the isles and for the country. This is an enormous opportunity for our economy and our environment – and now we can take it," he added.
UK Marine Energy Council chairwoman, Sue Barr, was equally emphatic as to the significance of the announcement.
"The impact of this support cannot be overstated," she noted. "Here in the UK we have the knowledge, skills, people and projects to lead the world in marine energy, but we have been missing a vital piece of the puzzle to unlock investment and allow the sector to scale-up and deliver."
Scottish Renewables director of policy Morag Watson said the organisation was "very pleased" that the government recognised this was a "pivotal moment" for marine renewables.
"Ringfenced funding to get more projects in the water is essential and we hope to see further success for our Scottish tidal technology leaders as a result," she added.
'U-turn'
However, the funding has been criticised as lacking by the SNP.
The party's Westminster leader Ian Blackford said: "Tidal has the potential to be a major Scottish success story and a key part of Scotland's renewable energy revolution – but it can only properly flourish if the UK government delivers the scale of funding required."
Mr Blackford said the Chancellor must increase the budget to at least £71 million per year "so world-leading Scottish companies aren't restricted in their ambitions."
"This change of heart must also mark the beginning of a series of U-turns for the UK government – and next up must be an urgent U-turn on the decision to cancel investment in Scotland's carbon capture project," he continued, referencing the decision not to award funding to the Scottish Cluster project, including the Acorn CCS scheme.
With the addition of a £20m tidal pot, total funding for the AR4 will reach £285 million per year, BEIS noted.
The government said it would provide full details of all CfD announcements on Thursday 25 November, ahead of the opening of the allocation round on 13 December 2021.
Recommended for you

Simec secures £2.5m loan for MeyGen redeployment