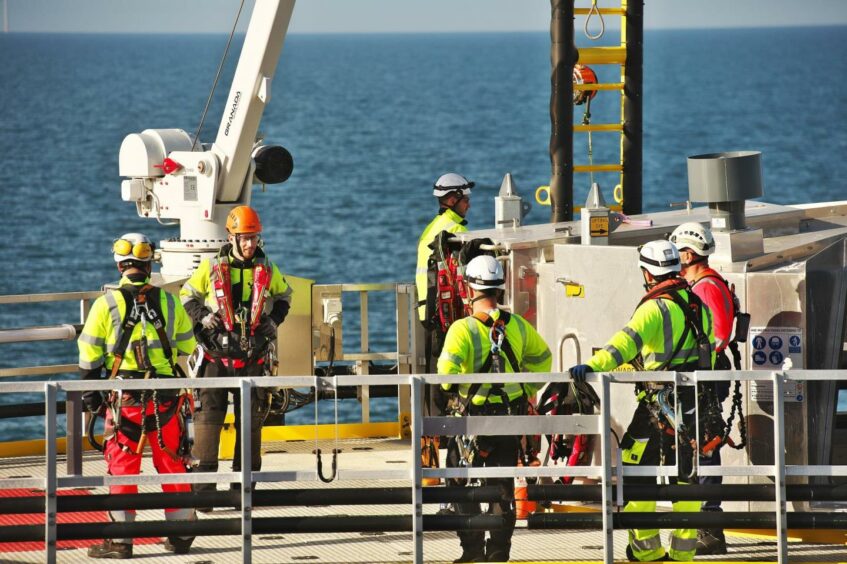 Energy developer RWE has launched a new supply chain portal, aimed at helping Scottish companies maximise opportunities in the renewables industry.
RWE says the searchable database will make it easier for its own contractors and others in the sector to access registered businesses in Scotland, and to make the most of opportunities in the renewables sector.
Scotland-based suppliers have been invited to register their details via the portal as of Wednesday 14 December.
Companies looking to take on new contractors will also be able to search the directory, ensuring greater visibility and uptake.
It will then be available to all companies, whether registered or not, to view from mid-January 2022.
Once a company has registered, their details can be easily edited and updated as required in future, and will be fully listed within the search function.
Sign-up for the directory can be accessed via the company's website.
RWE is developing the largest offshore wind pipeline in the UK, and said it expects to grow its Scottish renewables base as part of a broader commitment to investing £15billion in the UK up to 2030.
Further, a recent RWE-funded report with ORE catapult flagged that the manufacture of low-carbon concrete foundations for new floating wind projects from the upcoming ScotWind leasing round also presents a major opportunity for local ports and businesses.
The Germany-headquartered group announced it would also be participating in the offshore lease round shortly before the deadline closed in July.
It currently has 480 MW of installed renewable energy capacity in Scotland, across onshore wind, offshore wind and hydro sites – its development pipeline is more than 350 MW.
It is also the operator of the country's first offshore wind farm, Robin Rigg, in the Solway Firth, which has been operational since 2010.
The company has spoken of its "vast experience" in fixed offshore wind, and its involvement several floating wind demonstration projects around the world, in making its case for suitability as "a long-term partner for Scotland."
Commenting on the opening of the directory, UK country chairman Tom Glover said: "Scotland is an important market for RWE and therefore a key part of its future investment and growth story. With a strong record of delivery and an extensive pipeline of renewable energy projects in development, RWE is fully committed to helping Scotland achieve its ambitious climate change targets, whilst enabling the nation's supply chain to maximise the benefits and rewards of a robust renewables industry."
It follows similar efforts made by fellow ScotWind bid rivals BP and EnBW, who opened a portal highlighting current and future opportunities for sub-contractors and suppliers and allowing them to engage with the oil and gas giant.
Results of the ScotWind auction are expected in early 2022.
Recommended for you

Proserv picked to monitor cables at Hywind Scotland floating wind farm