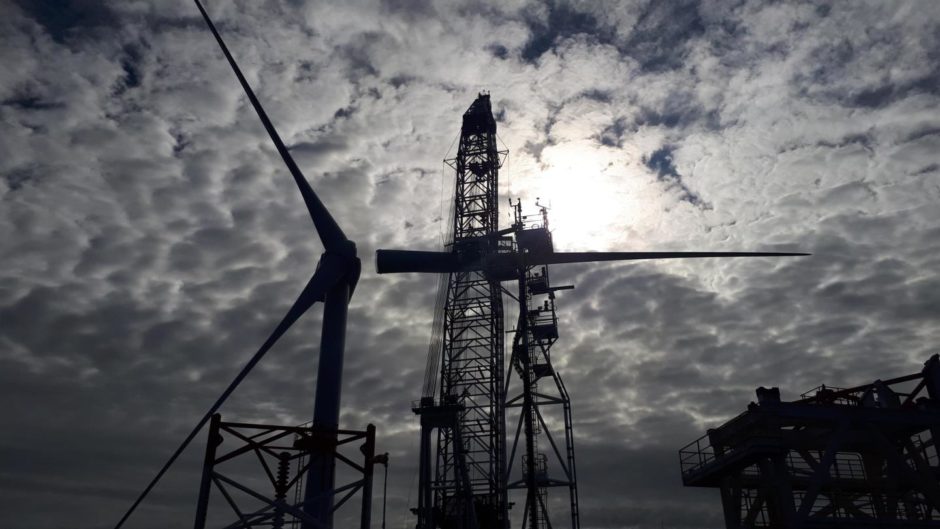 Developers of Scotland's largest offshore wind farm are celebrating after the final turbine at the project was successfully installed.
Ocean Winds, majority stakeholder in the huge Moray East development, confirmed on Wednesday that the last of 100 units has been fitted off the north-east coast.
The Vestas V164-9.5 megawatt (MW) turbines had previously been assembled at Global Energy Group's facility at Nigg in the Highlands.
Moray East began generating green energy when its first few machines came online in June.
Since then, it has been gradually increasing output as more turbines have been installed and then commissioned.
Full commissioning work, which will allow the project to achieve its top output of 950 MW, is expected to be completed before the end of the year.
Situated in the Outer Moray Firth, about 14 miles off Caithness, the development will be capable of supplying enough power for 950,000 homes.
Enrique Alvarez, project director, said: "In the face of unprecedented global conditions we have safely completed the installation of 100 turbines within the challenging timescale of a single season, and I would like to thank and congratulate all those involved in achieving this milestone safely.
"Just a decade ago, commercial-scale offshore wind generation in water depths of 50m and more was a vision.  We have not only turned that into a reality, but are generating power at less than half the cost of earlier windfarms in shallow water, close to shore.
"Now we turn to the task of commissioning the turbines and bringing the windfarm up to its full generating capacity – ultimately enough to meet ca. 40 per cent of Scotland's domestic electricity needs."
Once fully up and running, Moray East will hold the title of Scotland's largest offshore wind farm.
It will be a short reign though, with the 114-turbine Seagreen development, off Angus, on course to trump it when it starts up in 2022/23.
Allan Birk Wisby, Vestas project director, added: "Vestas is proud to have completed delivery and installation of the 100 V164-9.5 MW turbines to the Moray East project, which is a significant step in the right direction of the decarbonisation of Scotland's energy mix.
"Amidst the challenges of Covid-19, the Vestas and Moray East teams have collaborated tremendously well, installing some of the most powerful turbines in the world safely and on schedule. This has been an excellent achievement by all the project partners and all companies involved in installation."
Recommended for you

'Milestone' moment for Moray West wind farm