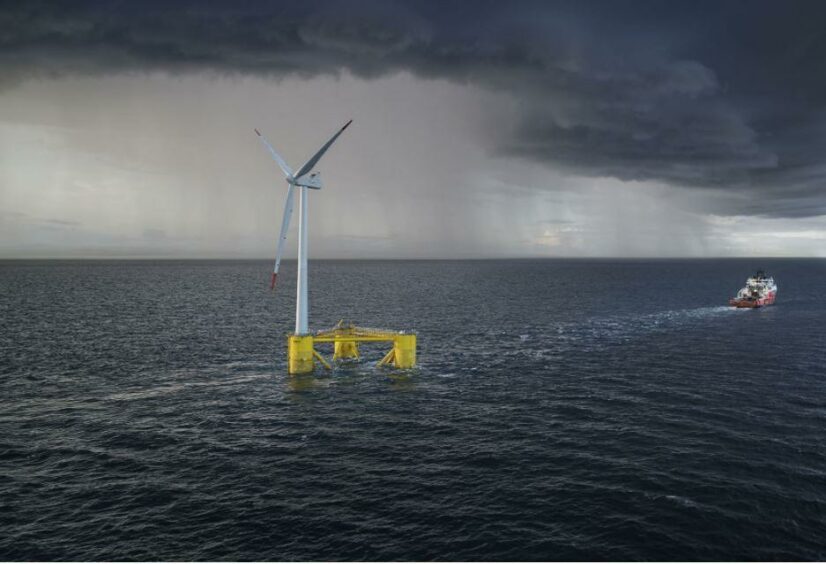 Ørsted will take a majority stake in the Salamander floating wind project off the Aberdeenshire coast, as part of a joint venture set up by Simply Blue Group and Subsea 7.
Ørsted will own an 80% share of the 100-megawatt (MW) scheme as part of a joint venture partnership with Irish developer Simply Blue Group and minority partner Subsea 7.
The proposed project, described as a "stepping-stone" for development of floating wind technology, is designed to provide the Scottish supply chain with early capacity opportunities before the development of larger ScotWind projects kicks off.
By using new technology, the developers say the scheme will help support the cost reduction and learning journey needed for wider commercial deployment of floating offshore wind.
Salamander is intended to be progressed through the Crown Estate Scotland's (CES) forthcoming Innovation and Targeted Oil and Gas (INTOG) leasing round later this year.
CES is expected to open the ScotWind-style auction in June, which would see developers apply for rights to build a mix of projects to help reduce the carbon intensity of oil and gas operations.
The round will be split into two pots – one for smaller scale innovation projects of less than 100 MW and one for larger projects linked to oil and gas infrastructure.
CES said the initial awards, known as exclusivity agreements, are planned in autumn 2022 then option agreements can be signed once a Marine Scotland planning process has concluded in autumn 2023.
While Simply Blue's website describes Salamander as "pre-commercial", it has suggested the project could see up to 200MW capacity established, and the company is "currently exploring routes to market" that include oil and gas decarbonisation as well as hydrogen production.
Previous reports suggest the site could be furnished with 'Dolphyn' technology developed by consultancy ERM, which combines electrolysis, desalination and hydrogen production on a floating wind platform, with the green hydrogen transported to shore via pipeline – a prospect buoyed by its proximity to the St Fergus gas terminal.
It follows other projects led by the Irish developer, including the Erebus floating wind project off the coast of Wales in tandem with TotalEnergies, and the proposed Western Star floating wind and wave project off the west coast of Ireland.
Meanwhile, marine services group Subsea 7 said it would bring a "proven track record" in delivering offshore energy projects alongside expertise and detailed knowledge of the Scottish supply chain.
Ørsted group deputy CEO and chief commercial officer Martin Neubert said he was pleased to join Simply Blue to on a "promising project" which and that "will provide a lot of learnings that we can apply on ScotWind and other floating wind projects as the technology transitions from demo projects to utility scale."
Simply Blue CEO Sam Roch-Perks said the group was "delighted" to have the Danish develop on board and added: "As a leading floating wind developer, Simply Blue Group wants to contribute to the development of the Scottish offshore wind market and its supply chain. Scotland is one of the best locations on the planet for the development of floating wind projects and we look forward to the collaboration with Ørsted on this exciting and important project."