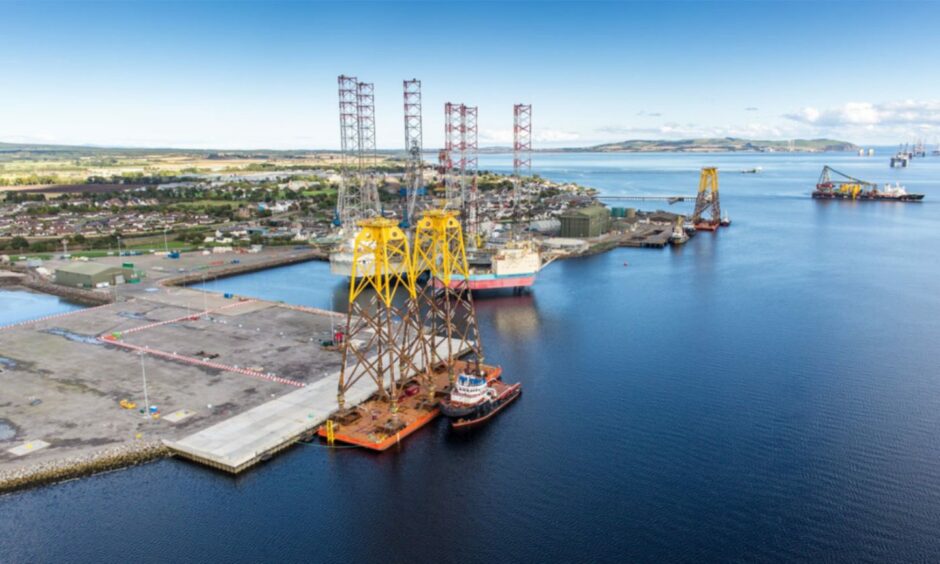 Offshore wind sector suppliers have called on the industry to work together to secure opportunities for the domestic supply chain, and criticised projects for which work has already been sent abroad.
Speaking during a panel session on offshore wind during the All-Energy conference in Glasgow, Port of Cromarty Firth strategic business development manager Joanne Allday said that although the inbound wave of new projects was positive for the supply chain, opportunities would be lost if government and industry did not work together on a sustainable strategy.
She said the port had already been approached by many ScotWind developers, all of whom intended to install projects in 2028 ahead of the UK government's target to reach 40GW of offshore wind by 2030.
"If they all build out at the same time, then actually most of that build out will happen abroad. It can't happen in Scotland," Ms Allday said.
"There are literally only a handful of ports that can accommodate these projects, so I think we need to have a really adult conversation about how Scotland is going to deliver them and how are we going to have a sustainable run of projects for the supply chain."
This has already been seen in projects such as the Kincardine floating wind farm, which she said could have been built at Cromarty but was instead sent to Spain and Rotterdam.
She also drew attention to contracts awarded to Lamprell for a trio of giant floating wind projects which will be fabricated in the group's Hamriyah yard in the UAE – a situation she said "shouldn't be acceptable."
"We should be changing that, we have an opportunity to change that, and the Scottish supply chain should be jumping up and down and saying: 'No, we want this to happen here.'"
Security of supply chain
The need for greater visibility around procurement was echoed by fellow panellist, Siemens Gamesa Renewable Energy head of business development Andrew Elmes, who noted that the supply chain "abhors cycles."
"We want [demand] nice and smooth – not just for developing projects, but also for predictability of investment and of jobs and components," he explained.
He said the sector was struggling to remain profitable at present, largely as a result of having to develop projects and products very quickly.
"We need the infrastructure like the ports and factories – and if we don't get this smoothness and visibility of project developments, it makes us struggle even more, and that of course is now in the context of high inflation and high energy prices."
Mr Elmes said the sector was now at a point where many more developers are looking to draw from the same pool of suppliers and ports clustered in Northwest Europe, prompting the need to invest locally.
"Unless we create our own indigenous supply there isn't going to be any," he warned.
"We've got to develop the supply chain for our own energy security, not just because it's a nice to have."
However, Richard Haydock, BP's project director for UK offshore wind, was optimistic that rising global costs could in fact be a positive driver for building UK capabilities.
"We could be at a point where some of the global dynamics are fundamentally changing the supply chain," he said, noting that the cost of shipping from the Far East to the UK has risen fivefold this year.
"That's eating into what was a historical gap in costs," he added. "I'm optimistic that we'll actually see the opportunity not just to create supply chain in Scotland, but actually to create truly competitive supply chain in Scotland."
He pointed to BP's investment in facilities at the Port of Leith, which was a key component of its joint ScotWind bid with venture partner EnBW.
"I think there is an onus on all of the developers to make sure that they are making investments [in Scottish ports] and making those investments really early.
"Once the infrastructure is there, then you can look at putting in the factories, then you can look at the fabrication and getting these port investments done."
Taking this co-ordinated view would enable a more industry for the long term, Ms Allday reiterated.
"We don't want to build projects out in five years, we want to try and build them out over ten 15, 20 years. That's much more sustainable for jobs. It's much better for businesses and to be honest, it's much better for the industry," she said.
"But we do have to get real about some of that and stop all talking about 2030."
Recommended for you

Oil and gas 'muscle memory' will give Scotland edge in hydrogen, says Matheson