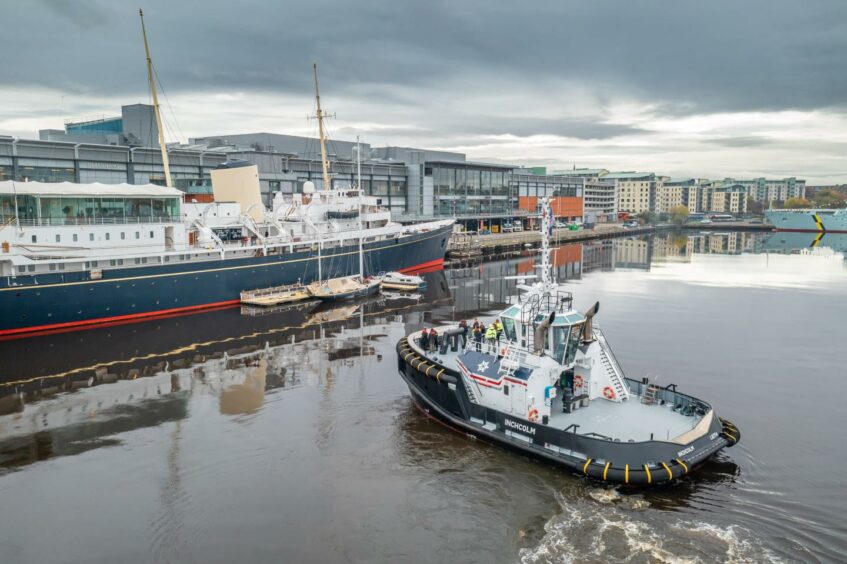 Together with partner BP, the German utility is confident that investment plans for the Port of Leith and Aberdeen make for a compelling bid in the battle for ScotWind acreage.
Forth Ports today fleshed out plans to create Scotland's "largest renewable energy hub" on a 175-acre site at the Port of Leith, Edinburgh.
The £40-million renewable energy hub would see the development of a floating wind-enabled berth with more than 50 acres of laydown space, as well as a further 35 acres of quayside linked space dedicated to building green manufacturing bases and local content.
Forth Ports says development of the site will support up to 1,000 "high-quality, long term jobs", as well as around 2,000 indirect jobs.
The project is closely linked to a joint bid for 2.9 gigawatts (GW) of offshore wind capacity made by partners BP and German utility EnBW (Energie Baden-Württemberg) as part of ScotWind, the first round of offshore wind leasing in Scottish waters for a decade.
BP and EnBW formed their 50-50 joint venture in 2019, bidding more than £900 million to secure a combined 3 gigawatts of offshore wind projects in the Irish Sea.
The partners have provided an unspecified seven-figure initial investment for the Port of Leith as part of their ScotWind bid, with a commitment to more if they are successful.
BP has previously said success in the round would unlock £10 billion of investment spanning electric vehicles, skills and facilities.
Speaking to Energy Voice at the port on Monday 8 November, EnBW board member and head of generation infrastructure, Georg Stamatelopoulos, said the goal at Leith was to create a renewables hub with the capacity and the capability to install offshore wind equipment and to serve offshore wind farms once they are built.
Under the plans, maintenance and logistics campaigns could be launched from the port, as well as the potential for fabrication and other supply chain elements.
Regarding the latter, Mr Stamatelopoulos said a portal launched by the bid partners to help the Scottish supply chain find and bid for work had proved successful.
"I personally was very surprised to see within a few days we had more than 100 companies who were interested – these will be qualified and they will definitely play a role," he confirmed.
"It's developing quite well, the main issues that we need for the industrial applications that we have are already there."
Mr Stamatelopoulos also noted that the bid included provisions for new vessels to both survey and supply offshore sites, with contracts likely focused on shipbuilders in Glasgow: "So it's not only about Leith -Leith is very important, but it's for all of Scotland."
Further north, he said Aberdeen would become a base of operations for all the venture partners' work across the UK.
BP's senior vice president of zero carbon energy, Felipe Arbelaez, explained: "Our intention would be to establish our centre of excellence in the city of Aberdeen and establish our remote operating centre for all offshore wind there as well. Again, this is really to draw a parallel between what we do in oil and gas today but transitioning that to offshore wind."
A successful ScotWind bid would also offer wider integration with sectors such as hydrogen, which Mr Stamatelopoulos called "a big subject for us."
"We don't see in the long term any other possibility to be climate neutral other than producing green hydrogen and I think the ScotWind project offers this opportunity."
The same is true for BP, which was picked last week by Aberdeen City Council (ACC) as the preferred bidder to help build a green hydrogen production hub in the city.
'Fierce competition'
Having secured 3GW in the Irish Sea, and with ScotWind now in play, the partnership could be responsible for a sizable chunk of the 40GW of offshore wind targeted by the UK for installation by 2030.
Mr Arbelaez highlighted EnBW's expertise in wind and its relationship with turbine manufacturers, which in combination with BP's North Sea pedigree made for "a really strong partnership."
Meanwhile, Mr Stamatelopoulos did not rule out further BP-EnBW collaborations, either in the UK or worldwide.
In the meantime, the two will await the results of the bidding process, expected in January 2022 – though results are by no means certain. EnBW expects "fierce competition – which is healthy" Mr Stamatelopoulos said.
"We have done everything possible to [ensure] we have a very good bid both from a technology point of view as well as from binding local entities and businesses," he added.
"Therefore, I'm optimistic – but I don't think it will be an easy ride."
Recommended for you

BP bids to build two offshore wind farms in the Netherlands