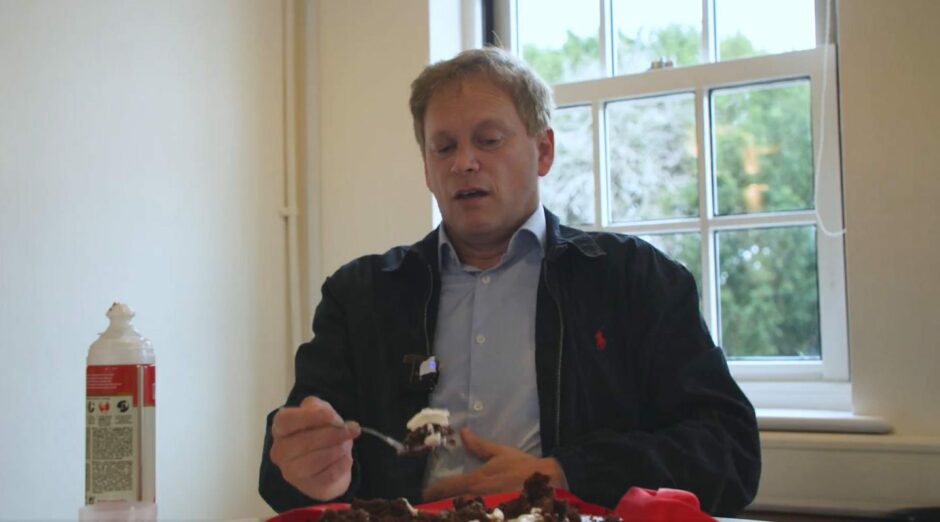 The secretary of state for business, energy and industrial strategy, Grant Shapps, has taken to Twitter, comparing the first flight of the world's largest hydrogen-electric aircraft to the idea of a "zero calories" cake.
This breakthrough in science and engineering was summed up by the UK business secretary while he daydreamed of a confectionary that would have "zero impact" on his "waistline".
The Conservative politician slathered cream on a large chocolate cake while explaining that "there are so many things that we are meant to feel guilty about these days", listing scrolling through Tic Tok, eating junk food and frequent flying.
Shapps then made the tortured link between imaginary baked goods and the net zero flight before describing Britain as the "home of the jet engine."
ZeroAvia, a firm specialising in zero-emission aviation, flew its "guilt-free" aircraft for 10 minutes at the company's research and development facility at Cotswold Airport in Gloucestershire.
Could your flights one day be powered by hydrogen, instead of fossil fuels?

We're closer to guilt-free flying, after government-backed @ZeroAvia's successful test flight yesterday:https://t.co/gtdDTQ1QSL

If only @grantshapps could find a guilt-free cake to match… 🎂 📽️ 👇 pic.twitter.com/I4MjgW7VuO

— Dept for BEIS (@beisgovuk) January 20, 2023
The 19-seat Dornier 228 testbed aircraft has been retrofitted with a full-size prototype hydrogen-electric powertrain on the left wing of the aircraft.
In the set-up for the test flight, hydrogen tanks and fuel cell power generation systems were set up inside the cabin, however, if used for commercial flights this would not be the case.
All of the aircraft's systems performed as predicted and the firm is now on track to having a certifiable configuration finalised and submitted for certification this year.
If successful, ZeroAvia could bring its technology to larger aircraft which will open up commercial routes for the firm by 2025.
'feel guilty when you fly? Good.'
Twitter users did not hold back in their criticism of Mr Shapps and his video, with one commenter writing: "So you feel guilty when you fly? Good."
That Twitter user and others criticised the business secretary, questioning the source of the hydrogen used: "if it's not green (or maybe pink) hydrogen, then it's not low emission."
Another social media user wrote: "No mention of the provenance of the hydrogen then? Derived from fossil fuels then?"
So you feel guilty when you fly? Good.

What about working to reduce emissions from flying? One prototype flight is the start of the beginning. We need significant cuts in emissions THIS YEAR.

Also, if it's not green (or maybe pink) hydrogen, then it's not low emission.

— Dr Kara #NotABystander 💙🍎 (@1pluseipi) January 20, 2023
Others said that they don't feel the "guilt" Shapps described.
"Only in Westminster do they think like this. I don't feel guilty about flying to go on holiday," one person wrote.
Another added: "I never feel guilty when I fly. Those who argue that I should normally do other things that make their criticism totally hypocritical"
Removing the guilt for who?
Mr Shapps says that this technology will take the guilt away from flying, if guilt is something that is felt from flying prime minister Rishi Sunak must have a strong feeling of remorse after taking three domestic flights in 10 days.
The business secretary said: "Imagine flying around the world without the environmental guilt."
It has been reported that Sunka has taken RAF flights to Leeds, Lancashire and his recent trip to Scotland.
Lib Dem deputy leader Daisy Cooper said: "Rishi Sunak has learnt nothing from the past few weeks as he continues to jet about the country on taxpayers' money.
"It is simply ridiculous that he can't get a train like the rest of the British public do.
"Yet again this prime minister is completely out of touch with the rest of society."
The prime minister's official spokesperson said: "The prime minister will use different modes of transport depending on what is the best use of his time to enable him to get around the entire UK."
Despite hydrogen flight taking off, "guilt-free" cake that has zero impact on your waistline is still a pipe dream for Mr Shapps.