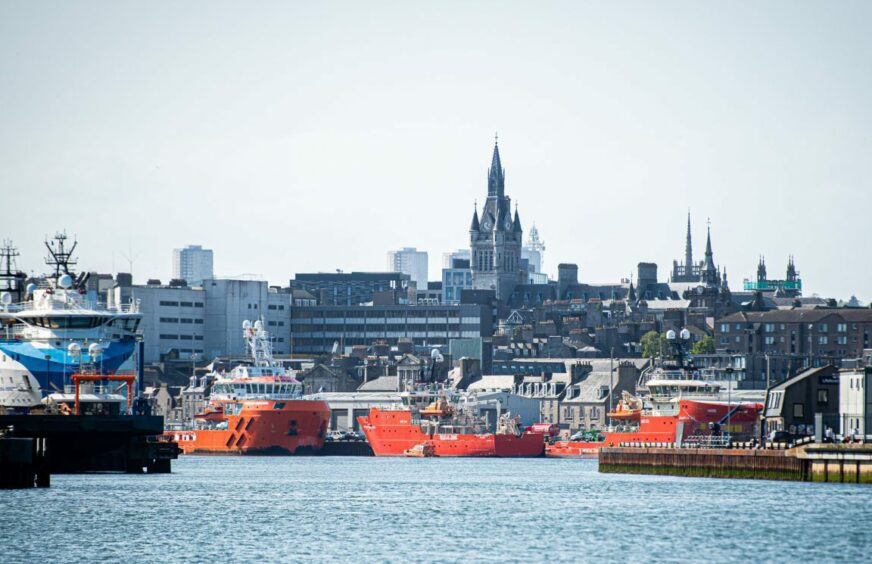 Aberdeen's status as a global energy capital is at risk, a key industry report has warned, as confidence in the UK North Sea is now near a "record low".
The stark warning, from Aberdeen and Grampian Chamber of Commerce (AGCC) and KPMG's "Energy Transition 37" index, names government policy, including taxation, as the biggest factor.
As confidence drops in the UK sector, the two organisations argue work and jobs are being siphoned off to overseas regions with better prospects.
Since April last year, the barometer of confidence in the UK North Sea has dropped from +36 points to -37 points today.
'Lured away' as confidence drops 
The negative outlook score is trumped only by that seen during the 2008 financial crash, years during oil price collapses and the aftermath of covid.
A lack of pace on new energy projects and a "hostile environment" for oil and gas are also blamed, while confidence in overseas work remains high.
AGCC and KPMG said UK operators have confirmed that spending is being diverted away from the UK to overseas, where there are more favourable conditions.
This, in turn, risks supply chain businesses in North-east Scotland "being lured away from working in the North Sea, possibly never to return".
Maggie McGinley, CEO of the ETZ Ltd, said the survey "lays bare the scale of the challenge" for Aberdeen and the north-east as a global energy capital.
"It has demonstrated what many have suspected in recent months – that sector confidence in UKCS (UK Continental Shelf) was on a downward trajectory. In fact, the decline in the past year is to a level only outstripped by the financial crisis of 2008, the oil crisis and the aftermath of Covid.
"With the majority of businesses pointing to the Energy Profits Levy (EPL) as having had the most negative impact on business, there is also a loud message that there continues to be a need for policymakers in both Scottish and UK Governments to provide a clearer vision going forward so that the sector can regain that vital confidence in order to deliver the transition which will benefit everyone."
Windfall tax
North Sea operators are currently taxed at a 75% headline rate, following updated windfall tax legislation in November.
Trade body Offshore Energies UK (OEUK) confirmed in February that 90% of operators have cut spending as a result, despite a 91% investment allowance mechanism returning 91p for every £1 spent on new developments.
Harbour Energy, the UK's largest producer, blamed the policy for its decision to cut 350 jobs, the brunt of which are expected to fall in Aberdeen.
Other warnings have been made around the viability of spending in other low carbon areas like Carbon Capture and Storage (CCS) as money is diverted to taxation in the UK.
The survey seeks a price floor on the tax – a key ask of industry for months – whereby the levy would be removed if oil and gas prices drop to a certain level.
A UK Government spokesperson said: "The Energy Profits Levy helps fund £26bn in cost of living support from excess profits while encouraging investment in order to bolster the UK's energy security.
"We have been clear that we want to encourage reinvestment of the sector's profits to support the economy, jobs, and our energy security, which is why the more investment a firm makes into the UK, the less tax they will pay."
The survey states that almost two-thirds of those surveyed believe none of the UK's political parties are delivering the best policies for delivering both energy transition and security.
That includes the SNP-led Scottish Government, whose draft energy plan includes a presumption against new oil and gas exploration.
Commenting on the findings, Scottish energy minister Gillian Martin said: "Decarbonisation of our energy system is central to Scotland's journey to a net zero economy and it is critical that we take the right decisions now to capitalise on the enormous opportunities this transition offers our economy, our people and our climate.
"We are already taking action to support a just transition for our energy sector – backed by our £500 million Just Transition Fund and £75 million Energy Transition Fund.
"Our draft Energy Strategy and Just Transition Plan consultation, which closed this month, sets out a clear vision of what our net zero transformation could look like, ensuring a fair and just transition for our energy workforce, whilst ensuring security of supply in that process.
"Many aspects of energy policy are reserved and we are clear that in order for decarbonisation, net zero and just transition goals to be reached the UK Government must move more quickly to remove any barriers facing businesses engaged in the energy sector."
Key recommendations:
The survey, now in its 19th year, made four recommendations:
-A windfall tax price floor
-Cross-party support for oil and gas
-Tripartite efforts across industry, government and academia to create a "new positive narrative" for the energy sector
-Further pace to be injected into the energy transition, particularly around licensing and consenting
While an uplift in renewables is expected, major issues exist around grid infrastructure, transmission grid charges, and ports and supply chain.
'Never been more crucial that we get these decisions right'
Russell Borthwick, CEO of the AGCC, said it has "never been more crucial that we get these decisions right".
It comes as respondents said 45% of their operations will be in new energy activities by 2030, with decommissioning, onshore and offshore wind, hydrogen and geothermal the main areas.
"As has been warned for over a year now, we are risk of accelerating the decline of our oil and gas sector at a pace which jeopardises the skills and investment required to deliver the UK's net zero plans," said Mr Borthwick.
"Government and industry share the same green aspirations, but there is a clear disconnect between policy makers and those who will fund and deliver our low carbon future, particularly over the role of oil and gas. This needs to be addressed as a matter of urgency."
Robert Aitken, director at KPMG UK in Aberdeen, said: "The latest survey shows that the north east's energy industry is evolving and is working towards a future where greener activities start to outweigh more carbon intensive ones, but clearly more support is needed from all corners to maintain focus on the long-term objective of net-zero.
"Keeping both plates spinning in unison is critical to delivering energy security and creating the revenues and high-quality jobs that are desperately needed to grow our economy and to maintain the north east's position as a global energy hub."
Recommended for you

Serica Energy balances buoyant results with 'wholly unwelcome' windfall tax