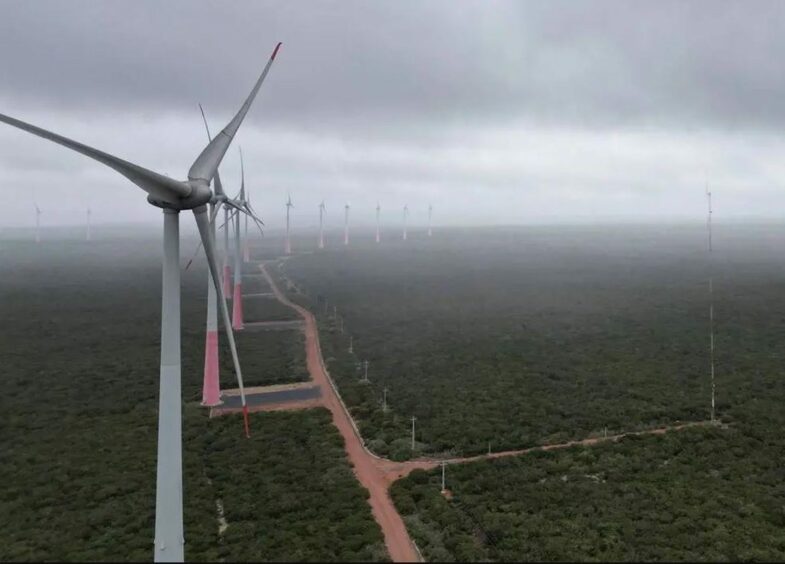 Norway's Equinor has signed an agreement to acquire Brazilian onshore renewables developer Rio Energy, in its latest Latin American expansion.
The deal struck with Rio's present owner Denham Capital includes selected assets and the entire Rio team, though some projects will be retained by the US private equity group.
The value of the deal was not disclosed.
Following the carve-out, Equinor (OSE:EQNR) will hold a 100% stake in Rio Energy – which Denham formed in 2012 – retaining the current management team and a total of about 140 employees.
The acquired portfolio consists of the 200MW Serra da Babilonia 1 onshore wind farm in the north-eastern state of Bahia, a 600MW pre-construction solar PV portfolio and a project pipeline of about 1.2 GW of onshore wind and solar projects.
Denham will hold onto 1.1GW of assets, including three operational onshore wind projects: the 100MW Caetité project; the 200MW Itarema project; and the 200MW Serra da Babilônia 3 project.
It also retains rights to 200MW Caetité Norte onshore wind project currently under construction and around 400MW of onshore wind and solar pipeline projects.
Denham said it would establish a new management team for these projects, and intends to bring them to market in the coming year.
"Through Rio Energy, Equinor will take a leading position in the rapidly growing Brazilian renewables industry. It accelerates production and cash flow, gives us a strong platform for growth, and adds capabilities and an attractive project pipeline," says Pål Eitrheim, Equinor's executive vice president for Renewables.
Rio Energy will be a fully owned Equinor subsidiary, with the acquired project portfolio expected to deliver "at the high end" of Equinor's intended 4-8% real base return rate for renewables projects.
Power output is planned to be managed in the Brazilian power market by Equinor's wholly owned energy trading house Danske Commodities, which recently established a trading office in São Paulo.
It's the latest investment in Brazil for the Norwegian state-backed energy giant, which in addition to its major oil and gas developments, began building a solar portfolio in the country in late 2018 via the acquisition of the 162MW Apodi complex, followed last year by a stake in the 530MW Mendubim scheme.
Another partnership with Petrobras would see the explore development of up to seven wind projects off the Brazilian coast, which could generate up to 14.5 GW.
Efforts are buoyed by the company's growing position in developer Scatec, alongside other strategic investments in firms like Wento in Poland, BeGreen in Denmark, Noriker Power in the UK, and East Point Energy in the US.
"Having Rio Energy onboard will strengthen Equinor's ability to further develop the portfolio and reinforce our position as a broad energy company in Brazil. By building an attractive renewables position in the country, together with a robust oil and gas portfolio, we are supporting Brazil's ambitions towards a diverse energy mix," added Veronica Coelho, country manager for Equinor in Brazil.
Denham sustainable infrastructure managing director Sarah Lane said: "Rio Energy's impressive progress since inception of the investment is a great example of Denham Sustainable Infrastructure's value-add strategy to support industry-leading teams that deliver low-cost, sustainable power generation in high-growth economies.
"The sale of these Rio Energy assets demonstrates Denham's proven equity investment strategy, delivering sustainable growth alongside value creation in the middle market, and has positioned Rio Energy management for their next phase of expansion to deliver sustainable energy in Brazil."
Recommended for you

Equinor strikes sale on Nigerian asset with local buyer