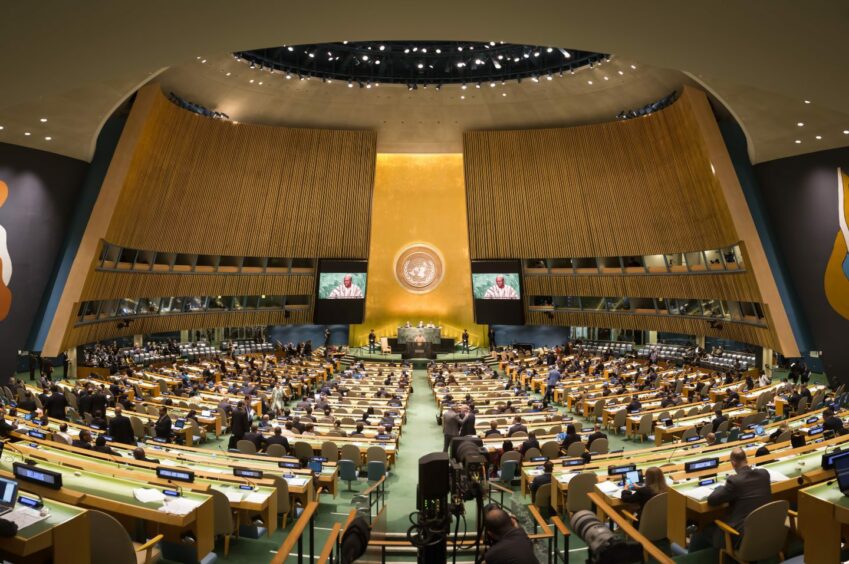 On August 25, the United Nations General Assembly (UNGA) adopted a resolution proclaiming that January 26, 2024 will be dubbed the International Day of Clean Energy.
It will also mark 14 years since the International Renewable Energy Agency (IRENA), soul sister to the International Energy Agency (IEA), was set up.
Whilst the IEA's home is Paris in largely oil and gas deficient France, IRENA's headquarters are located in hydrocarbons-rich Abu Dhabi, United Arab Emirates. And the UAE is a key member of the Organisation of Petroleum Exporting Countries (OPEC).
Therein lies a certain irony including that the originally oil and gas focused IEA is now one of the very best sources of holistic energy transition research, whereas IRENA is renewables focused.
With COP28 in Dubai approaching, this UN decision is more significant than many people – even those in the energy industry – may realise as investment in oil and gas versus non-fossil energy has reached an important tipping point.
Last year, for the first time, global energy transition investment broadly matched that of fossil fuels. This, despite a spending uptick for the latter as many regions focused on boosting energy security amid the latest energy crisis, which has sparked unprecedented market volatilities.
Research house BloombergNEF broke the news in an analysis published in February, stating: "Fossil fuel investment grew by $214billion year-on-year against a backdrop of high commodity prices and paled compared to energy transition spend which was up $261billion.
"Total outlay for fossil fuels stood at $1.1trillion, according to BNEF estimates based on IEA inputs, matching that of energy transition."
So, neck-a -neck!
"The notable acceleration in energy transition spend represents a significant shift in investment towards clean energy, a trend unlikely to be reversed," said the BNEF report.
Almost every sub-sector set new records for investment in 2022, including renewable energy, energy storage, electrified transport, electrified heat, carbon capture and storage (CCS), hydrogen and sustainable materials. But nuclear power stayed flat.
Mining deeper, renewable energy covering wind, solar, biofuels and related, remained the largest sector in investment terms, achieving a new record of $495billion committed; up 17% from 2021.
However, electrified transport – vehicles and associated infrastructure – came close to overtaking renewables, with $466billion spent in 2022, which was 54% up on the prior year.
The story for hydrogen worldwide was apparently less encouraging though projects such as BP's green hydrogen proposal for its Kwinana former oil refinery located in Western Australia have since emerged.
BNEF reported that, last year, hydrogen attracted the least financial commitment at just $1.1billion despite strong interest from the private sector and growing policy support.
However, hydrogen has become the fastest-growing energy sub-sector with investment more than tripling over 2021.
Indeed there have been some hydrogen surprises, notably the UK's ranking in green hydrogen interest.
According to FDI Intelligence, last year the UK was in the global green hydrogen top 10 for foreign investment, ranking fourth behind Egypt, Spain and Australia. The US ranked sixth.
A surprise to us perhaps but, overall, the UK was also the most successful country in attracting foreign direct investment (FDI) in green energy during 2022, claimed another analyst house, FDI Intelligence.
This was based on three main indicators – number of announced foreign direct investment projects, their capital expenditure and estimated jobs creation.
Overall on the green front – and just on its own – Scotland attracted $54.8billion worth of pledged capital following Crown Estates Scotland's ScotWind offshore leasing initiative.
Perhaps the surprise was that the solar sector mobilised 10 projects around the UK, stretching from EDF's Tees green hydrogen and solar project in the English North-east, to German-headquartered BayWa's large solar farm project in Derbyshire.
EY in its latest Renewable Energy Country Attractiveness Index (RECA) takes a less positive view of the UK, ranking it fourth behind the US, Germany and China (mainland).
Since 2003, the biannual RECAI has ranked the world's top 40 markets on the attractiveness of their renewable energy investment and deployment opportunities, so there is a 20-year track record of analysis and reporting.
This year's RECAI reported that the UKs plans to develop a globally recognised certification scheme for green hydrogen production by 2025 and that government will consult with industry on the scheme, which aims to build transparency and confidence in this nascent sector.
And, while the UK's offshore wind sector continues to grow, players in the market's onshore wind cousin are calling for reforms to the planning system. Rules on community consent have severely limited development, particularly in England, "where only two small turbines were installed in 2022".
Buried within the 2023 RECAI is the following statement: "Interdependent legacy market dynamics are no longer seen as sustainable, while domestically produced, low-cost, low-carbon and, in some cases, low-leadtime energy — using local technology — looks more attractive than ever."
This flies in the face of the past 30 years business and industry migration towards fully globalised trade.
The report continues: "Expanding domestic supply chains could also be key to boosting markets' broader economies, helping create jobs, expand various industries and increase gross domestic product, as well as enhance people's welfare."
A year ago, the US implemented its Inflation Reduction Act, which is protectionist legislation designed to drive "the development and commercialisation of new green technologies" through three key areas: accelerating the energy transition (including improving market competitiveness, efficiency and innovation); boosting domestic manufacturing; and increasing the number of US jobs.
Other countries are considering similar steps but not yet the stubbornly laissez faire (free-market) UK, it seems.
Meanwhile, with oil and gas and low carbon energy investment now running neck-a-neck, surely completing the current energy transition will be pushover … slam dunk?
Not so, according to the doyen of all energy analysts and authors in a commentary published by the International Monetary Fund at the height of last winter's energy price madness fuelled by Russia's war with Ukraine.
Pulitzer Prize winner Daniel Yergin and founder of Cambridge Energy Research Associates in 1983 said global energy markets disruptions tripped by the Covid Pandemic coupled Russia's aggression had added impetus to the push for renewable energy and the drive toward net-zero carbon emissions.
Aside from the uncertain pace of technological development and deployment, four other issues had come to the fore, said Yergin.
Namely:
·      The return of energy security as a prime requirement for countries;
·      Lack of consensus on how fast the transition should and can take place, in part because of its potential economic disruptions.
·      A sharpening divide between advanced and developing countries on priorities in the transition. and who is responsible for cumulative and new emissions and who pays.
·      Obstacles to expanding mining and building supply chains for the minerals needed for the net-zero objective. This is already becoming pivotal with especial concern mounting over China's virtual monopoly over critical minerals supply.
"The energy shock, the economic hardship that ensued, skyrocketing energy prices that could not have been imagined 18 months ago," wrote Yergin.
He also warned that the cries had led to a "pre-emptive underinvestment" in oil and gas reserves.
"There are a number of reasons for this underinvestment—government policies and regulations; environmental, social, and governance (ESG) considerations by investors; poor returns caused by two price collapses in seven years; and uncertainty about future demand," said Yergin.
"The shortfall in investment was "pre-emptive" because of what was mistakenly assumed—that sufficient alternatives to oil and gas would already be in place at scale by now.
"Some have described what is currently unfolding as the 'first energy crisis of the energy transition'—a mismatch between supply and demand.
"If it does prove to be only the first, future such crises will create uncertainty, cause major economic problems, and undermine public support for the energy transition."
This seems at odds with the BloombergNEF numbers, which clearly suggest that the point of no return has been reached despite the trials and tribulations of at least the last 25 years.
Notwithstanding, there appears to be a consensus building that the energy transition is indeed unstoppable but there are those who will criticise, which is precisely what happed at the UN General Assembly on August 25 regarding International Clean Energy Day.
The resolution summary records: "The representative (name not given) of France, speaking on behalf of the European Union, voiced regret, however, that the resolution does not adequately reflect the indisputable link between energy and climate, and that it contains reference to 'cleaner fossil fuel energies'."
It is a criticism that will surely be quickly forgotten.
Recommended for you

TotalEnergies to invest $300 million in Adani green projects