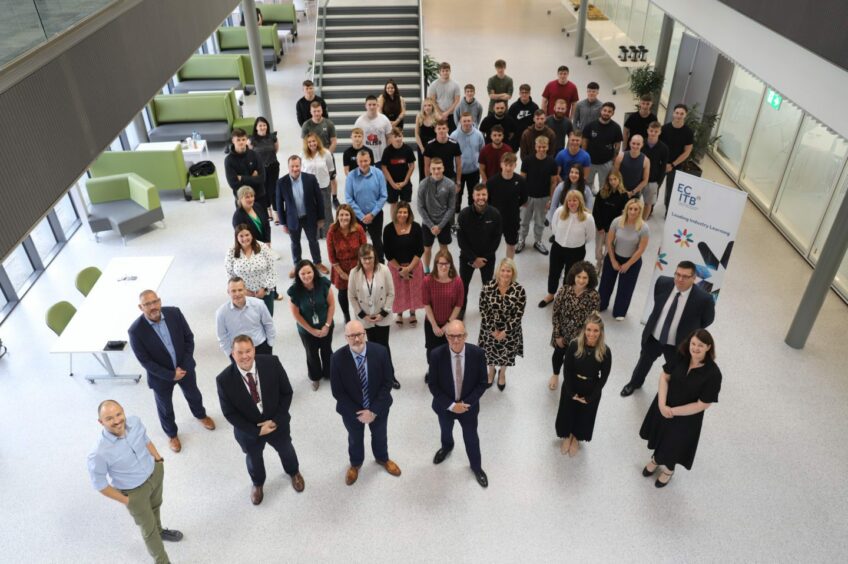 ECITB chief executive Andrew Hockey says the group's new three-year funding will go some way help address the 25,000 new skilled workers needed to support UK engineering projects.
The Engineering Construction Industry Training Board (ECITB) was granted government backing for its proposals for 2023-25, with around £70 million now earmarked to train and upskill the engineering workforce.
Distinct from the Construction Industry Training Board, the organisation is focused on nurturing skills across engineering sectors, spanning oil and gas, renewables, nuclear, power and water sectors, among others, with activities funded via a levy on engineering construction businesses.
ECITB said it had received "overwhelming" backing for the plan from industry, as it looks to develop skills to support key sectors such as carbon capture and storage, hydrogen and offshore wind.
Now four months into his new role, chief executive Mr Hockey is grasping the nettle posed by the challenge of future-proofing a transition workforce.
"We've got challenging market conditions, we've got global competition for positions and we've got a growing skill shortage – and that's what I really enjoy about the role is we can focus on that and see what we can do about it."
The ECITB forecasts 25,000 additional workers are needed for major projects, including those related to net zero, by 2026 – a tall order in itself, but also one which will place energy employers in direct competition for labour from £650bn of other infrastructure projects in the wider UK economy
"Our part is to focus on delivering the skilled workforce that we're going to need," he said.
"For me, coming in from the oil and gas industry, it's a really exciting opportunity to get involved in delivering what the country's going to need from an infrastructure point of view."
£500,000 for oil and gas sector
Mr Hockey spoke to Energy Voice following a visit to Forth Valley College, where he met the newest cohort of the Oil and Gas Technical Apprentice Programme (OGTAP) during an induction day.
Managed by ECITB and oil skills body OPITO, the scheme sees apprentices working at college and at worksites with a sponsoring company, where they receive on-the-job training, as well as a final qualification.
OGTAP tends to focus on early-career applicants, though he says there are wider efforts in place across industry to help with future-proofing skills.
"We've got half a million pounds going into net zero-specific skills," he adds. "It's an exciting time.
"You've got Acorn and the Scottish Cluster now with government funding behind it, so we're looking very much to work up in Aberdeen in the northeast and we've got a number of programmes going on there."
Another programme – Connected Competence – will also be out later this year. This is a cross-industry programme which aims to recognise and certify the generic skills that will assure employers that workers are trained and safe at work, but enables workers to more easily transfer between various related roles.
"It's going to be a key component of the Energy Skills Passport which sits alongside a just transition in Scotland, which I'm very pleased to see," he added.
Mr Hockey says the scheme has already been successfully piloted with 14 North Sea operators who have now signed up to a client charter, which will also see contractors using the system include it in their bids for procurement.
Despite long-running calls from policymakers and unions, the issue of a skills passport for the offshore sector has now stretched on for several years, amid disagreement between certification bodies.
OPITO CEO John McDonald vowed that his group will deliver the passport later this year, though a firm date is yet to be announced.
Mr Hockey agreed with the assessment that progress had been slow, but said he was "very pleased to see that the dialogue is restarting," though he could not comment on timings.
For other parts of the energy workforce, he pointed to a bank of around 50 energy transition-related courses people can access to covering emerging areas such as hydrogen, emissions, sustainability and environmental auditing, to name a few.
"So we offer an opportunity for existing workers to upskill and for new entrants to learn new skills," he continued. "We're going to have about 900 learners benefiting from that net zero programme by the end of the year."
Other headline schemes include "around £200,000" worth of funding for scholarships in areas such as wind turbine technician training and a collaboration with the University of Strathclyde to launch the UK's first university MSc course targeting offshore energy transition.
'Net zero wont build itself'
In the meantime, the energy workforce has seen more than its fair share of industrial action this year.
Mr Hockey said he hadn't seen any fears from members over the impact of strikes on skills retention and new workers, but added: "I think the way for us to do it is to continue doing what we're doing and making sure that the workforce is as well skilled and trained as it can possibly be, so that at least the options are there for them to continue in their job safe in the knowledge that their skillsets are going to be transferable into other industries in time.
"That may reduce some of the uncertainty which may reduce some of the angst that you see around the industrial issues going on in the offshore sector at the moment."
He also remained confident that despite the aforementioned headwinds – including issues around inflation and supply chain margins, he had not seen many concerns from members.
"The concern, if anything, that we're seeing is that the people and the skills just aren't going to be there.
"So we're going to widen [work experience and placement programmes] out across the country.
The potential is enormous; a recent report from Robert Gordon University found that the UK offshore energy workforce could increase by up to 50% from over 150,000 today to 225,000 by 2030 if investment in oil, gas and renewables is forthcoming.
But access to skills and talent must form the bedrock for that growth.
Conversely, failure to invest would put up to 95,000 roles at risk.
For now, Mr Hockey says he is focused on delivering the current strategy to 2025, and perhaps some further work on expanding the ECITB's offering internationally – another area where he hopes the UK can lead.
It's clear that he sees no time to waste.
"I often say net zero wont won't build itself. It's engineers, technicians – they're going to build it.
"And so we've got on with it."