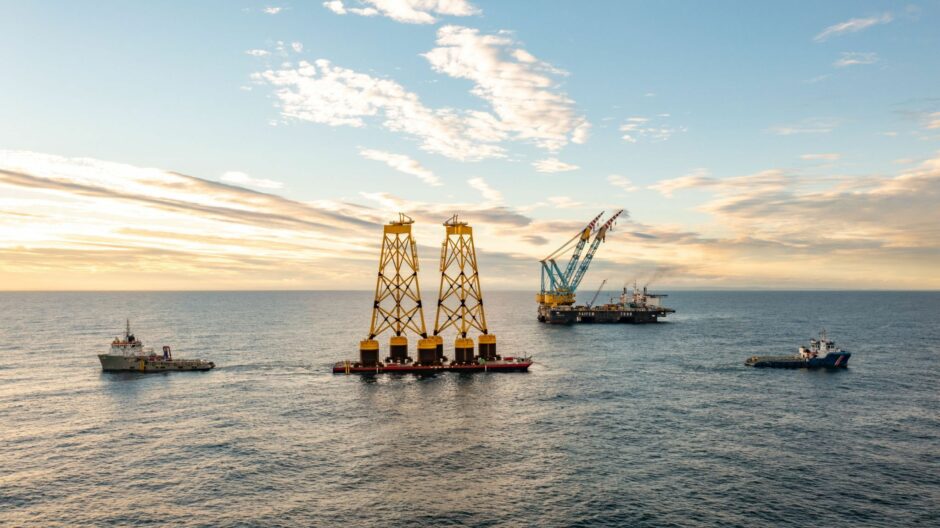 Offshore wind installer Seaway7 has secured a £370 million loan to expand its UK business, with 100 new Aberdeenshire jobs promised by the end of the decade.
UK Export Finance (UKEF) has provided a loan guarantee so the offshore firm – part of the Subsea 7 (OSLO: SUBC) group – can access a £370 million funding package from HSBC.
Issued as part of UKEF's 'Export Development Guarantee' facility, the funding will enable Seaway7 to develop its UK sites and fund its current fleet – plans which include the creation of over 100 new jobs in Aberdeen's offshore wind industry by 2030.
The group operates a fleet of offshore vessels equipped to tackle cable lay, heavy lift, transportation and wind turbine installation.
Seaway7's base in Westhill, Aberdeenshire, manages all building, use and maintenance of vessels belonging to the company, and has secured work on a string of major offshore wind developments in recent years.
That includes installation at the Seagreen scheme off Angus, which was completed last month, as well as a recent logistics and installation award worth between $500m–$750m for ScottishPower Renewables' East Anglia Three wind farm off the east Suffolk coast.
Further afield, it has also undertaken work in Taiwan, the US and continental Europe
The latest UKEF guarantee covers 80% of the total loan, which has been coordinated by HSBC and with Citibank, Credit Agricole Corporate and Investment Bank, DNB, HSBC and ING as lead arrangers.
UKEF said its backing will aid the firm in winning and servicing engineering, procurement construction and installation (EPCI) contracts for fixed offshore wind projects, which will in turn generate UK export revenue.
Lord Offord, Minister for Exports, said: "This is a great development for Scotland's renewable energy industry, set to create over 100 jobs in Aberdeen and consolidate its place as a global leader in offshore wind expertise.
"Through UK Export Finance, this government is unlocking new opportunities for sustainable trade and investment – and securing the long-term prosperity of the United Kingdom."
HSBC global co-head of export finance Philip Lewis added: "We are thrilled to have supported Seaway7 by coordinating this important transaction, which will further enable the company to provide invaluable support to the offshore wind industry and help meet the rising demand for renewable energy".
UKEF has so far issued a total £3.3bn in support for UK exports under the EDG during the financial year 2022-23.
Recommended for you

Korea's SeAH gets £367m financing for major UK wind factory