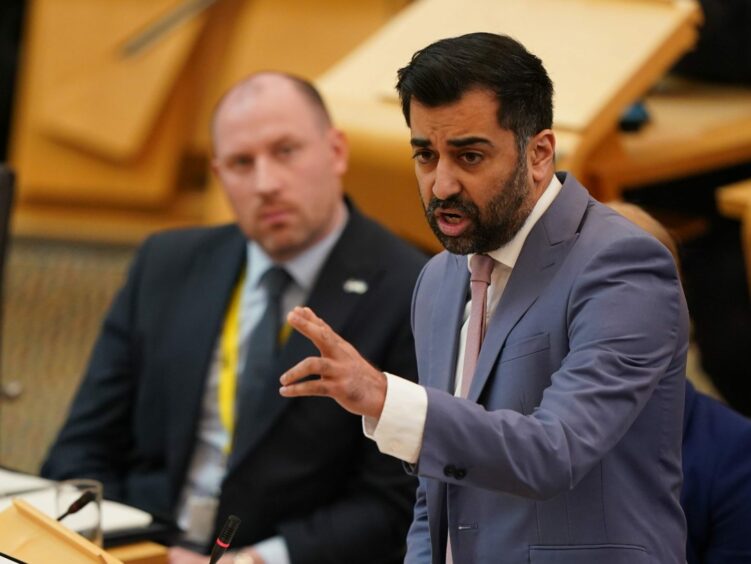 First Minister Humza Yousaf says he will not refer himself to a parliamentary watchdog over allegations he misled MSPs regarding Scotland's renewable energy capacity.
It follows claims lodged earlier this year that civil servants retrospectively created statistics to justify an incorrect statement Mr Yousaf made about Scotland's renewable energy production.
During First Minister's Questions in June, Mr Yousaf said that Scotland had "the majority of the renewables and natural resources" in the UK. The total was in fact 26%, according to Scottish government figures.
Having been challenged on the matter by the Scottish Conservatives' Liam Kerr, Mr Yousaf wrote in a letter in August that he had intended to say "per capita" in his original answer.
Yet Scottish government emails released under freedom of information to pro-Union organisation These Islands showed officials established on 22 June that Scotland had 26% of UK renewable capacity and 26% of generation in 2022.
References to a "per capita" figure did not appear in released email chains until early July, and much of this was redacted, it says.
This figure put Scotland at 651.6GWh of renewable energy produced per 100,000 people, compared to 649.7GWh for the rest of the UK.
Scottish Liberal Democrat leader Alex Cole-Hamilton said the emails suggested these figures had been "reverse engineered" to "save embarrassment".
However, in a written response to Mr Cole-Hamilton, the First Minister dismissed the suggestion, adding that the matter was now "closed".
"As such, there is no evidence to support the claim that I may have misled parliament and consequently been in breach of the Scottish ministerial code," he wrote.
"I believe that matters should only be referred to my independent advisers when there are sufficient grounds for a meaningful investigation, when their conclusions could usefully inform my deliberations.
"I do not think that asking them to review your complaint would be a good use of their time, nor do I believe it would reveal any meaningful new insights."
The letter follows a significant downgrading of Scotland's estimated share of European wind resources by Scottish ministers.
Ministers revised a long-cited claim that Scotland has 25% of Europe's offshore energy resources, saying more recent analysis showed the figure was closer to 10%.
Scottish Green MSP and circular economy minister Lorna Slater insisted ministers "understood the statistic was accurate at the time they cited it".
Recommended for you

Nova wins €20m funding for world's largest tidal site in Orkney