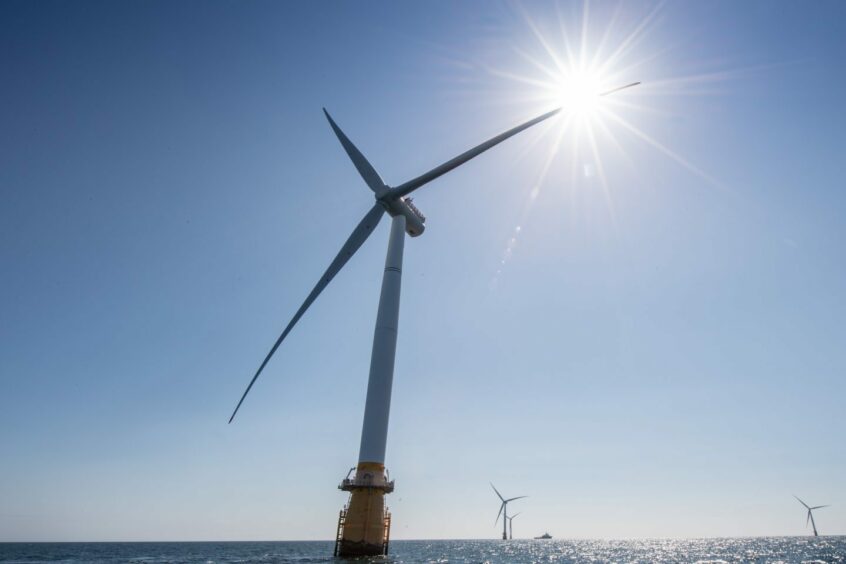 The Scottish Government has significantly downgraded its assessment of the projected share of Scotland's offshore energy capacity within Europe.
In a recent letter to a Holyrood committee, ministers revised the long-cited claim that Scotland has 25% of Europe's offshore energy resources, saying more recent analysis showed the figure was closer to 10%.
The revelation has led to accusations of a lack of transparency from the Scottish Conservatives.
Offshore energy claims inaccurate
Questions about the figure, which has been used repeatedly in campaign material by the ruling SNP, were first raised in November last year.
During questioning in Holyrood at the time, Scottish Green MSP and circular economy minister Lorna Slater insisted ministers "understood the statistic was accurate at the time they cited it".
"Now that it has come to our attention that it is not, we are working to update statistics on how our offshore wind potential compares to other countries," Ms Slater said.
"This does not change the fact that Scotland already has an important offshore wind sector, and we have huge potential to grow this and become a global leader, with over 40 gigawatts of potential offshore wind developments already in the pipeline."
At the time, Scottish Liberal Democrat leader Alex Cole-Hamilton criticised ministers for relying on what he called a "completely fictitious statistic".
Freedom of information requests made by the pro-union campaign group These Islands had revealed the 25% figure was based on a mixture of reports dating as far back as 1993.
Ministers conceded the previously used figure was inaccurate and provided the updated calculation in a letter to the Net Zero, Energy and Transport Committee last month.
The letter said Scotland had the potential to generate 11GW in offshore wind, which represented approximately 10% of the European Union's ambition for 111GW of offshore renewables by 2030.
Scotland's capacity would represent 22% of the UK target of achieving 50GW of offshore wind by 2030.
'Contempt for transparency'
Responding to the downgrade, Scottish Conservative MSP for North East Scotland Liam Kerr told Energy Voice ministers had been "caught out yet again playing fast and loose with Scotland's offshore energy potential".
"Ministers must be open and honest about giving accurate figures – secrecy and cover-up does the renewables sector no favours," Mr Kerr said.
"This is yet another example of a government that thinks it can get away with anything.
"It has shown time and again a contempt for transparency and accountability, and this sorry saga sums that up perfectly."
Speaking to the BBC, Scottish Liberal Democrat MSP Liam McArthur accused Scottish ministers of "cooking the books" by referencing the statistic.
"It does the renewables sector no favours because misleading and misrepresentation undermine the industry's endeavour," Mr McArthur said.
Energy Voice contacted representatives of the SNP for comment.
Recommended for you

Yousaf rejects watchdog enquiry over renewables stat