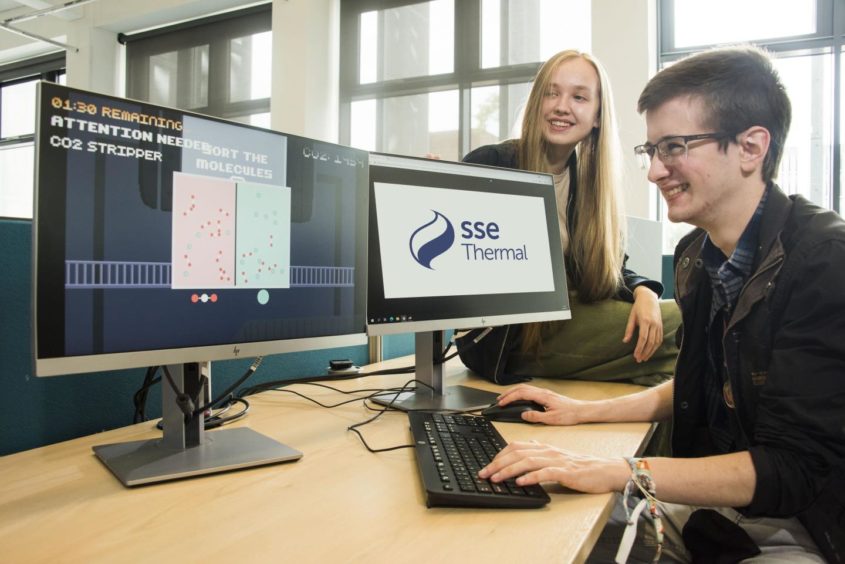 A group of Scottish university students have created an innovative video game inspired by carbon capture and storage (CCS).
SSE Thermal and Abertay University, Dundee, have joined forces to challenge a group of designers to come up with an educational game focussed on the carbon abatement technology.
A 'game jam' was held last month, with several teams submitting ideas for an interactive game.
The winning entry was selected by a judging panel that featured figures from leading Scottish design studios Junkfish and Biome Collective.
Now, the victorious team – made up of game design and production students Cameryn Tuliao, Harry Petch, Jamie Williams and computer games application development student Jordan Han – will have four weeks to turn their concept into a fully playable reality.
The project is being financed by SSE Thermal, with the final game due to be launched ahead of the landmark COP26 climate conference in Glasgow in November.
The four students all originally met via the BAFTA Young Game Designer competition and decided to collaborate in the carbon capture game jam.
SSE Thermal, a division of SSE, is focused on using CCS to decarbonise its power stations, including at its Peterhead site in Aberdeenshire.
By axing emissions from existing sources it means a baseload of energy can be maintained and called upon when renewables sources aren't producing.
Following the culmination of COP26, the game will be used by SSE Thermal to engage and educate a wide range of audiences including schools.
Stephen Wheeler, managing director of SSE Thermal, said: "Scotland is a world leader in both energy and video games, and this partnership brings both together in a creative way ahead of the COP26 conference in Glasgow.
"We know that young people are fully engaged when it comes to net zero and decarbonisation, so we're excited to see the unique take the winning team will bring to the subject of carbon capture and storage, a cutting-edge technology which we are working to implement at our sites in both Peterhead in Aberdeenshire and Keadby in North Lincolnshire. We're excited to see the finished product from the team at Abertay, and to launching the game later this year."
Harry Petch, a member of the winning team, said: "With so many talented teams entering the game jam, we're thrilled to be chosen to represent Abertay for this special opportunity. We're really looking forward to working with SSE Thermal to develop a fun and educational game, which will bring carbon capture technology to life for people of all ages.
"With COP26 coming up in Glasgow, we know how important it is that society takes rapid action on climate change and this is an exciting chance for us to play our part in delivering that important message."
Despite being in its early stages, industry and governments have put a lot of stock in CCS.
The process, which was once used as a means to increase oil and gas yields, involves capturing emissions and then storing them safely in depleted gas reservoirs.
Scotland is already home to one of the world's most advanced CCS projects, Acorn, which is based at the St Fergus gas plant in Aberdeenshire.
The initiative is planning to use North Sea oil and gas infrastructure to store emissions and is budding to be one of the UK's initial clusters.
Professor Nigel Seaton, Principal of Abertay University, said: "It is important that all Scottish organisations engage with COP26 and we are delighted to be partnering with SSE Thermal on a project that will help to educate and engage the public, while also providing an excellent real-world and client-driven experience for our students. Applied games solutions like this are a great way of getting complex messages across to new audiences and I'm sure our winning team will deliver on the challenge they have been set."
Emelie Edholm, Associate Producer at Junkfish and a graduate of Abertay University, said: "It is inspiring, and encouraging, to see the creativity that all the teams have shown in the game jam. This is a great opportunity for the Abertay students to make a contribution to expanding the knowledge of this important environmental topic. We at Junkfish are proud to be a small part of seeing Scotland transition to a net zero future."