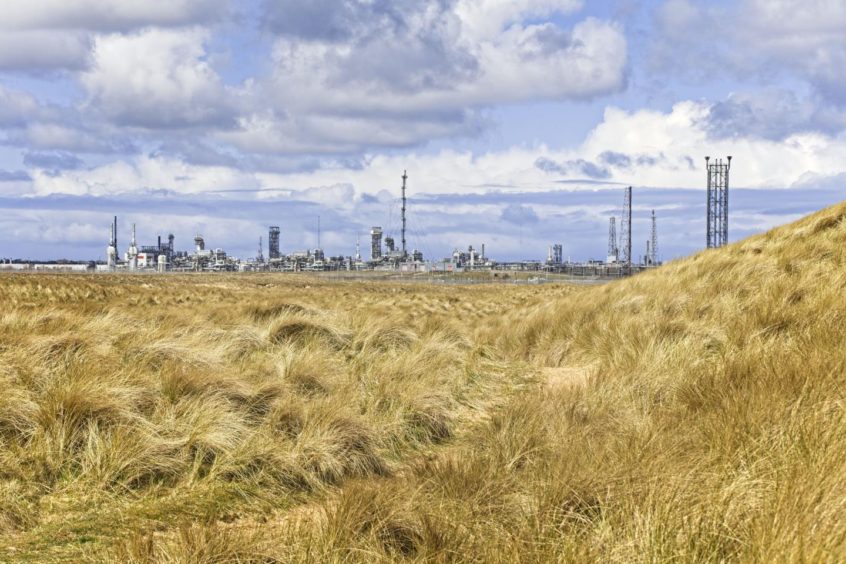 Some of the energy industry's biggest names are calling on the UK Government to make Scotland part of its initial carbon capture and storage (CCS) plans.
In a letter addressed to Prime Minister Boris Johnson, representatives from Oil and Gas UK, ETZ Ltd and the Net Zero Technology Centre (NZTC), among other, urged Westminster to add the Scottish Cluster to its 'Track 1' programme.
The signatories say the decision to omit the bid, which has Aberdeenshire's Acorn CCS project at its heart, makes "no economic or environmental sense" and is a "real blow" to Scotland.
They also hail the Scottish Cluster as a "stand-out project", before listing "several of the key advantages" that it offers.
North-east business leaders, politicians and industry representatives were left dumfounded recently when Westminster chose not to include the scheme in the first round of a £1 billion CCS competition.
Instead it opted for the HyNet and East Coast Cluster projects, based in the north-west and north-east of England respectively.
The Scottish Cluster was picked as a reserve option.
Calls were quickly made for Government to reverse its decision to include the project, with many citing the scrapping of an earlier CCS competition, which Peterhead Power Station was a front-runner in.
Sir Ian Wood, former oil and gas magnate and chairman of ETZ Ltd, said: "We remain very disappointed at the decision of the UK Government not to approve the Scottish Cluster as part of the CCS track 1 programme. The letter today highlights a range of crucial areas that we believe were not considered as part of the evaluation process when the cluster 'competition' was launched but are now in scope. The prioritisation of shipping, proximity of the Scottish cluster to hydrogen generation and the huge capability of Direct Air Capture all significantly enhance the Acorn bid.
"We urge the UK Government to consider these issues carefully and add a third bid, the Scottish Cluster, to its Track 1 programme. Such a decision would be warmly welcomed by the Scottish business community and provide much needed acceleration to the UK's Carbon capture programme and meeting net zero targets.
"The two successful bids are of high quality and will contribute significantly to this aim but to be serious about urgent decarbonisation, we must go faster and further. A third active cluster in the UK will contribute significantly to economic growth, net zero, job creation and export of products, services and expertise to other evolving industrial clusters around the world."
The letter, which is also addressed to Kwasi Kwarteng, secretary of state for Business, Energy and Industrial Strategy (BEIS), and Greg Hands, energy minister, is signed by :
Sir Ian Wood, chairman, ETZ Ltd
Tracy Black, CBI Scotland director
Sara Thiam, chief executive, SCDI Scottish Council for Development and Industry
Martin Gilbert, chairman, NZTC
Louise Macdonald, national director, IoD Scotland
Liz Cameron, CEO, Scottish Chambers of Commerce
Colette Cohen, CEO, NZTC
Jennifer Craw, CEO, Opportunity North East
Russell Borthwick, CEO, Aberdeen & Grampian Chamber of Commerce
Maggie McGinlay, CEO, ETZ Ltd
Deirdre Michie, CEO, OGUK
Acorn
Based at the St Fergus gas terminal near Peterhead, Acorn is the backbone of the Scottish Cluster.
Developers Shell, Harbour Energy and Storegga are proposing to repurpose oil and gas infrastructure to store emissions in North Sea reservoirs.
Work is also ongoing to assess the possibility for producing blue hydrogen at the site.
Several of Scotland's largest emitters, including Ineos Grangemouth and the Peterhead Power Station, have already signed up to use Acorn.
It's also hoped the carbon import market could leverage the expertise at Peterhead port, giving a new lease of life to the fishing town.
Recommended for you

Sunak confirms support for 'hundreds' of new North Sea licences