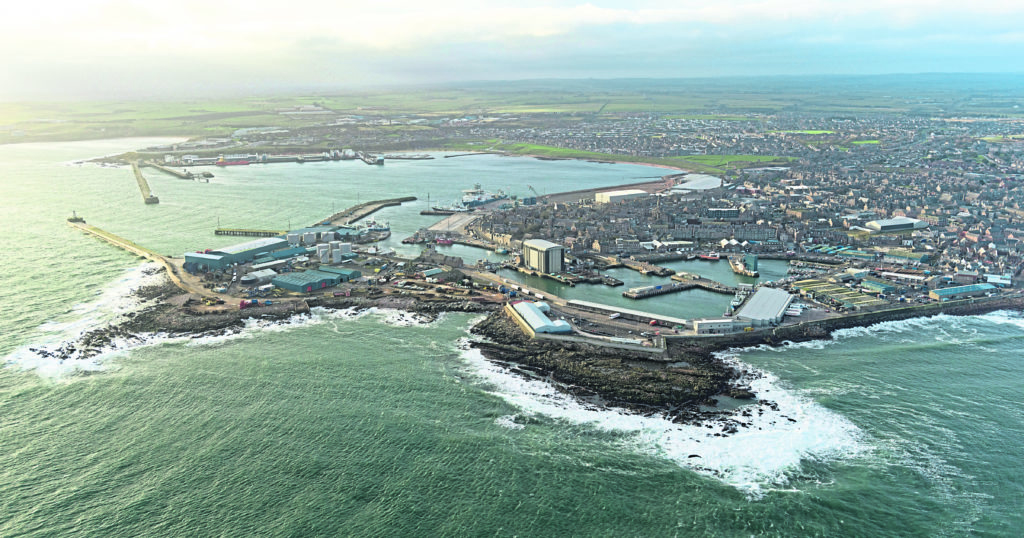 Peterhead's future as a crucial hub for the transportation of low carbon fuel and emissions was discussed by ministers in Westminster this week.
During a debate on 'Decarbonising the UK: Role of Shipping Emissions', Alexander Stafford, Conservative MP for Rother Valley, said the Aberdeenshire town can play a "strategically important" role in the energy transition.
Due to its infrastructure, much of which is tied up in oil and gas, as well as its capacity for future development, Peterhead could be a frontrunner in "handling CO2 for eventual storage" and "hydrogen for eventual export".
In order to unlock the opportunities presented by the evolving sectors, Mr Stafford said it is "likely" that a second berth will be needed at the town's port "within a few years".
That will require "further investment" of up to £30 million, Mr Stafford predicted.
Decarbonisation in the north-east
Much of Scotland's decarbonisation ambitions currently centre on Peterhead.
The fishing town is at the doorstep to the North Sea oil and gas industry and has a sheltered deep-water port with about two miles of mooring.
Meanwhile, the Acorn carbon capture and storage (CCS) project is based just a few miles north at the St Fergus gas terminal.
And SSE and Equinor are currently exploring decarbonising the Peterhead power station, a move that would create hundreds of jobs.
Mr Stafford said: "Supported by associated infrastructure, pipe routes and with nearby land suitable for development, Peterhead port can play a strategically important role in the emerging energy transition, especially in handling CO2 for eventual storage and hydrogen for eventual export.
"That is important. We want to export the hydrogen. We do not just want to make it for the UK; we want to be a world leader and export the technology and the resource abroad."
Scottish Cluster
He also praised the Scottish Cluster initiative, describing it as a "superb example" of efforts to repurpose infrastructure for use storing carbon.
At the heart of the scheme's bid to be one of Government's first industrial clusters is Acorn, which is being driven by Storegga, Harbour Energy and Shell.
A final investment decision on the project is expected in the coming months.
Mr Stafford said: "It will enable carbon capture deployment across a diverse set of emitters, capturing at least 6.2 megatonnes per annum of carbon dioxide by 2030. That represents around 60% of the ambition set out in the Government's great 10-point plan and is a vital part of it.
"To make that a reality, emitters from across the UK are seeking to make use of that national resource, along with storage locations along the east coast and the north west.
"The UK's port network needs to stand ready to respond to that demand and needs to invest in the significant infrastructure required to create a UK port network capable of handling large volumes of CO2 and hydrogen shipping."
A new lease of life?
If Acorn successfully gets off the ground, it could pave the way for Peterhead to receive carbon emissions from other sites in the UK, as well as overseas.
And it's hoped that could breathe much needed life into the town, which has born much of the brunt of the decline in the UK's fishing industry.
Mr Stafford said: "South Wales does not have any known local geological storage of CO2 available, which means the development of a CO2 shipping fleet would be essential for its decarbonisation.
"The south Wales industrial cluster includes several deep-water harbours and ports that could accommodate CO2 shipping, and with the right investment, can develop a shipping network that can effectively ship and store CO2 from this cluster at the Acorn Project and other sites."
Nick Cooper, chief executive of Storegga said of the Westminster Hall Debate: "We welcome this attention on the Scottish Cluster, and at its heart, the Acorn CCS project. We are proud to be the lead developer on a project that can unlock one of Europe's most important CO2 storage sites by the middle of this decade.
"The Scottish Cluster is a great example of a major infrastructure project that has benefited from the firm backing of the UK Government, Scottish Government and European Union. It will enable carbon capture deployment across a diverse set of Scottish and UK emitters and help enable emerging technology like Direct Air Capture.
"Our team is committed to supporting the UK energy transition and the Scottish Cluster can confidently meet at least 60% of the CCS ambition currently set out in the Government's Ten Point Plan. We have seen the Committee on Climate Change call for more ambition and agree that we would like to see support for all of the UK CCS Clusters to come online in the coming decade to support a more rapid journey to Net Zero."
Recommended for you

ExxonMobil backs launch of Solent decarbonisation cluster