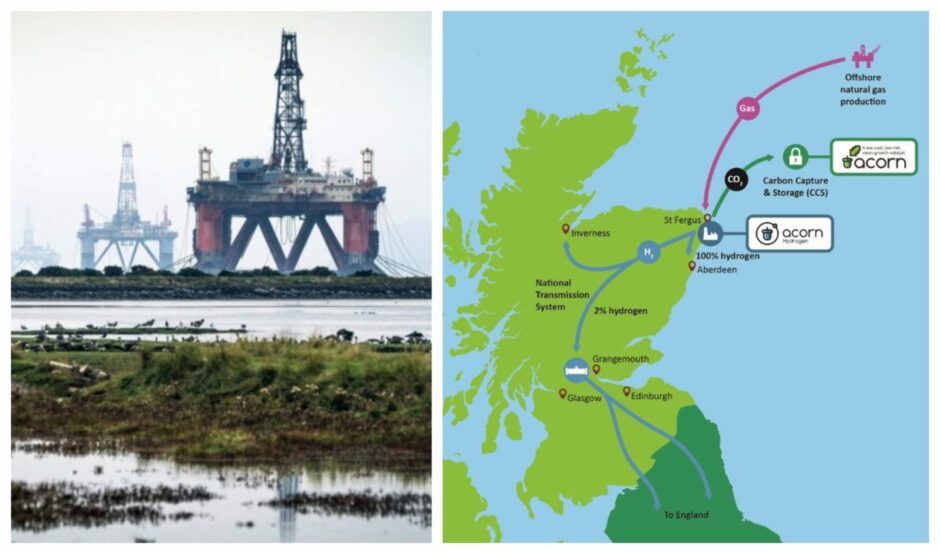 Aberdeen-based Storegga doubled down on spending during 2022 as its costs and investments surged.
The firm, which is developing the Acorn CCS hub in Aberdeenshire, saw its losses jump from £3.2 million in 2021 to £26.6m last year.
The company explains that this jump in losses comes as a result of "significant investment during the year."
Storegga reports spending on its Acorn project, which is set to bring carbon capture to the north-east of Scotland, as well as its Cromarty Hydrogen project, of which Storegga holds 49%.
It also has a direct air capture, the latter being still "some way off" from operating at full scale.
Since acquiring a stake in Acorn in 2021, the firm said its costs for development have increased. Storegga owns 30%, as does Shell and Harbour Energy with the remaining 10% held by North Sea Midstream Partners.
Acorn is a carbon capture storage project at the St Fergus gas terminal, said to be a front runner for government funding in the Track 2 process, Storegga's share of costs in developing the jointly controlled project has been capitalised as an intangible asset.
Between 2021 and 2022, the net value of the company's assets jumped by almost £32.2 million as it looked to develop both domestic and international projects.
Storegga says a fundraising round in Q1 2022 was the main driver.
Storegga also kicked off operations in the Gulf of Mexico in 2022 and looks to take part in carbon capture operations in the Americas region.
The Gulf of Mexico, hydrogen and air capture schemes are classed as "emerging projects" which are yet to reach the capitalisation stage, but Storegga expects "progress to be rapid in 2023".
As well as investing in new operations, the Westhill business is also investing in people, seeing an increase in its headcount throughout 2022.
Group headcount surged from 49 at the end of 2021 to 83 as of the end of 2022.
The firm says it looks to "expand project teams and support staff."
Carbon capture ownership
The accounts also revealed a change in ownership to a piece of the project –  carbon capture modules – which will transfer to Shell and NSMP, who own the SEGAL and FUKA gas pipelines at St Fergus, respectively.
It does not have a bearing on the Acorn CCS model, though Storegga took a £3.3m linked to the move.
An Acorn spokesman explained: "The decarbonisation of St Fergus remains a key objective of the Scottish Cluster. Following discussions between the Acorn partners, a decision was reached that the St Fergus carbon capture project can be more effectively delivered directly and led by the plant operators, Shell and NSMP.
"This means that capture modules at St Fergus will no longer be owned by the Acorn Project, however, carbon capture is still expected to be deployed at St Fergus and it will remain one of the anchor emitters into Acorn CCS via the Acorn transport and storage system."
Acorn says that this approach is "in line with other industrial emitters which are also linked to CCS hubs elsewhere in the UK."
The carbon capture storage project set for the Peterhead area was passed up on funding during the UK's Track 1 process, however, it is now seen as a favourite for government cash in the Track 2 process.
The industry has been waiting for an announcement of Track 2 winners for some time with no government indication of when the winners will be unveiled.
The joint venture added: "The overall objective of storing St Fergus' operational emissions in the Acorn stores is unchanged."
Recommended for you

Shell pushes on with CCS in Southern North Sea transformation