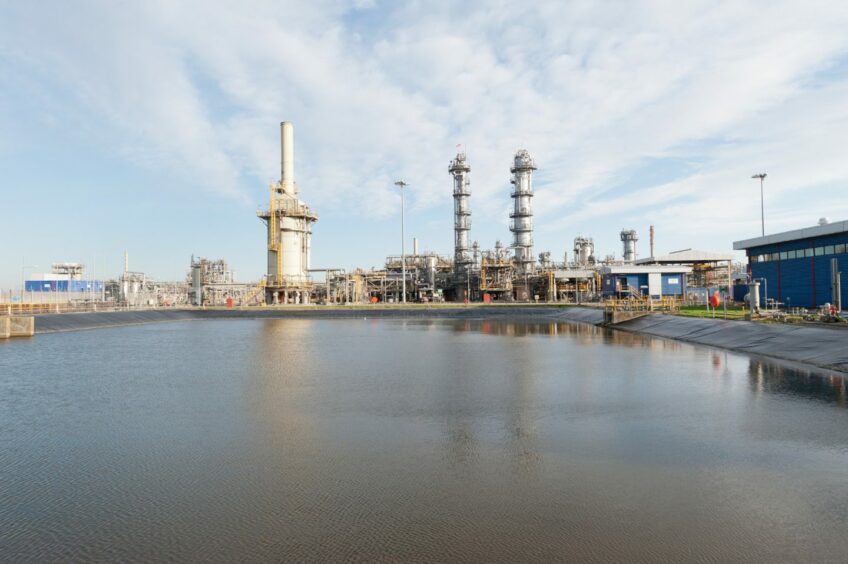 Scottish politicians urged Westminster to unlock funding for the Acorn carbon capture and storage project in the upcoming Budget and slammed slow progress on low-carbon development.
The Scottish Affairs Committee chastised the government over what it described as "lacking" progress on policies needed to develop carbon capture and storage (CCS) and hydrogen technologies, and warned that unless solutions are rolled out at scale the UK would fail to meet its net zero targets.
In particular, the group said it was "disappointed with the lack of priority" given to the north-east Acorn CCS project at St Fergus.
SNP Commons leader and Aberdeen South MP Stephen Flynn pressed harder, claiming Scotland would be "hung out to dry" if funding for Acorn isn't allocated as soon as possible.
Part of the Scottish Cluster scheme – which would see industrial emissions from the central belt to the north-east and captured and stored offshore – Acorn aims to store 5-6 million tonnes of CO2 per year in its first phase, though developers say it could "easily" ramp up 20 million tonnes per year.
Along with three other clusters, Acorn could help meet the UK's target to capture and store 20-30 million tonnes of emissions per year by 2030.
However, the project was snubbed from the so-called "Track 1" CCS sequencing process in late 2021, and instead put on the 'reserve' list. Former energy minister Greg Hands repeatedly pledged more details on the next "Track 2" funding phase by the end of 2022 – though this was delayed to spring 2023 under minster Graham Stuart.
Work on the project is promised to create more than 20,000 jobs by the end of the decade, but delays to the process and the impact of windfall taxes have already sparked fears that key investors could withdraw.
Scottish MPs said on Friday they had found "no justification" for failing to approve the "shovel ready" project, and that the Chancellor's Spring Budget – due on Wednesday 15 March – would provide the ideal opportunity to outline funding details for the project and "finally allow it to get off the ground."
Committee chairman Pete Wishart said the potential opportunities presented by hydrogen and CCS were clear, but "the twin-track approach that the UK Government is committed to introducing, leaves gaping policy holes: none more so than around carbon capture.
"It is deeply disappointing that the Acorn Project, that already has much of the necessary infrastructure in place, has been put on the back-burner and the lack of any certainty is majorly denting industry confidence. Clarity must be given at next week's Budget."
In their accompanying report, the committee also called on Mr Stuart to provide further details of the roughly £40 million of government funding he said had been committed to the Scottish Cluster so far.
'Hung out to dry'
In a separate statement, Mr Flynn said that "without urgent funding the Scottish Cluster is at real risk of being hung out to dry by Westminster, while other international projects are delivering now."
"Scotland cannot afford to be in the rear-view mirror of other countries when it comes to carbon capture investment. The Tories have repeatedly broken their promises on funding – it's high time the UK government hands over the money it's withholding from Scotland" he added.
"Scotland needs funding now – not years down the line. The EU has provided £38 billion to invest in carbon capture and other green investments. It's this type of urgency and commitment we need to see from the Tory government, to make good on their broken promises to the north east of Scotland and to allow our industry to get on with the job."
News within 'days'
Speaking during CERAWeek in Houston, energy minister Graham Stuart promised more support would be forthcoming.
"There is no route that we can reach net zero without carbon capture, hydrogen and nuclear," Mr Stuart told Reuters late on Thursday.
While he noted mistakes had been made so far in efforts to support CCS, Mr Stuart said the government is "determined there aren't going to be missteps in the future and you will hear in days further announcements on that, including government support to make sure that carbon capture is unlocked."
Government's CCS commitment is 'strong'
It follows a meeting on Wednesday between Banff and Buchan MP David Duguid, Treasury officials and Scottish Cluster representatives including Storegga, Shell, SSE and INEOS.
Mr Duguid said he had used the meeting to continue to push for the acceleration of Track 2 and had asked government officials for clarity on timescales, in a bid to ensure the project could still meet its goal of commercial operation by 2027.
"The evidence provided to the committee clearly showed the need for Carbon Capture Storage and Hydrogen to be developed at pace. We also noted the encouraging comments from UK Energy Minister Graham Stuart," he added, reiterating the administrations £1bn commitment to backing four clusters by 2030.
"I want to ensure the Scottish Cluster receives the support it needs and that we get clarity on the timeline and process that will be followed for Track 2.
"The Cluster partners gave an excellent presentation to the minister and I am confident that the UK Government's commitment to CCUS remains strong."
International competition
Industry group NECCUS was equally hopeful that next week's budget would bring further news.
Chief executive Ronnie Quinn pointed to the US' Inflation Reduction Act and the EU's Green Deal Industrial Plan as major catalysts for investment and warned the UK may risk losing out.
"The government's own 10 Point Plan sees four CCUS clusters operational by 2030. We are already in 2023 and the sooner we see support the sooner industry can deliver," he told Energy Voice.
Many are now pinning hopes on an updated timescale for Acorn next week – though others have said an announcement could land later in the year.
Bosses at Acorn-backer Ineos said they expected a result some time this year.
At an event launching the Greensand CCS project in the Danish North Sea this week, Ineos Energy chairman Brian Gilvary said the Acorn project was "the most attractive" in the UK due to its potential capacity to store 65% of the UK's carbon.
Speaking at a NECCUS summit in February, Womble Bond Dickinson partner Richard Cockburn said further news could be timed to coincide with the updated British Energy Security Strategy (BESS), due later this spring.
Whatever the date, Mr Quinn urged the Chancellor for an early decision on Track 2 if both UK and Scottish targets are to be met.
"We have the people and companies ready to move forward, but large infrastructure projects don't happen overnight – so the sooner we can progress in Scotland the better."
Updated 10/03/23 to include comments from Graham Stuart.