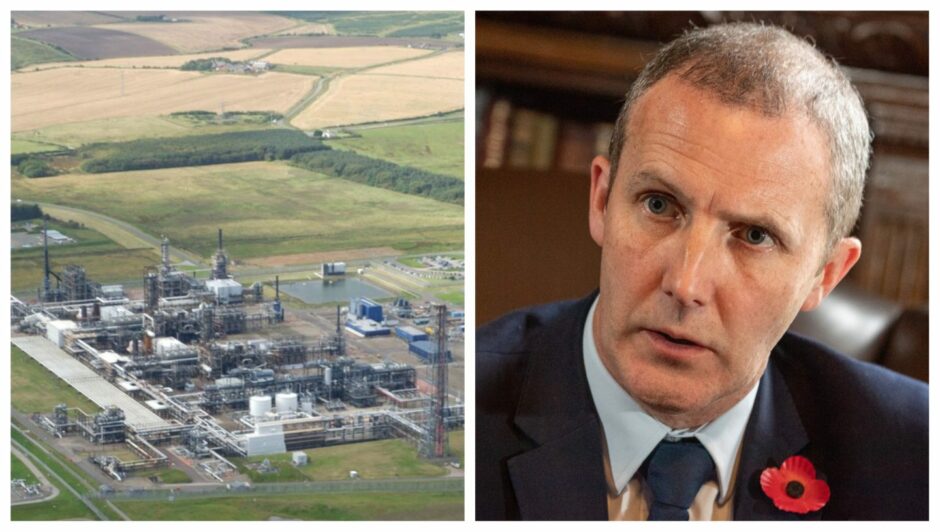 Scottish energy secretary Michael Matheson has warned MPs there's a risk investors may "withdraw" from the Acorn CCS project in Aberdeenshire as timeline delays continue to rumble on.
Acorn, at the St Fergus gas plant near Peterhead, is relying on government funding to help deliver an industrial-scale carbon capture and storage (CCS) development and create over 20,000 jobs in its first phase.
Harbour Energy (LON :HBR) – which recently warned that the North Sea windfall tax risks "undermining" its CCS investments – is a partner in Acorn alongside Shell, North Sea Midstream Partners and project leader Storegga.
But the Track 2 process – the next tranche of a £1bn CCS development fund from Westminster – has been delayed, having been expected last year.
Michael Matheson told a Scottish Affairs Committee meeting that continued delays on progress could have repercussions, which he realised when visiting the site last year.
"When I was up in St Fergus in August of last year and met with all of the partners at the site, what was becoming increasingly apparent to me is there is anxiety about potential delays in the Track 2 sequencing process, which might result in partners who are already investing in this process starting to withdraw from it if there isn't clarity going forward."
The UK Government repeatedly pledged an update last year on Track 2, but projects in Track 1 are facing delays which are apparently knocking back the timeline.
In November, prior to the government increasing the North Sea windfall tax, Harbour Energy's CEO wrote to the chancellor warning that it has material investments in CCS and UK energy security and "additional taxes would run the risk of undermining our ability to do either".
Acorn is the lead component of the "Scottish Cluster" which was selected as a reserve project for CCS in the UK – a process of storing industrial emissions underground.
The UK Government is expected to pick four projects, to be up and running by the mid 2020s, and the Scottish Cluster is seen as a vital component of meeting interim emissions targets.
UK energy minister Graham Stuart told the committee that an update will be made in Spring on Track 2.
As well as Acorn, Harbour Energy is a major supporter of the Viking CCS project in the Humber; another scheme seeking Track 2 support.
A spokesperson for Harbour Energy told EV: "Harbour is a strong supporter of CCS, and we echo the sentiment of the UK's competitive edge set out in the Skidmore review.
"It is crucial that the government proceeds swiftly with Track 2.
"Projects like Viking CCS in the Humber, and Acorn in Scotland, must play their part in delivering the Government's decarbonisation and levelling up objectives as early in this decade as possible. Prioritising the granting of economic licences to clusters that have existing safety licences for CCS storage acreage would be a pragmatic way to proceed at pace and give industry the confidence to invest at scale.'
Update in spring for Track 2
Speaking prior to Mr Stuart's session, Mr Matheson said he's previously been told it may have been as late as 2027.
"I've heard various timescales that are quite concerning. I was told there could potentially be a delay up to 2027 at one point.
"I don't believe that'll be the case, but I was told that could potentially be the delay."
On the update in spring, he added: "Any update in the spring would need to be meaningful and also have to be very clear about the timeline for taking forward the track 2 sequencing process, so that the investors in the Scottish Cluster have a clear understanding on the timeline for making investment decisions on the Scottish Cluster."
Mr Stuart confirmed an update in spring but wouldn't be drawn on whether there'd be any confirmation on funding for Acorn.
"The Scottish Cluster is in a pretty good position – as I say it's in that reserve place anyway – and we're going to need multiple clusters to get to 2030 anyway. So I can't pre-judge that announcement however much you might tempt me.
"But from the general tenor from what I've said I would absolutely be looking for colleagues to hold us to account, make sure we're on the critical path, (that) we're managing as swiftly as we can.
"It's hard to imagine, given our ambitions, there wouldn't be a place for well-developed, well thought through programmes."
Recommended for you

Energy secretary calls for 'concrete timeline' on Track 2 CCUS projects