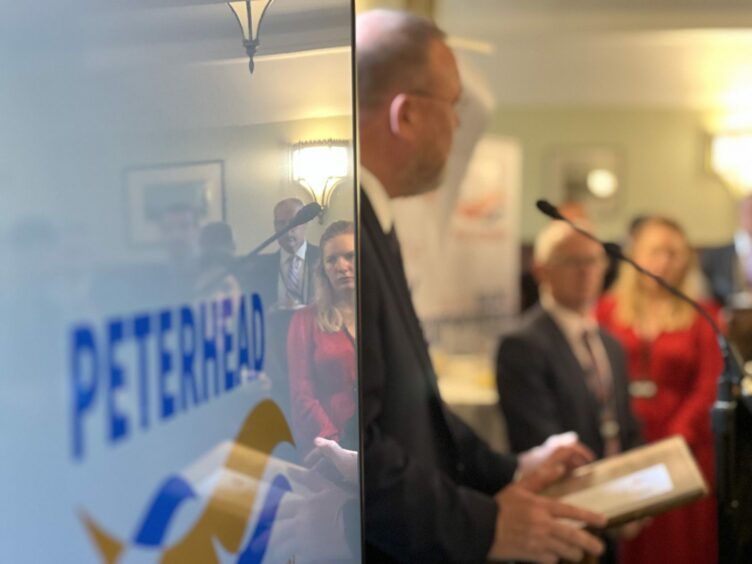 Energy industry leaders have united in calls for action on funding for the Acorn carbon capture and storage (CCS) project in Aberdeenshire.
The development, at the St Fergus gas terminal, is expected to be picked for "Track 2" of a £1bn funding competition from the UK Government – but no action has been delivered nearly two years since the first round.
A Westminster business summit on Tuesday, headed up by Peterhead Port Authority, saw developer Storegga, trade body Offshore Energies UK (OEUK), the North Sea Transition Authority (NSTA) regulator, and others unite in calls for progress.
Steve Murphy, Chief operating officer of Storegga which leads the Acorn carbon capture project, said it could create 18,000 long-term jobs and see £8-12 billion of investment in the UK over a decade.
But he warned of potential investor fatigue as they wait for the project to finally get approval from the government and fears that momentum was being lost while other countries, like the USA, encourage inward investment in their own nascent carbon capture programmes.
"The timing is critical – we need help from government to maintain that momentum and reassurance now that the (Acorn) project is going to get approval," he said.
Track 2 expected in summer
Levelling up Secretary Michael Gove provided a video for the event which played up the need for "more investment in oil and gas at the moment in order to ensure effective transition", but did not provide clarity on timelines.
Conservative MP for Banff and Buchan, David Duguid, told the event that a track 2 update is expected in summer.
The UK Government has pledged updates on the process frequently over the last two years, though the progress is yet to be made for Acorn.
Chancellor Jeremy Hunt announced in March's Spring Budget that details of funding would be announced "shortly".
Also in March, the UK Government said it is a "leading contender" for Track 2. Currently, it remains a "reserve" cluster, should one of the track 1 clusters pull out.
Acorn is the lead project for the Scottish Cluster – aimed at decarbonising heavy emitters including Ineos' plant at Grangemouth.
Acorn CCS: Funding more attractive overseas
In November, Stuart Haszeldine of the Scottish CCS organisation said civil servants have "had to fight strongly inside Westminster Government" to keep CCS in the package of funded projects.
Speaking at the House of Commons event on Tuesday, OEUK CEO David Whitehouse warned that the UK is in a global race for energy investment as other countries seek to lead the charge on the energy transition and carbon capture and storage in particular.
"We have to make the North Sea a brilliant place to invest – we are competing with the US, EU and Japan among others; there are opportunities and battles that we need to win.
"The Treasury, we are told, sees Carbon Capture as a cost, but we have to do better and see it not as a cost but a massive opportunity." And we have to do more to show the public that the solutions come from oil and gas instead of it being the problem."
Simon Brebner, Peterhead Port CEO, called on the Government to back the project and its associated Scottish Cluster – which will enable huge industrial partners to decarbonise by storing CO2 in redundant oil reservoirs in the North Sea – swiftly to ensure the region stays ahead of the global competition in carbon capture and storage.
"We are in a geographic sweet spot for the energy transition and can help businesses make the transition fairly effectively – this project is critical in helping reduce greenhouse emissions."
'Dithering and delay'
Also on Tuesday, First Minister Humza Yousaf visited the Peterhead Power Station, urging action from Westminster on the Scottish Cluster, led by Acorn.
He said: "Scotland's net-zero future is being held back by UK Government dithering and delay. The Acorn scheme should be given approval now, so that we can take advantage of our unrivalled access to a vast CO2 storage potential and our opportunities to repurpose existing oil and gas infrastructure.
"CCS will play a pivotal role in achieving a just transition for our workforces, capitalising on existing world-leading skills and expertise to create many good, green jobs in the coming years."
Recommended for you

Capturing the opportunity: Why now is the time to act on CCS