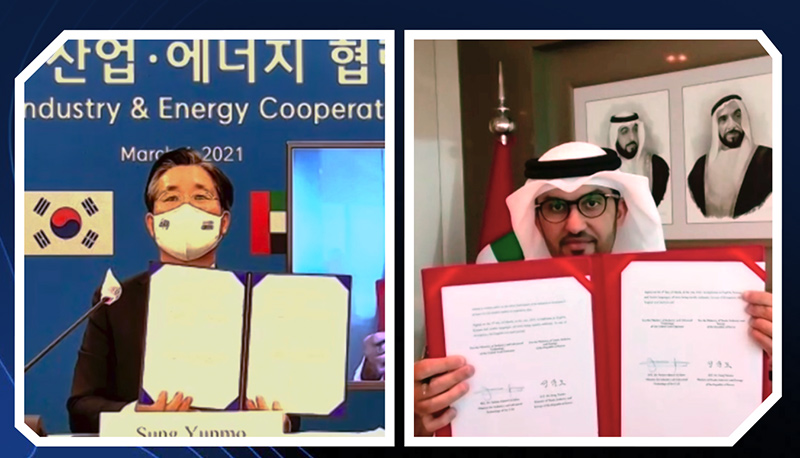 Adnoc and South Korea have held talks on blue hydrogen supplies during a virtual business trip.
The Abu Dhabi company agreed with Korea's GS Energy to "explore opportunities" in the hydrogen space and around carrier fuel exports.
Adnoc's head Sultan Ahmed Al Jaber said the agreement was in line with the company's "longstanding partnership with GS Energy and its affiliates, but also the great importance the UAE places on its strategic relationship" with Korea in a range of sectors.
"Approximately 10% of South Korea's crude oil is currently imported from the UAE, Korean companies are significant stakeholders in several of Abu Dhabi's upstream concessions and Korean contractors today play critical roles on major projects across our oil and gas value chain."
The new agreement aims to build on these areas. Adnoc and GS Energy will identify "possible areas of investment in Abu Dhabi's emerging blue hydrogen ecosystem as well as the Emirate's world-scale refining and petrochemicals assets in Ruwais".
Blue hydrogren refers to hydrogen produced from natural gas where the CO2 produced during the reforming process is captured.
Ecosystem
Al Jaber met Korean Ministry of Trader, Industry and Energy Yun-Mo Sung and GS Energy's CEO Yongsoo Huh.
The GS Energy executive noted the company's upstream work with Adnoc. He said the company was "excited to strengthen this partnership by jointly seeking opportunities within the blue hydrogen ecosystem".
The agreement with Adnoc comes shortly after South Korean companies have expressed interest in working with Saudi Aramco on hydrogen.
Hyundai OilBank Co. will import LPG cargoes from Aramco and then convert them into hydrogen. The Korean company will then return the CO2 to Saudi, for enhanced oil recovery (EOR).
Adnoc, during another virtual business trip, signed various agreements with Japan in January. Among other things, the Abu Dhabi-based company discussed the use of ammonia as a hydrogen carrier.
Recommended for you

Adnoc stacks three discoveries with 650 million barrels