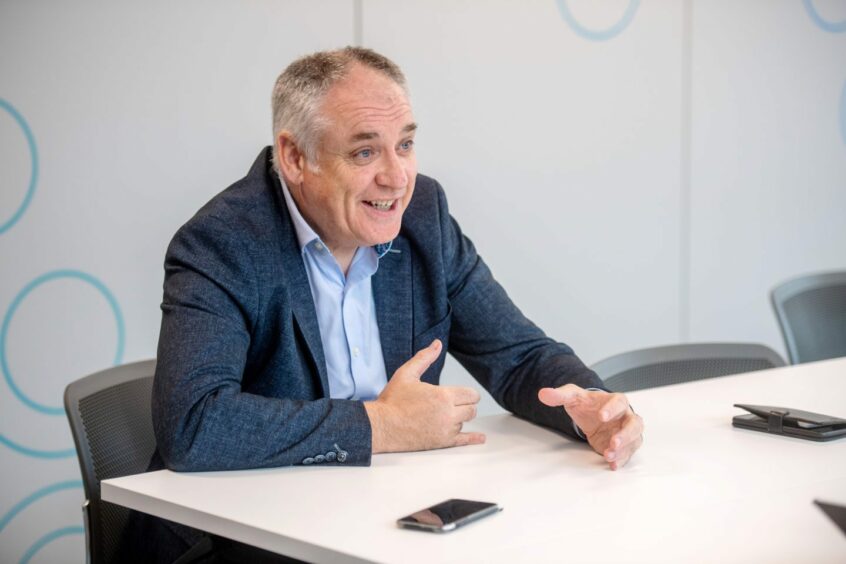 A top Scottish Government figure has backed energy giant BP's (LON: BP) involvement in a project to develop a hydrogen hub in Aberdeen.
Richard Lochhead, Scotland's minister for small business, trade and innovation, says he doesn't share the views of coalition partners in the Green Party, and wants to see the "BPs and Shells of this world" investing in the low carbon energy.
In 2021 north-east MSP Maggie Chapman voiced "concern" at Holyrood over the partnership between Aberdeen City Council and the supermajor, something she has now doubled down on.
It followed reports that BP – which is leading on the development of the Aberdeen Hydrogen Hub – had paid a private firm to track climate activists.
BP role in Aberdeen hydrogen hub sparks political row between Greens and Tories
A political row with the Scottish Conservatives ensued and Ms Chapman was accused of "trying to derail" the £215 million green hydrogen facility – the first of its kind in Scotland.
'No, I don't share that opinion at all'
The Scottish Government, which features the Greens as the minority party in a power-sharing coalition, earmarked £15m for the Aberdeen hub in 2021.
On whether he shares Ms Chapman's misgivings about the BP-Aberdeen City Council partnership, Mr Lochhead said: "No, I don't share that opinion at all."
He added: "Clearly, there are many areas within the Bute House Agreement (the formal name for the power-sharing pact) where the Green Party and SNP do agree, and there are some other areas where there is some vigorous debate to be had.
"I very much take the view – and my colleagues in government take the view as well – that the oil and gas industry is going to be with us for some time to come.
"It is important they play their role in the energy transition, and they have a big role to play, using their resources and experience to boost the renewables sector. It's really important that the BPs and the Shells of this world are seen to invest in the new energy futures."
'Of course I find their inclusion very concerning'
Responding to Mr Lochhead's comments, made during a visit to Aberdeen this week, Ms Chapman said: "There are few companies that have done as much damage to our climate and our communities as BP, so of course I find their inclusion in such projects very concerning. The Bute House Agreement recognises that our parties take different views on the role of oil and gas, as well as on other areas, including important environmental and economic justice questions.
"BP and Shell have a long history of talking about green change while sticking to the same destructive practices that have led us to the brink of climate catastrophe. BP distributed $3.3 billion to shareholders, 17 times more than they invested in "low-carbon" in Q2 this year so far.
"They have raked in billions of pounds of profits, when ordinary people cannot afford to heat their homes. As long as they continue to cause this damage to our world, their words to the contrary are just greenwash.
"I want Aberdeen, and the North East of Scotland, to be the powerhouse of Scotland's new, clean economy. We know the region has huge renewable potential. A fair and just transition to cleaner, greener energy will mean thousands of new jobs and a better future for our communities and our planet. And we need the polluters to pay their way as part of this transition. Given their past actions, we should expect much greater contributions from them, and use public money to support innovative and community-based solutions, rather than just boost the profits of the already fabulously wealthy."
Work on hub progressing
The Aberdeen Hydrogen Hub took a big step forward recently when the local authority's planning committee approved proposals for the first phase of the project.
A start date of 2025 has been set for the Initial stage of the scheme, which will deliver over 800 kilograms of green hydrogen a day.
The production facility will be built on Hareness Road and the solar farm, on the former Ness landfill site – together the projects will span an area of 123 acres.
BP Aberdeen Hydrogen Energy Limited – the joint venture partnership – expects to make a final investment call on the hub this year.
Once fully operational at the end of the decade the facility could support as many as 700 jobs the north-east.
Mr Lochhead said: "We should all be very excited about the investment in Aberdeen's hydrogen hub that will put the city on the map as a centre of excellence for hydrogen, while also bringing new jobs. It will enhance Aberdeen's reputation as a global energy hub, and flowing from that we hope to see new skills and new jobs for the north-east."
BP declined to comment.
Recommended for you

Customers sought for UK's first off-grid green hydrogen project