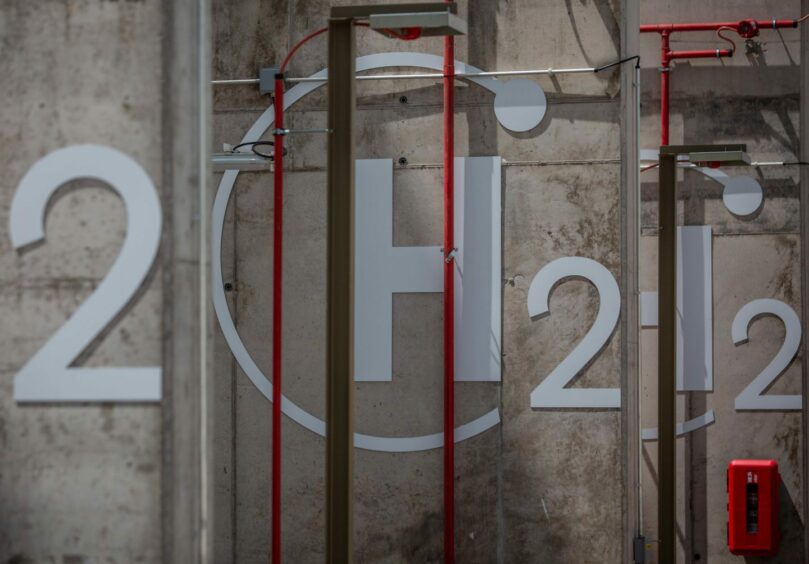 Progress is being made on a raft of hydrogen projects after they were picked to progress to the next phase of a UK Government subsidy support scheme.
Following due diligence work Westminster has invited 17 initiatives, totalling 262 megawatts (MW), into negotiations on funding under the Hydrogen Business Model (HMB) process.
They include projects from the likes of BP (LON: BP), which has hailed the passing of "another important milestone", and Storegga, which says the move is an "encouraging step".
Others, like ERM Dolphyn's commercial scale demonstrator, previously slated for off the Aberdeen coast, opted to duck out of the competition.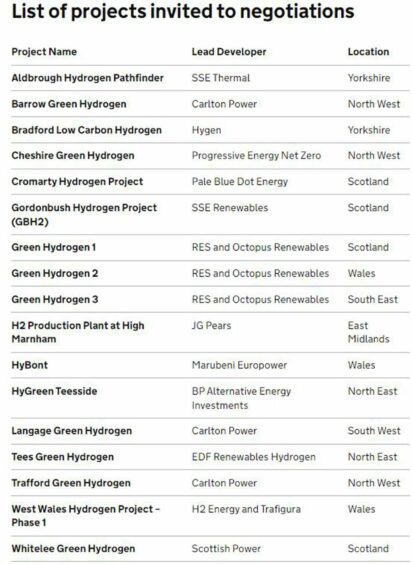 HBM
Slated for award in the fourth quarter of 2023, HBM is a subsidy aiming to support projects targeting first operation in 2025.
It's aimed to help get 10GW of low carbon hydrogen generation by 2030 going in the UK, with the first 1GW in construction or operational by 2025.
Underpinning the process is the UK Government's target of having 10 GW of low carbon hydrogen generation capacity by the end of the decade.
Amongst the schemes to have been invited to the next stage of negotiations is the Cromarty Hydrogen Project from Storegga, the driving force behind the Acorn CCS cluster.
It is being developed with ScottishPower and aims to decarbonise Scotland's whisky sector, with a potential capacity equivalent to the 29 MW Beinn Tharsuinn wind farm north of Alness.
Long-term production has the potential rise to 110,000kg of green hydrogen a day, for delivery to distilleries and other industrial and transport sectors in the region.
Sarah Potts, Storegga's hydrogen managing director, said: "This week's announcement is an encouraging step for Cromarty, and we remain optimistic about moving towards a government contract in the next stage of HAR1.
"Storegga is building a pipeline of electrolytic hydrogen projects providing clean energy to industry which supports the UK's hydrogen strategy for generating clean-burning fuel to transition the industrial and transport sectors while delivering jobs and positive economic impacts through new employment opportunities and investments across the UK."
Also to have made the cut is BP's HyGreen Teesside, on course to be "one of the UK's biggest green hydrogen facilities".
With a planned start-up date of 2026, the projects is initially targeting 80 MW of production, with potential further growth to up to 500 MW by 2030.
Matt Williamson, UK head of hydrogen at BP said: "We're excited to have passed another important milestone towards the development of this ground-breaking project. HyGreen Teesside has the potential to help transform energy use, the economy and skills in the region. At bp, we're backing hydrogen to help Teesside and the UK decarbonise its industry and mobility."
Another round of the HMB process is due to launch Q4 of this year, with awards of up to 750MW of capacity in early 2025.
Projects not included in the first round, or those that didn't apply, are being encouraged to consider submitting bids.
Of the 17 projects that were picked, four are located in Scotland, including Storegga's Cromarty venture.
We have a look at the other three below.
The Scottish schemes
Gordonbush Hydrogen
With one of the largest renewables project pipelines in the UK, it won't be long before SSE Renewables has green energy to burn.
Naturally the group is looking at turning some of its excess power into hydrogen, specifically at its 100 MW Gordonbush onshore wind farm in Sutherland.
Gordonbush Hydrogen plans to demonstrate the value of co-locating low carbon fuel production at existing renewables sites.
Final refinements to the project are being made ahead of the submission of a planning application to the Highland Council.
If developed, the Gordonbush Hydrogen facility could produce up to 1,300 tonnes of green hydrogen annually in an electrolyser unit.
It could then be used as a clean alternative to petrol, diesel or natural gas to help decarbonise hard-to-abate sectors such as industry, transport and manufacturing.
Green Hydrogen 1
Renewable energy supplier Octopus Energy announced plans to team up with developer RES to invest in hydrogen in the UK.
The pair are forging ahead with three separate projects – one apiece in Wales, England and Scotland – all of which have been invited into negotiations.
By the end of the decade the partnership plans to invest some £3bn to allows industrial businesses to switch to green hydrogen, at no extra cost to the companies themselves.
Detail on Green Hydrogen One – the name given by the government to Octopus and RES's Scottish project – is currently scant, but both companies already have a solid footing north of the border.
Whitelee Green Hydrogen Facility
Scotland's largest onshore wind farm seems like a logical place to put a green hydrogen electrolyser, and ScottishPower is looking to do just that.
The proposed 20 MW Whitelee Green Hydrogen Facility also involves ITM Power and BOC, and previously secured cash through BEIS Energy Innovation Portfolio.
Once operational the plant, which will also source energy from solar and energy storage, will be capable of providing enough zero-emission fuel for 550 buses to travel from Glasgow to Edinburgh and back again each day.
An application for the Whitelee Green Hydrogen Facility was lodged with East Ayrshire Council in April 2021.
Recommended for you

What the UK green hydrogen market can learn from battery storage