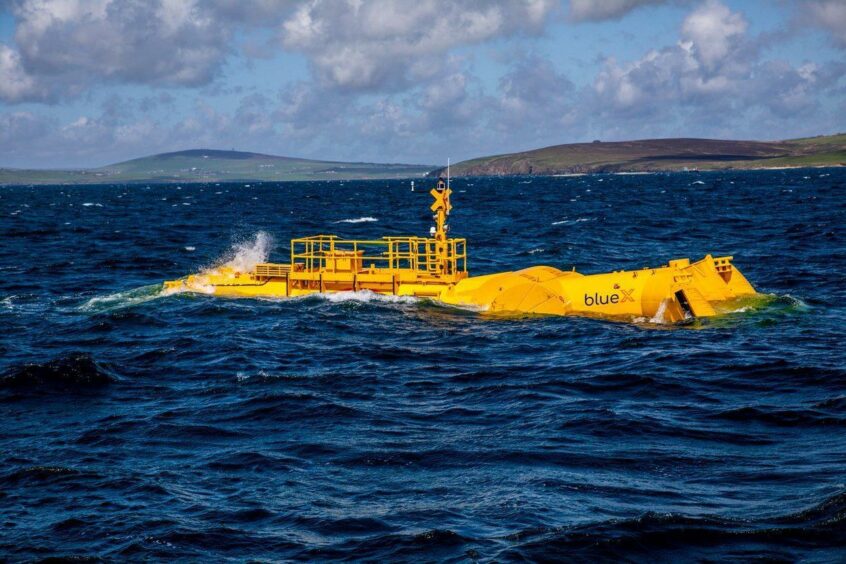 The firm behind the Blue X wave energy converter off Orkney, Mocean Energy, has raised £2.2 million in new equity in addition to being awarded a £500,000 grant.
The cash was awarded to "drive the commercialisation of its wave energy technologies," the firm says.
The grant came from by existing investors Equity Gap, Scottish Enterprise and Old College Capital, the University of Edinburgh's venture investment fund, and new shareholders Katapult Ocean and MOL PLUS, the corporate venture capital arm of listed Japanese shipping conglomerate MOL.
Jane Martin, managing director of innovation and investment at Scottish Enterprise, commented: "This funding package is a great example of the public and private sectors working together to unlock investment in renewable energy.
"The projects it supports are crucially important. One can completely transform the way power is provided to remote, energy intensive subsea equipment, while the other addresses the need for reliable, low-cost renewable energy at scale.
"Combined, they have the potential to play an important role in the internationally competitive green energy industry that's emerging right here in Scotland."
The firm currently runs a £2m initiative, which is currently operational in Orkney.
This has connected Mocean Energy's Blue X wave energy converter with a Halo underwater battery developed by intelligent energy management specialists, Verlume.
This is part of the 'Renewables for Subsea Power' project which aims to meet subsea infrastructure's demand for energy while cutting costs and slashing carbon emissions.
Mocean kicked off Renewables for Subsea Power in 2020, a project in which it is partnered with Aberdeen firm Verlume.
Mocean has also secured a £499,500 Low Carbon Manufacturing Challenge Fund grant, targeted specifically at the detailed design, build and testing of key subsystems for their small-scale Blue Star wave energy machine.
The firm says that the cash will drive further research and development into its large-scale Blue Horizon technology, which was recently awarded £3.2 million by the EU-backed EuropeWave programme.
"This new equity investment is significant for Mocean Energy – not just in the quantum invested, but in the additional strengths and specialist expertise our new shareholders bring," said Mocean Energy managing director and co-founder Cameron McNatt.
He added: "The coming years will be crucial to Mocean Energy, and as we scale up we need to take on board all of the learnings from our current Renewables for Subsea Power project and draw on the experience of our partners and new investors.
"I am extremely grateful to our existing shareholders who have invested again in this round, to Scottish Enterprise and to MOL PLUS and Katapult Ocean for joining us on this exciting journey."
Recommended for you

Energy giant TotalEnergies comes aboard Orkney subsea wave power project