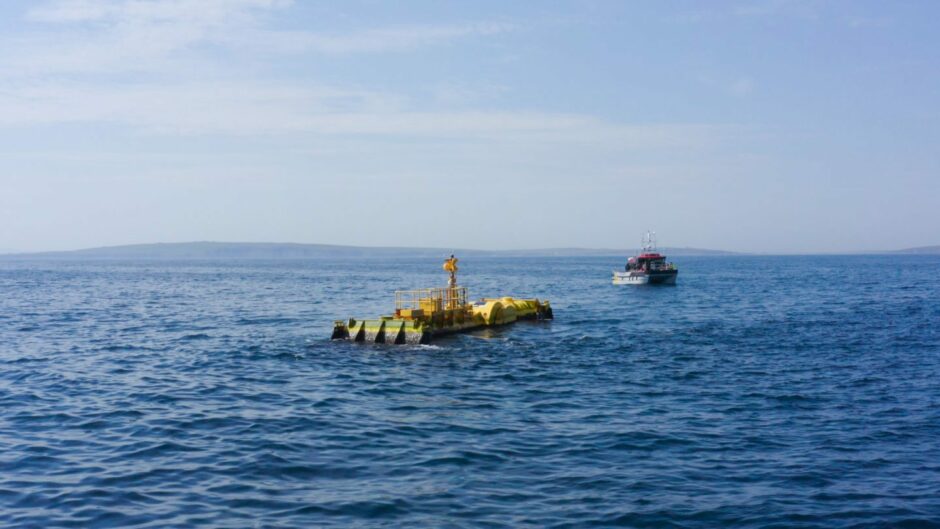 Developers of a prototype wave energy device off Orkney say it has weathered Storm Babet and continued to deliver power despite the harsh conditions.
In a post on LinkedIn Mocean Energy said it had seen 6-7m significant wave heights over at its test site east of Orkney during the storm, but that its Blue X wave energy converter "rode them like a champ!"
The device is currently deployed off Orkney as part of a £2 million demonstrator project, dubbed Renewables for Subsea Power (RSP), which kicked off February. The trial sees the Blue X device linked to an underwater battery developed by Aberdeen firm Verlume, and is aimed at testing its viability for powering a host of subsea technology for the offshore sector.
Video posted by the company shows the rough sea state experienced by the device over last weekend.
Storm Babet caused widespread damage and destruction onshore and offshore, including to the Stena Spey drilling rig which lost four of its eight anchors amid surging waves. Coastguard teams were asked to assist crews at about 6.45am on Saturday, with 45 crew members evacuated by airlift.
Speaking to Energy Voice earlier this year Mocean commercial director Ian Crossland said six-metre waves were "the typical maximum height" seen by the device since its deployment and that the machine had performed "really well" in the harsh offshore environment.
Explaining how Blue X remained stable in the storm, Mocean said its "survival strategy" for the device consists of two key design aspects – the first being the machine's sloped nose which "allows it to dive through waves, shedding loads like a surfer swimming out through the surf zone."
The device's hinge is also able to move without restriction, and the design accommodates very large hinge rotations, Mocean said.
"These features make it 'fail safe', so that it does not have to actively enter a survival configuration. If systems were to go down, the machine would still weather the storm," the company added.
"It is great to see that our demonstrator Renewables for Subsea Power project is running smoothly, Blue X continuing to generate power in these tough North Sea conditions and sending this energy to the Halo subsea battery storage developed by our partners Verlume, and the system network and communications."
With the initial four-month RSP trial deemed a success, the systems are to remain in the water for additional testing deliverables until spring 2024, enabling further data to be captured on maintainability, survivability and reliability.
And a separate agreement with Aker Solutions signed this summer could see further devices deployed as part of a pilot project in which smaller UK oil and gas fields are powered by wave energy within two years.
Recommended for you

Energy giant TotalEnergies comes aboard Orkney subsea wave power project