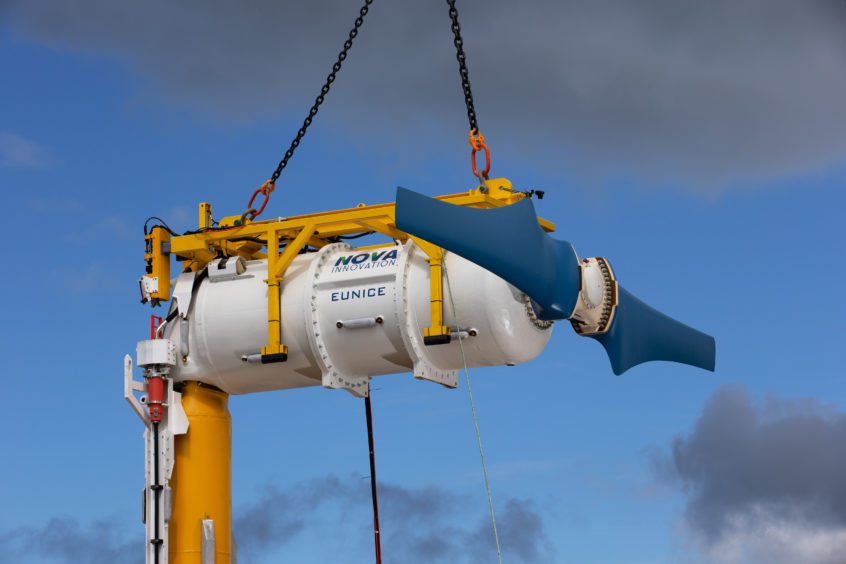 A Shetland-based tidal energy firm has announced a trio of new appointments to its board.
Chris Phillips, Sir Michael Fallon and Brian Aird will join Nova Innovation's top team as chairman, deputy chairman and finance director respectively.
Nova, which launched the world's first offshore tidal array in Shetland's Bluemull Sound in 2016, said the appointments reflect its "international growth and global ambitions" as part of the energy transition.
Mr Phillips brings five decades of international finance experience to the board having previously held senior positions at investment banking, IPO advisory and brokerage firms.
He is also chairman of Places for People and Centaurea Investments.
Mr Phillips said: "I am delighted to be joining this exciting growing company, whose values and business will improve the lives of many people around the world as the use of tidal energy expands."
Sir Michael served as energy minister from 2013-2014, as well as Secretary of State for Defence from 2014 to 2017 in the government's of David Cameron and Theresa May.
He was also deputy chairman of the Conservative Party from 2010-2012 and business minster from 2012-2014.
Sir Michael said: "I'm excited to be joining as the company explores new markets in Asia and across the world. Tidal power is now a key part of the transition to cleaner energy. Nova has already deployed its cost-effective turbines in the UK and has won major contracts in Canada."
Mr Aird was previously chief financial officer at Wood Mackenzie, where he steered the consultancy group from a management buyout in 2001 to a £1.85bn sale to Verisk in 2015.
He is currently the global treasurer at the NASDAQ listed firm.
Mr Aird added: "I am looking forward to supporting Nova realise its full financial potential. Nova is at a pivotal point having successfully proven the quality of their technology, and this is now about taking the offering to a market which is eager to embrace successful green energy resources. The road ahead is a promising one."
Simon Forrest, Nova's chief executive, said: "We are delighted to be strengthening the board of Nova Innovation, recognising the considerable breadth of talent that our new members bring. This will be invaluable as we scale up internationally and take tidal energy mainstream."
He also thanked outgoing chairman Ian Marchant for his seven years of service to Nova.
Mr Marchant joined the board in 2013 and oversaw a period of "rapid progress" for the firm.
He said: "When I first joined Nova as non-exec chair, the company was in its infancy – it employed a handful of people and its first turbine was being assembled in a shed.
"Over the past seven years the company has made enormous progress, including the installation of the world's first tidal array, combining tidal power with battery storage to produce base load energy, securing investment to advance the technology and now winning multi-million dollar contracts to develop tidal projects around the world.
"I wish the new board well as they guide Nova as a global leader in tidal technology, and I will remain a shareholder and supporter over the course of that journey."