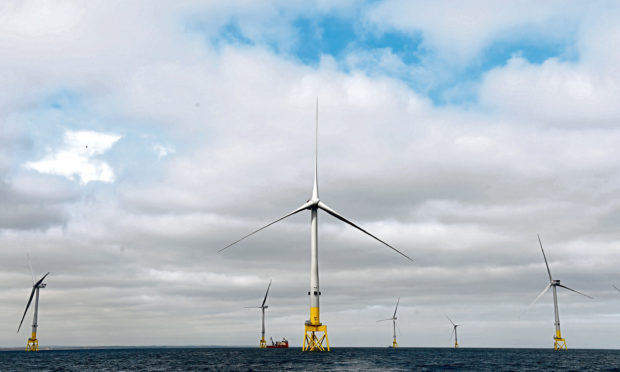 Scotland's offshore wind leasing round is heating up, with another renewables giant confirming it will be entering the process.
Swedish developer Vattenfall has formed a joint venture with Fred. Olsen Renewables, a wholly owned subsidiary of Bonheur ASA, ahead of ScotWind.
The two companies will collaborate in their bid to deliver the next generation of Scottish offshore wind farms.
Vattenfall said the ScotWind partnership reflects both firms' commitment to helping Scotland progress to net zero.
It also hoped to support Holyrood's ambition to become a world leader in offshore wind.
ScotWind, the first process of its kind in Scottish water for a decade, is due to close to applicants on July 16.
A number of other firms have already announced they will be participating in the round, including BP, Equinor, TotalEnergies and Orsted.
Vattenfall said its ScotWind bid would focus on achieving "maximum value" for the Scottish economy – creating a sustainable supply chain and bringing long term economic benefits.
Helene Bistrom, head of business area wind at Vattenfall, said: "This Joint Venture brings together two companies with strong track records in Scotland. We fundamentally understand the importance of developing projects which benefit the local economy and environment while ensuring the best possible value for bill payers.
"Vattenfall's goal is to enable fossil-free living within one generation, and we are very excited to be working with Fred. Olsen Renewables to bring the best of our experience together to create a strong offer for Scotland."
Vattenfall, of Stockholm, is behind the Aberdeen Offshore Wind Farm, also known as the European Offshore Wind Deployment Centre (EOWDC).
The 11-turbine development in Aberdeen bay was officially opened in 2018 and is due to operate for about 25 years.
Anette Olsen, managing director of Bonheur ASA and proprietor of Fred. Olsen & Co. said: "30 years ago, our journey in renewables started in Scotland. Today, Fred. Olsen related companies employ more than 400 people in Scotland. Our focus has always been to create local value, and together with Vattenfall we are confident that we can build on our joint presence in Scotland and deliver offshore wind with considerable local benefits.
"We are very pleased with this partnership, which builds on long standing relations between Vattenfall and Fred. Olsen-related companies. Through our partnership we will provide opportunities and create maximum value for the Scottish economy, local suppliers and communities."
Recommended for you

BP bids to build two offshore wind farms in the Netherlands