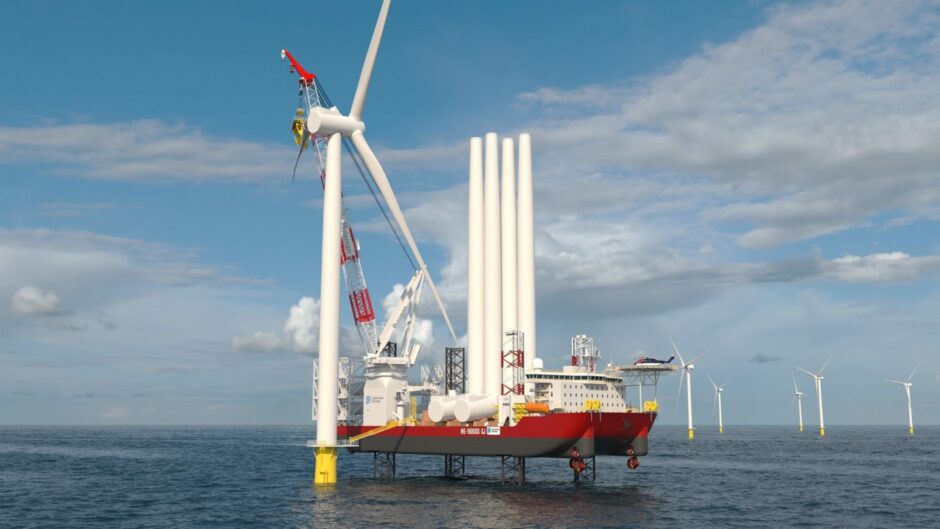 The global windfarm construction vessel (WTIV) fleet now stands at around 50, mostly Chinese-owned vessels, with at least a further 11 on order and four more believed close to FID (final investment decision).
Offshore wind is a highly dynamic, accelerating marketplace and significantly more new vessels are likely to be in the early stage of consideration.
At least four additional modern WTIVs are needed to cover the expected demand to 2030.
However, this number can be higher if local content requirements are taken into consideration, particularly in emerging markets such as Asia-Pacific, also the United States where Jones Act rules dictate that new tonnage must be built in-country.
At this time there are no US flagged WTIVs yet operating. The first will be the Charybdis ordered by Dominion Energy via wholly-owned Blue Ocean Energy Marine.
The ship is under construction at Keppel FELS in Galveston but now running late and over budget. Completion and trials were due to take place in Q4 but have slipped into next year. The cost has rocketed from $500million to well over $600million.
All of the new builds are expected to be ready for work by 2025 or which two – Blue Wind and the CP-16001 – are specifically to meet demand in the emerging Japan market, while Maersk Supply Service's new build is contracted to the US market.
IHS Markit warns that the size of the future fleet will be impacted by the fact that six of the current vessels are expected to become obsolete by 2030 at the latest as it will not be possible to upgrade them to cope with turbines larger than 10MW. Or at least that's the current thinking.
'Monster turbines' create 'immense pressures'
The pressures are immense. Monster turbines represent a very real challenge. There is a dearth of ships capable of handling the latest generation of 12-14MW and larger offshore turbines are clearly emerging. That represents a pinch point.
Moreover, there are no signs of a let-up in the march of turbine technology development. They are getting larger and larger and 25MW units are on the drawing board now.
Just last year the average size installed in regions like the North Sea was 8MW. The expectation is that 18MW or thereabouts may become the norm by 2030 in the North Sea, China and, arguably the US too.
According to S&P Global, owners of the IHS Markit 'ConstructionVesselBase', outwith mainland China only 2 WTIVs can install 12-14MW turbines, and none can cope with 15+MW units.
Fleet owners face a massive challenge in terms of keeping up with their clients and it will get harder, not easier, to meet future turbine size demands.
However, some relief is on the way as Danish fleet owner Cadeler is expected to upgrade the cranes aboard the sisters Pacific Orca and Pacific Osprey in 2024/25 so the company can pursue that market.
Cadeler also has a second F-Class jack-up under construction that, although primarily aimed at the foundation installation market, has also been designed to be capable of turbine installation duties.
The order was placed last year with delivery scheduled for 2026.
Indeed, the Danish company boast that it is in the process of creating the "largest and most capable fleet of jack-up vessels in the offshore wind industry ready to meet growing market demands".
Cadeler is seeking economies of scale by opting for large vessels with enough capacity to enable fewer transits out to installation sites. Its two X-class and two F-class WTIVs, currently under construction, will be able to transport and install seven complete 15MW turbine sets or five sets of 20+MW turbines.
Other companies are being forced down the same road – get on and invest in what's needed by clients or leave the game.
S&P Global warns that, beyond mainland China, the WTIV fleet will struggle to cover global demand post 2026−27. Little wonder, given the new turbine installation forecasts.
Its analysts reckon the current investment opportunity is in the range of $1.2 to $2 billion out to 2030, but will likely be higher as the pace of turbine installation offshore quickens.
Turning to the broader market, Clarksons Research reports that the fleet supporting offshore wind farm construction and maintenance has expanded to more than 1,300 vessels with approximately 200 under construction.
After strong newbuild investments last year, 2023 has continued positively, with five wind turbine installation vessel (WTIV) orders, 10 service operation vessels (SOV) orders and 23 crewed transfer vessel (CTV) orders.
The analyst is projecting about $8 billion of new-build orders for the current year and a total of $76 billion over the 2020s as a whole.
Recommended for you

Cable failure top cause of offshore wind insurance claims, warns Allianz