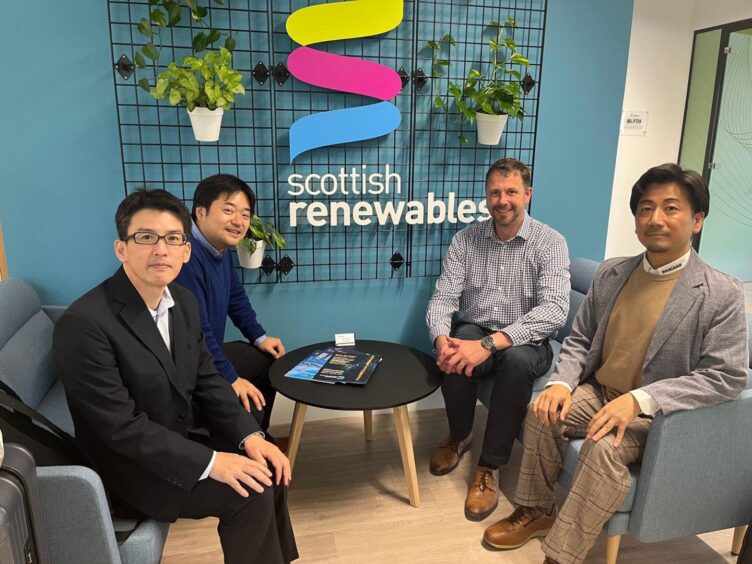 Scotland's Cairn Risk Consulting and Horizon Ocean Management have signed a Memorandum of Understanding (MOU) to assess risks in the Japanese offshore wind market.
The Glasgow-based firm works on identifying the risks associated with energy transition technology, such as wind turbines and solar panels.
Cairn Risk will be working with the subsidiary joint venture between Mitsui and Hokutaku to offer a range of services that will ensure offshore wind farms are conceived, developed, built, operated, maintained and decommissioned in a way that protects people and the environment.
Tom Semple, director at Cairn Risk, said: "From our experience in the highly regulated industries such as Oil and Gas and helping OEMs and developers globally we believe a local collaboration partner in Japan will help share the experience that the team has gained from collective decades of working in offshore wind."
Cairn Risk is currently delivering risk and safety consultancy services to two major wind turbine manufacturers and nine major offshore wind projects.
The firm is supporting over 15GW of renewable energy projects across a range of clean energy technologies including onshore and offshore wind, hydrogen, solar and battery storage.
Horizon Ocean Management (HOM) was formed in 2021 by Japanese conglomerate Mitsui and Hokutaku, the country's leading wind turbine maintenance company, while the Glasgow firm opened its doors last year.
Mr Semple added: "We look forward to supporting Japan with its wind deployment vision and collaborating with HOM to build long-term relationships.
"Everyone at Cairn Risk feels privileged to be working with some great organisations across the world, including HOM. We are extremely proud to be playing our part in helping deliver the clean energy projects that are vital in delivering the safe transition to net zero."
Cairn Risk is looking to bring the lessons it has learned in Europe to Japan, something that HOM sees as important for the country's future in offshore wind.
Nobuyuki Takagi, managing director of HOM, commented: "The European offshore wind supply chain has a wealth of marine and subsea experience via its long history in sectors such as Oil and Gas. In order to realise Japan's offshore wind deployment vision, we believe that learning from and working with the leading companies in these more advanced markets will develop and improve Japanese competence, ultimately helping to establish middle to long-term local capability.
"Cairn Risk's experience and know-how will bring significant value for risk management of the project from early phase which is key for offshore wind projects, so we are delighted to be collaborating with them here in Japan."
Recommended for you

Offshore wind R&I programme to offer up to £300k per project