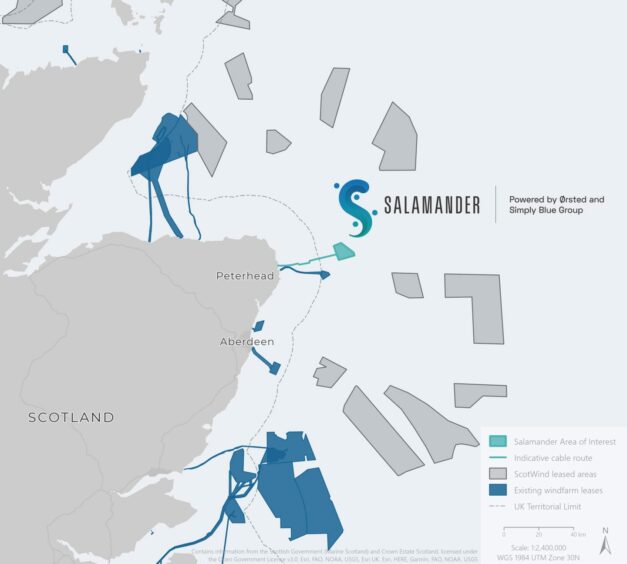 The team behind the upcoming Salamander floating offshore wind project is holding a second series of public consultation events in Peterhead this month.
The first round of consultation events took place in June and following feedback from the local community the joint venture partners behind Salamander, have revised plans.
The in-person consultation events will take place from 10 am to 7 pm on Tuesday 21 November at Balmoor Stadium in Peterhead, and from 10 am to 4 pm on Wednesday 22 November at Crimond Medical and Community Hub.
The consultation will also be open virtually via the Salamander website between Monday 20 November and Sunday 3 December.
During the consultation, local residents will be invited to review the updated plans for the offshore wind project set to be developed around 21 miles off the coast of Peterhead.
With plans to begin construction in 2027, the Salamander floating offshore wind project aims to deliver 100 MW when fully operational.
The team behind it say that Salamander can serve as a "stepping stone" for large-scale floating offshore wind projects coming to Scotland in the future.
It has been designed to give Scottish companies the opportunity to roll out new technologies at commercial scale, before they prepare to expand their operations, says the project team.
Hugh Yendole, project development director for Salamander said: "The feedback provided by the Peterhead and Crimond communities in our initial round of consultations was incredibly valuable.
"Not only did it allow us to address concerns at an early stage, but also identify local companies who are keen to be part of the project and recognise the incredible opportunity it will create for the northeast of Scotland.
"We now want to show residents we have listened to and incorporated their thoughts into our planning and will keep local companies and people at the heart of this crucial development.
"Scotland's decarbonisation targets are quickly approaching and Salamander can play a key role in ensuring we are prepared."
Salamander is a joint venture between Ørsted, Simply Blue Group and Subsea7.