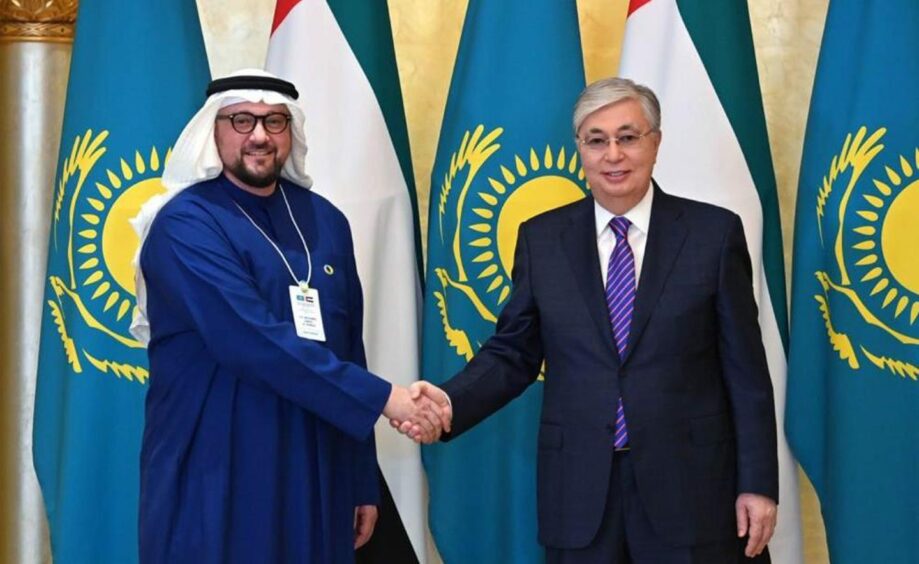 Masdar has signed an agreement to develop 1 GW of wind power in Kazakhstan, while AD Ports has signed on to work with KazMunayGas on new Caspian Sea infrastructure.
Masdar, Abu Dhabi's state-backed clean power producer, said it would work on the wind plan with the Kazakh Ministry of Energy and the Kazakhstan Investment Development Fund (KIDF). The Abu Dhabi company CEO Mohamed Jameel Al Ramahi signed the deal with Kazakhstan Minister of Energy Bolat Akchulakov and KIDF CEO Nurlan Zhakupov.
The first phase of the plan is for a 500 MW wind power project, possibly including battery storage.
Al Ramahi said Masdar already had a strong presence in Central Asia. "By leveraging our experience of the region, we aim to deliver a world-class wind plant that will support Kazakhstan's energy transition and advancement of its net zero ambitions", he said.
The agreements were signed during the ongoing Abu Dhabi Sustainability Week (ADSW).
Kazakhstan intends to reach net zero by 2060. It aims to boost renewable power generation to 10% by 2030 and 50% by 2050.
KIDF was established to reduce risk for foreign investors, Zhakupov said. The company works through project co-financing, the official continued.
Other investors have come to Kazakhstan, attracted by the wind resource. TotalEnergies said in December 2022 that it would work on the 1 GW Mirny project. This would also have a proposed 600 MWh battery storage system.
Eni, meanwhile, has brought online two wind farm projects in Kazakhstan, using turbines capable of generating 4.8 MW each.
Offshore plans
AD Ports has also announced a new deal in Kazakhstan. The Abu Dhabi-listed company signed a deal with Kazakhstan's state-owned KazMunayGas and a memorandum of understanding (MoU) with the Ministry of Industry.
The deals focus on the development of a marine fleet and coastal infrastructure in the Caspian and Black Seas, it said.
AD Ports struck a deal in December with a KazMunayGas subsidiary, Kazmortransflot (KMTF).
The new deal with KazMunayGas involves work to develop a fleet of shallow-water vessels to support work in the Caspian Sea. It also covers the development of a tanker fleet to export Kazakh crude. AD Ports also mentioned potential participation in bulk cargo transportation and training.
The MoU with the ministry gives AD Ports scope to develop trade and transport routes through Kazakhstan, it said. This could involve "developing port and logistics facilities as well as enhancing the national maritime fleet".
Recommended for you

Masdar to develop 5 GW in three African states