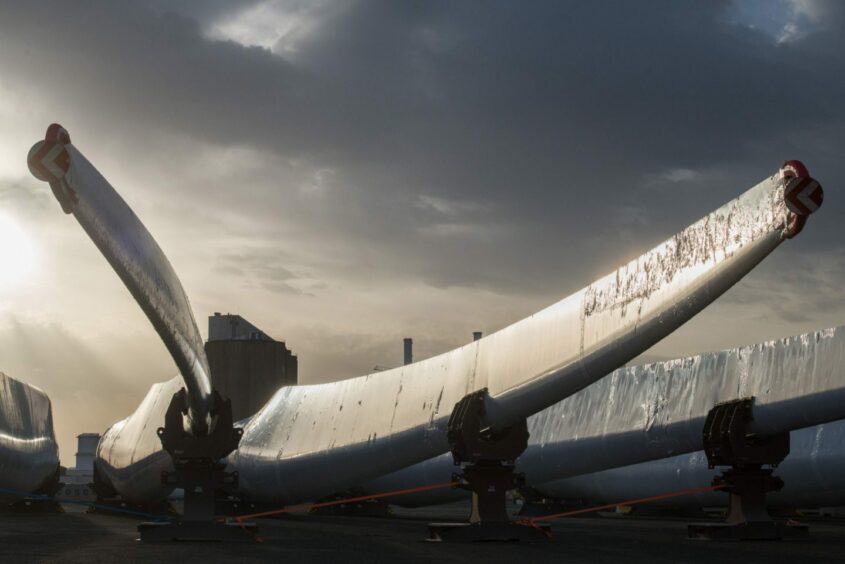 Wind turbines make money when they spin. But when they shake, it can cost billions.
Siemens Energy AG (ETR: ENR)  is struggling to contain the fallout after discovering a main piece on the frame of its wind turbine can move or twist over time, potentially damaging other critical components, according to people familiar with the matter.
Executives and board members are concerned that fixing the problem may far exceed the company's estimate of more than €1 billion ($1.1 billion), said one of the people, who asked not to be named discussing non-public information. The magnitude, which is still being assessed and may involve other issues as well, could determine the viability of a business at the center of Europe's long-term climate goals and energy security.
The discovery marks the latest setback for the German manufacturer since taking control of its troubled Spanish division Gamesa. It prompted a record selloff that wiped about $6 billion off Siemens Energy's market value when it warned of the additional costs last week. The persistent losses have been particularly painful at a time when demand for renewable energy is surging.
Gamesa's wind turbines have been plagued by quality flaws, including ongoing trouble scaling up its new onshore platform, known as the 5.X. After expressing confidence in January that it had uncovered all of Gamesa's technical problems, Siemens Energy finds itself once again opening the book on the unit's shortcomings.
With the size of the issue still uncertain, the supervisory board is looking into setting up a special committee to manage the situation, and its top members have scheduled a meeting for July 7 to get more clarity on its scope, one of the people said.
A Siemens Energy spokesperson said the supervisory board is considering how it can best advise and support the executive management, and that no special committee has been established at this time.
The company has said that 15% to 30% of turbines were affected by the flaw. It hasn't specified the number of faulty machines and likely doesn't yet know.
In the best case scenario, the recently disclosed faults will have caused only limited damage to critical components. Though even if that's the case, scores of turbines that sit hundreds of feet in the air will need to be serviced, a costly endeavor that can only be done with specialized equipment.
JPMorgan analyst Akash Gupta estimates each faulty turbine will cost as much as $1.7 million to repair. And, based on the company's projections and indications that the defect applies to the newer platforms, roughly 1,000 turbines could be facing issues, bringing the potential cost to $1.7 billion, Gupta estimated. That would include the cost to replace blades and bearings.
The cost, though, could rise as the company expands its probe to see if the issue is also present in older generations of turbines and its offshore wind business, which is more profitable and has been less afflicted by technical problems.
On top of the repair costs, Siemens Energy also faces liability for its customers' lost revenue related to the fault. And a further complication could come if the company needs to make design changes that would trigger an arduous certification process that could take years. In the meantime, Siemens Energy may have little choice other than continuing to deliver machines it knows to be faulty and incur further losses for years to come.
Customers have started to worry. Some who already ordered turbines and others who were in talks with Siemens Energy say they've been left in the dark about the issues other than what the company said in its statement last week. With only a handful of turbine-makers in the market, wind-power developers don't necessarily have a simple alternative.
Among the concerned is Iberdrola SA, one of the world's biggest developers of renewable power and a former shareholder in Gamesa. The company has purchased 11 of yet-to-be-installed Siemens wind turbines based on the troubled 5.X platform. It's now conducting a thorough analysis before deciding whether to install the machines at all in Spain, according to a letter that was seen by Bloomberg News and confirmed by an Iberdrola spokesperson.
But some customers are more optimistic. For Swedish renewable power company Arise AB, one of the biggest purchasers of the 5.X turbines, problems with the turbines have been minor, Chief Executive Officer Per-Erik Eriksson said. The company has had to curtail production at a Swedish wind farm when the wind exceeds a certain speed, but that doesn't happen very often. Eriksson said he's received assurances from Siemens Energy and he wouldn't hesitate to purchase turbines from them again in the future.
"We have some issues at our project in Sweden, but I don't expect it to be a major one," Eriksson said in an interview. "In the long run, we believe Siemens will manage this."
When Siemens Wind Power merged with Spanish turbine maker Gamesa back in 2017, the new company was troubled from the start as corporate cultures clashed. Profit margins rapidly shrank as the competition raced to cut prices. After announcing losses in 2020 on the back of challenges with its India business, the company got rid of its then CEO Markus Tacke in favor of Andreas Nauen, who had been in charge of Siemens' wind turbine business, to try and stem the losses.
"Ever since the merger happened they've been having an issue integrating the Gamesa and the Siemens," said Deepa Venkateswaran, an analyst at Bernstein. "The merger was a cultural and financial failure in that sense."
But as Nauen tried to improve the company, the world moved against him. Supply-chain constraints from the pandemic and soaring commodities prices stung the wind-turbine industry broadly and helped Siemens Gamesa notch a loss of about €626 million in the fiscal year ending September 2021. Nauen promised that things were turning around and that the company would return to profitability.
Losses mounted the following year. Gamesa replaced its CEO again, bringing in Siemens Energy executive and turnaround specialist Jochen Eickholt. Since then, Eickholt has continued to face turbine flaws and post losses.