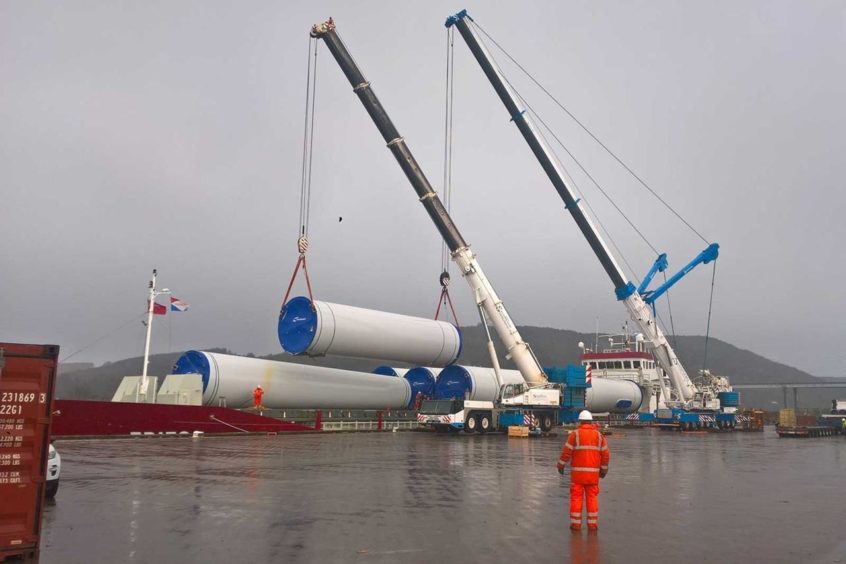 The first turbine components for a controversial onshore wind farm in the north of Scotland have arrived on site.
Plans for the Glen Kyllachy wind farm near Inverness were unanimously rejected by Highland Council in 2014 after they sparked backlash from locals.
Concerns were raised about the visual impact on the area, which already houses the 40-turbine Farr wind farm.
However, German developer RWE lodged an appeal to the Scottish Government, which then decided to overturn the local authority's decision and gave the green light for the 50 megawatt (MW) project, leaving many "incensed".
More than half a decade later and the erection of Glen Kyllachy's turbines is beginning to get underway.
RWE hailed a "milestone" for the project earlier this week after the first parts for the wind farm arrived on location – initial construction started in 2019.
The blades, hubs and nacelles, which house the generating components, for the 20 turbines will be transported from the Port of Inverness, where they arrived from Castellon, Spain, to the site, around 15 miles south of the city, over the next three weeks.
They will be followed by the tower sections, which will be slowly deliverer throughout April and May – two convoys are expected to take place per week, subject to police availability and weather conditions.
European manufacturer Nordex is carrying out the supply and installation of the turbines.
During the application phase, RWE promised Glen Kyllachy would deliver up to £6.3 million in community benefit during its 25-year lifespan.
The wind farm was originally expected to become operational in the second half of this year but work on the project was delayed in 2020 due to Covid-19.
A deal has already been agreed to sell the development to renewables infrastructure fund Greencoat UK Wind upon its completion.
Scottish and Southern Electricity Networks is carrying out a project in tandem to develop and construct a transmission connection between Glen Kyllachy and the Tomatin substation.
Recommended for you

Hundreds take part in consultation on towering 820ft Aberdeenshire wind farm