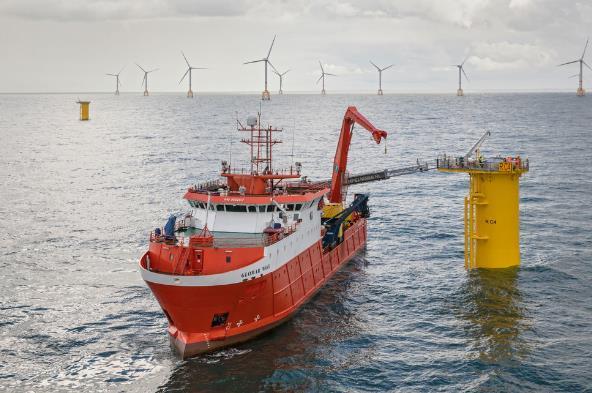 A trade union claims it has uncovered a case of the minimum wage law being "flouted" in the UK offshore renewables sector.
RMT lamented that seafarers remained "fair game" for employers looking to take advantage of a "green rush" in UK waters.
The union alleged that crew on the Panamanian-registered Glomar Wave vessel were being paid less than half of the going rate.
The ship is owned by Dutch firm Glomar Offshore and is operating out of Great Yarmouth.
It has been chartered by Bristol-headquartered remotely-operated vehicle firm Rovco to support offshore cable inspection work.
Jan-Wouter Thijssen, chief operating officer at Glomar, said the firm used an agency to crew its vessels and was working under the assumption that it was in compliance.
Mr Thijssen vowed to rectify the situation "immediately" if it turned out crew members were being underpaid.
A spokeswoman for Rovco said the company took the allegation against its subcontractor "extremely seriously" and immediately launched its own investigation.
RMT said the 16 sixteen crew members aboard Glomar Wave are Ukrainian, Filipino, Polish and Bulgarian nationals.
They are not covered by a collective bargaining agreement with UK maritime unions or with the International Transport Workers' Federation (ITF).
However, the National Minimum Wage (Offshore Employment) (Amendment) Order 2020 – in force since October – extends entitlement to the base rate to all seafarers, regardless of nationality or flag of vessel, working from a UK port to an offshore energy site.
RMT alleged that the crew on Glomar Wave received a day rate of £47.35, or £3.94 per hour for a 12 hour shift, whereas workers aged 23 or older must receive at least £8.91 per hour.
The union said it had repeatedly warned the government that seafarer pay abuse would continue to happen without effective enforcement or clear guidance.
RMT general secretary Mick Lynch said: "Seafarers working in UK waters remain fair game for employers looking to take advantage of the green rush in offshore renewables.
"In the case of Glomar Wave, we have asked the Maritime and Coastguard Agency to include crew pay in its survey of this flag of convenience vessel and we're seeking an urgent meeting with the charterers.
"We will also be raising this and other cases with the shipping minister next week. RMT will continue to fight for decent seafarer jobs across the shipping industry."
Mr Thijssen said: "We worked for the entirety of 2020 in the English sector and we were paying in accordance with ITF standards for the entire period.
"We used crewing agencies to man our vessels. That doesn't take away from our responsibility, of course.
"But yesterday we had ITF inspector Liam Wilson on board our vessel and after that we received these allegations.
"We got in contact with our legal counsel immediately and our crewing agency.
"If there are any discrepancies with regard to ITF standards and we're paying below, that will be rectified immediately, of course, because that would be unacceptable.
"We were under the assumption that we were in compliance. If not, then we will correct it.
"Now we have our legal guys on it and are in close collaboration with our crewing agents to see what went wrong."
He added: "We're here to see what's wrong, if there's anything wrong, and then to rectify it as soon as possible."
The spokeswoman for Rovco, which also has a base in Edinburgh, said: "Our staff are very well paid and our seafarers each earn wages far above the UK median household income.
"We take this allegation against one of our sub-contractors extremely seriously and are immediately launching our own investigation.
"Should we find that Glomar Offshore are breaking the UK's National Minimum Wage Law we will take immediate steps to ensure the situation is rectified or our relationship with Glomar Offshore will be terminated."
A government spokeswoman said: "Paying the minimum wage is not optional, it is the law. We are clear that no employer should short-change their workers, irrespective of size or business sector.
"HMRC consider all worker complaints received about potential non-payment of National Minimum Wage and won't hesitate to take action to ensure all workers receive what they are legally entitled to."
Recommended for you

'No shortage of workers' for North Sea roles but better terms needed, say unions