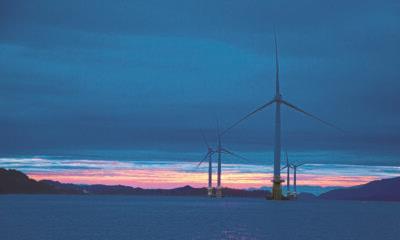 Energy services firm Proserv has been picked to monitor cables at the world's first commercial floating offshore wind farm.
Located off the cost of Peterhead, Aberdeenshire, Hywind Scotland was developed by Norwegian energy giant Equinor and started up production in 2017.
Since then it has built up a reputation as one of the UK's best performing wind farms, holding the best rolling 12-month capacity factor across for the past few years.
Proserv has now been picked to supply its pioneering holistic cable monitoring system, ECG, to Hywind Scotland.
The company will analyse the condition and integrity of export and inter-array cables across the wind farm, utilising the fibre optic cores within the cables.
Installation is scheduled to take place later this year, and the demonstration is expected to run until April 2024.
By offering comprehensive visibility across cable assets as a single package, ECG represents a "step change" in traditional monitoring methods.
It has been initiated and driven by Proserv, with support from its consortium partners Synaptec and BPP Cable Solutions.
The Offshore Renewable Energy Catapult (OREC) has also given its support to the group during the development of the solution.
Paul Cook, business development director – renewables, at Proserv said: "We are most grateful to Equinor for enabling us to supply our ECG cable monitoring solution to the Hywind Scotland wind farm and to display the potential and power of this technology, including its data analytics capabilities.
"Owners and operators urgently need a cohesive O&M strategy around their cable assets and with its scrutiny of terminations, alongside its unique predictive insights, ECG offers unrivalled visibility of this key part of an offshore wind farm's infrastructure.
"Equally, as floating wind scales up rapidly, this arrangement on Hywind Scotland represents perfect timing for us to show what ECG can do."
Earlier this year, it was announced that Proserv had secured a contract for ECG to be implemented on the first two phases of the huge Dogger Bank offshore wind farm.
Developed by Equinor and SSE renewables, the project will become the world's largest offshore wind farm once completed.
Davis Larssen, Proserv Controls chief executive added: "The deployment of ECG to Hywind Scotland marks another important stepping stone towards this disruptive technology becoming the benchmark solution for cable asset management in offshore wind.
"In a few short months we have seen ECG selected to support the operation of the world's biggest offshore wind farm, due to the strength of its proposition, and now it will be supplied to a well-established floating asset, indicating its flexibility, versatility and relevance to the entire offshore wind sector."
Recommended for you

Wind growth requires new thinking on supply chain challenges