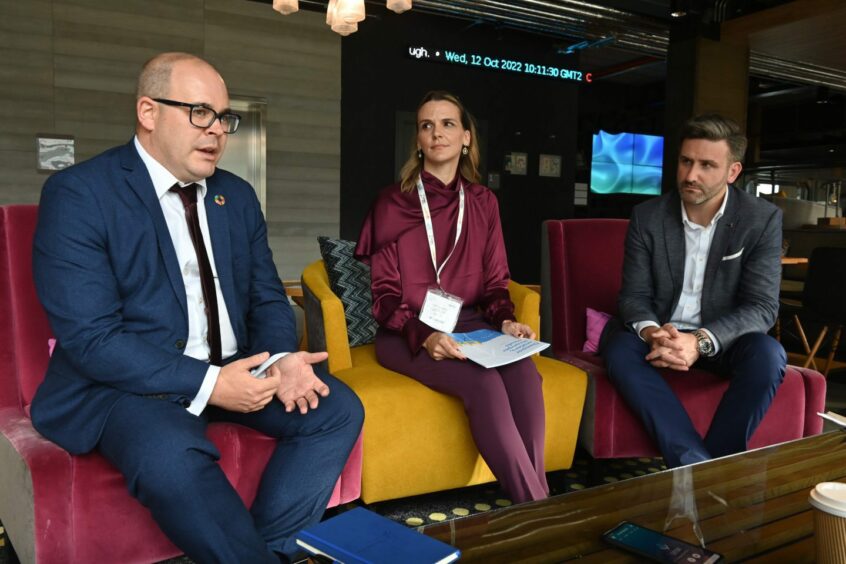 "We're hopeful we can get the seabed lease then put our foot down on delivering," is the message from the triarchy behind the Salamander floating wind scheme off Peterhead.
Danish wind giant Orsted, the majority owner of the 100MW scheme, alongside Ireland's Simply Blue Group and Subsea 7 are hoping to take the scheme forward as part of Crown Estate Scotland's INTOG leasing round (Innovation and Targeted Oil and Gas).
Awards are due in Q1 of next year and, if successful, the joint venture hopes to be up and running as early as 2028.
"We've got a very aggressive timeline to have the project in the water before ScotWind," says project director Huw Bell (on behalf of Simply Blue).
That race to beat ScotWind projects into development is a key part of Salamander's value proposition as an "early-stage stepping stone project to be able to accelerate industry learning around floating wind".
Doing so means the nascent Scottish supply chain will have the chance to work on this smaller, 100MW floating wind project, planned for 21 miles off Peterhead in Aberdeenshire, in preparation for larger developments as part of ScotWind.
"The supply chain needs these opportunities to build up," Bell adds.
"It's a huge ask to go from what we've been to date into GW-scale wind farms, so I think we'll provide that opportunity.
"The supply chain needs certainty – obviously we can't give them that until we have seabed leases and CFDs – but the fact we've got Subsea 7 and Orsted behind us, two companies that have delivered a hell of a lot in offshore wind, should give some comfort that these projects are going to go ahead."
Predictable delivery
With the "firepower" of Orsted – one of the world's premier offshore wind developers – and the "predictable delivery" record of Subsea 7, having delivered eight gigawatts (GW) of offshore wind over the last 12 years in fixed-bottom, there's confidence in the camp.
Scotland's Seagreen development is one of the "flagship" elements for Subsea 7; assembled on the country's shores through Covid from yards around the world.
That, of course, returns to the issue of developing Scotland's supply chain; it was noted at the floating wind conference last month that it "doesn't make sense" to have to be shipping these components from around the globe for Scottish waters.
"It's a challenge the industry is wrestling with at the moment in terms of maximising local content and lowest cost," says Liam Macintyre, strategy director for Energy Transition, UK& Global IRM at Subsea 7
"I think trying to find the sweet spot between those two you need a collaborative effort like this, I would say, to work through it because in a traditional contracting mechanism you can't find that sweet spot, it's too digital, if you like."
What his company brings to the table is that "predictable performance" and experience supporting the local supply chain to develop Salamander.
What about DolpHYn?
Orsted, meanwhile, takes the track record of developing huge projects, including the world's largest, Hornsea 2, "with seabed fixed and now applying all of that experience to floating," says Gabriel Davies, the firm's Global Program Director for Floating Wind.
Rather than "TOG", it's the Innovation element of INTOG that Salamander is being developed through.
"The opportunity this scale of project provides is the ability to test out, for example, installation of more than just one foundation with one turbine, but also really enables us to test out different methodologies.
"That's with continuous innovation as well which we still need to see. So while we're beyond the pure innovation point, maybe, we now need to be reducing the number of concepts and focussing on commercialisation."
Part of the innovation package includes an in-depth look at early-stage sustainability practices with the marine environment, the JV notes.
The aggressive schedule also means there's a risk of overdoing things on certain fronts. The focus so far has been on securing a grid connection, which it has.
But the partnership kept schtum on whether it will progress with ERM's Dolphyn green hydrogen technology for the project – which last year the trio were said to be exploring for Salamander.
Asked about Dolphyn, Bell says: "Our primary focus is a grid connection at the moment, that gives us our reliable route to market.
"It comes back to that confidence piece. There's an element in innovation where you can try to do too much and then not deliver on anything. So we've taken a definite, conscious decision there on the elements we think we can deliver in time for ScotWind and that involves a grid connection."
Recommended for you

EMEC Orkney floating wind site 'worth £690m' to UK