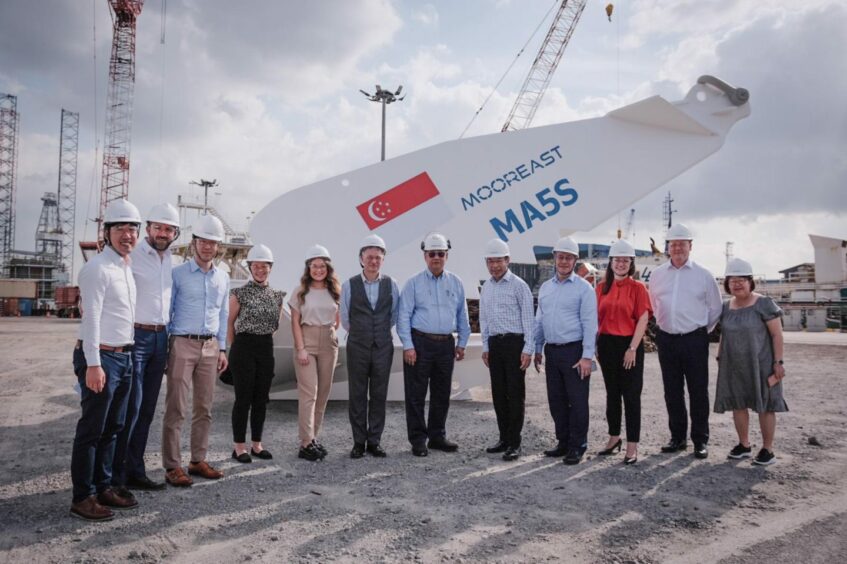 A Singaporean mooring and anchoring specialist is eyeing Aberdeen as a location for a European manufacturing facility which could create up to 100 jobs.
Mooreast Holdings has signed a collaboration agreement with ETZ ltd, the company developing the Energy Transition Zone in Aberdeen, to "explore" the establishment of a factory in Aberdeen.
Although the deal is still in "early stages", a signing ceremony in Singapore was witnessed by Scottish Trade Minister Ivan McKee who is in South East Asia on a trade mission.
Marine engineering firm Mooreast has set its sights on Aberdeen as it seeks to grow its business building subsea foundations for the offshore wind sector.
There are currently a vast range of projects on the horizon in UK waters thanks to the recent ScotWind auction, the Celtic Sea Cluster and the Innovation and Targeted Oil and Gas (Intog) project, which are expected to deliver over 20 GW, 5 GW and 4.5 GW of floating wind energy respectively.
The collaboration agreement signed with ETZ aims to identify a potential location for the establishment of a manufacturing facility in Aberdeen.
This is thought the site could be based in the Energy Transition Zone subject to "local planning regulations, development requirements and site limitations".
The organisation has also agreed to help Mooreast in developing a skills and jobs plan that will support local job opportunities as well as facilitate "introductions to key local supply chain companies required to support the start- up and future operation of the preferred site".
Mooreast chief executive Sim Koon Lam said the proposed facility will be a "cornerstone" as it grows its business in Europe.
The firm, which listed on the Singapore bourse, Catalist, in 2021, is set to benefit from a recent pledge by the Singapore government to invest $1billion in global renewables capabilities.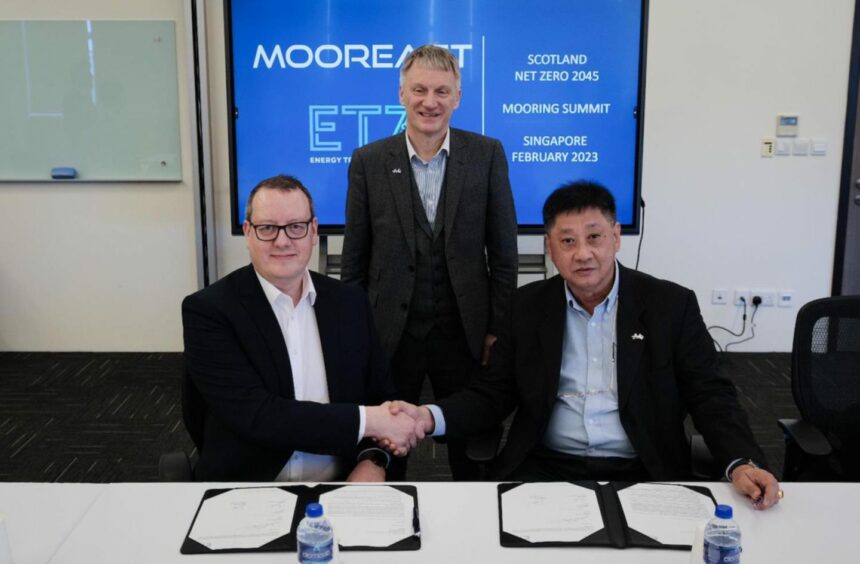 L to R: ETZ offshore renewables director Andy Rodden, Scottish trade minister Ivan McKee, Mooreast CEO Sim Koon Lam. Singapore.Mr Sim said: "Upon completion, the facility will serve as a cornerstone of Mooreast's expansion into Europe, and will enable us to produce high-quality products and services for our renewable energy customers in the region."
ETZ offshore renewables director Andy Rodden, who was present for the signing, added: "Mooreast's intention to explore establishing significant operations in Aberdeen is warmly welcome and testament to the critical mass this region has in the skills and expertise required to support such an exciting development.
"Owing to a world-class oil and gas sector, our region is home to 75% of the world's subsea engineering capability and the highest concentration of energy supply chain companies anywhere in the UK.
"We are at the very early stages of this particular process, but this potential development reflects the type of investment that will help us realise this ambition."
Mr McKee said it was "critically important" to work with inward investors such as Mooreast to "support their growth and expansion into Scotland".
He added: "It is great to witness the signing of this collaboration agreement.
"As the world's largest floating offshore wind leasing round, ScotWind puts us at the forefront of the global development of offshore wind and represents a massive step forward in our transition to net zero."
Recommended for you

AREG becomes latest group to move into Aberdeen's ETZ