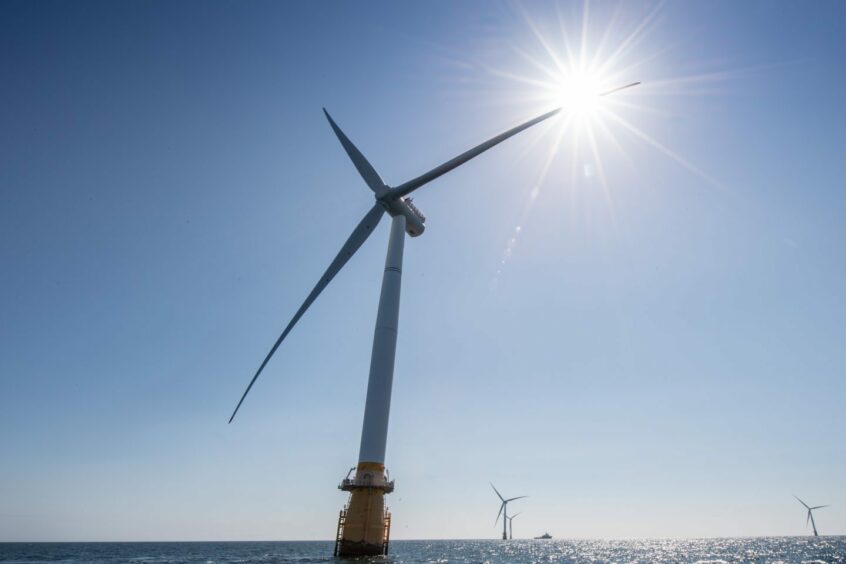 Profits from Equinor's (OSLO: EQNR) Hywind Scotland scheme surged last year as legacy renewables projects unintentionally gained from Europe's gas crisis.
In its annual report, the world's first floating wind farm, situated about 18 miles from Peterhead, reported pre-tax takings for 2022 of £27.6 million.
That is a 68% increase on the £16.4m the project made in 2021, while turnover increased by 32%, from £36m to £47m across the period.
Unlike newer offshore wind projects, Hywind Scotland isn't supported by a government issued contract for difference (CfD), which guarantees developers a fixed price for their power.
Floating offshore wind only became a distinct category for CfDs relatively recently, with the Twinhub project off Cornwall becoming the first ever floating scheme to receive such support.
That means the six-turbine development, operational since 2017, is free to sell its green energy on the open market through Renewables Obligation Certificates (ROCs).
ROCs are issued to operators of accredited renewables projects, and can be traded directly to energy suppliers, or swapped with other parties.
Market setup playing into older projects favour
Due to the way the UK's energy market functions, older renewables projects – that aren't on a CfD – have been an inadvertent beneficiary of ballooning gas prices.
Electricity prices are determined every half an hour by the cost of the last unit of energy acquired to meet demand and balance the grid.
The current intermittency of renewable energy means, most of the time, the last unit of power required often comes from gas-fired power stations.
As a result lower-cost renewable energy is sold at the same price as costlier fossil fuel-generated electricity.
Older offshore wind projects have subsequently prospered from the upswell in gas prices that sent household bills skywards in 2022 following Russia's attack on Ukraine.
Decoupling prices and enacting taxes
During her short-lived stint as Prime Minister Liz Truss tried to address the issue by decoupling the price of green energy from gas.
She sought to bring sign up older renewable projects to long-term CfDs, but was understandably met with resistance from operators.
It led the subsequent government, under Rishi Sunak, to whack electricity generators with a windfall tax of their own.
Announced by Chancellor Jeremy Hunt in his autumn statement, the electricity generator levy (EGL) sought to claw back "extraordinary profits" from companies.
A temporary tax of 45% was slapped on the sector which, when taken with corporation tax, brought the headline rate on earnings for green energy companies to 70%.
One renewables expert called it a "penalty" on offshore wind pioneers, with SSE quickly warning that it may have to give up on some projects as a result.
It had been hoped that the Chancellor would seek to remedy some of the issues with the EGL, but this has yet to happen, despite changes to the equivalent oil and gas windfall tax, much to the anger or the renewables industry.
Hywind Scotland
At the tail end of 2022 Equinor marked five years of operation at the pioneering Hywind Scotland project.
In addition to being first out of the gates, the scheme retains the title of the world's best-performing offshore wind asset.
Across its five years of operation it has achieved a capacity factor – a measure of how often a wind plant operates at its full potential output – of 54%.
With a capacity of 30MW across five turbines, Hywind Scotland uses the Norwegian energy major's Hywind floating spar-substructure concept, and generates enough electricity to power the equivalent of 34,000 UK homes.
Recommended for you

Wind growth requires new thinking on supply chain challenges