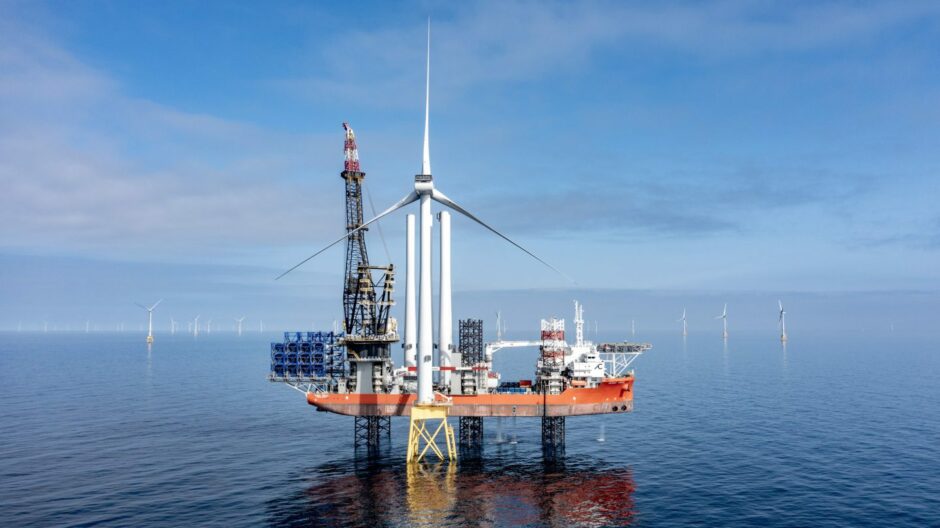 Plans to develop swathes of offshore wind turbines across the globe could be hampered as companies compete for limited resources.
Research firm Rystad is warning of a potential impending turbine installation vessel "bottleneck", made worse by structures getting bigger and bigger.
But Martin Opsahl Lysne, a senior analyst with the group, reassured a business breakfast at Offshore Europe that there is "still time" for the industry to plug the shortfall if it responds quickly.
As the offshore wind industry has matured turbines have become taller and increase in power, meaning a smaller pool of vessels capable of doing the installation work.
It also means that boats custom-built recently to fit a certain size of turbine have become obsolete.
Mr Lysne said: "Across the world there is a trend of increasingly larger turbines, and increasingly larger offshore wind projects. Asia, and China specifically, has been lagging a bit behind but when we look to the future, they're going to be pushing the turbine sizes, so there needs to be talk about this now.
"It is growing very rapidly, too rapidly some would say – it's not long ago we installed the first offshore 10 megawatt (MW) turbine, and now we're talking about 20 MW turbines. There are potential bottlenecks here, specifically on installation vessels.
"In oil and gas vessels are used to lifting things that are very heavy, but now they also need to lift things very high. New-builds have to come in, and a number have done already.
"Going forward, the largest demand will be in the 14 MW to 18MW range, and some of these projects will struggle because of this jam. We still have time if we order some of these vessels now and deliver them, but some projects will be pushed further out.
"The installation vessel market has now matured a bit; we've gone from project to project contractor works, to longer projects. We're finally seeing better rates too."
An approaching shortage of capable vessels is something that has been highlighted by other industry experts fearful it could hamper the UK's ambitions for the sector.
That is amplified by the fact that offshore renewables projects will be competing for resources with oil and gas, decommissioning and the like.
Increasing scale has also been flagged as a barrier to the standardisation of offshore wind components, something that is needed to help the supply chain develop.
"Existing suppliers have been burned by building vessels that are too small and become obsolete quite quickly. There is talk now about sticking around the 15 MW mark, but the vessel owners are looking at 20 MW turbines and are looking to improve their fleet to avoid making the same mistake again," Mr Lysne added.
Recommended for you

Cable failure top cause of offshore wind insurance claims, warns Allianz