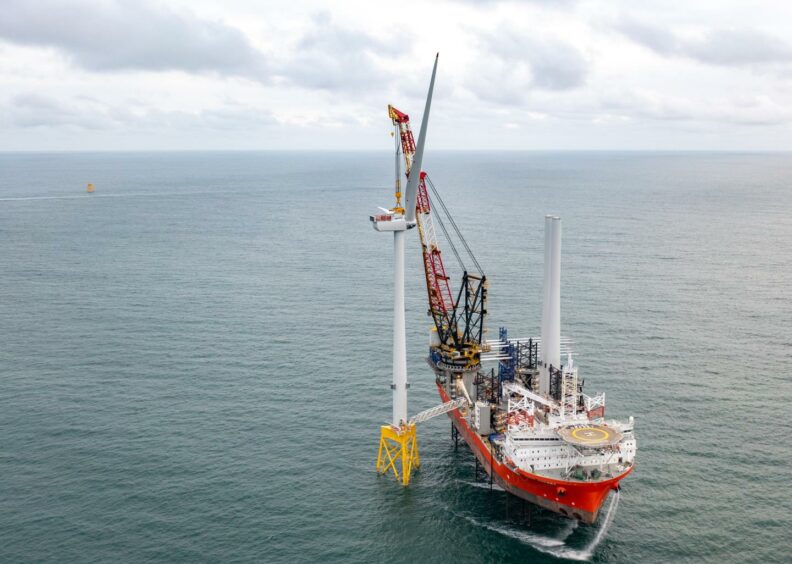 One of the big winners in the ScotWind leasing process already has its sights on securing future offshore wind opportunities.
It was announced on Monday that SSE Renewables had secured rights to 331 square miles of seabed that will support the development of a new giant floating offshore wind farm.
Secure in partnership with Marubeni Corporation Copenhagen Infrastructure Partners, of Japan and Denmark respectively, the seabed is in the E1 Zone in the Firth of Forth off the Angus Coast.
A 'natural step'
It marks SSE Renewables' first foray into the burgeoning floating offshore wind sector, which comprised the majority of the 17 projects chosen.
Stephen Wheeler, managing director of the SSE (LSE: SSE) subsidiary, said: "We've been hugely successful in delivering fixed-bottom offshore wind and doing it in very deep waters.
"Moving into floating wind was the natural next step and we see the sector as a huge opportunity, not just in UK waters, but all around the world."
A growing footprint
The seabed zone secured by the SSE Renewables-Marubeni-CIP partnership was one of the largest arease offered up by Crown Estate Scotland in Scotwind.
It also fits nicely with SSE Renewables growing offshore wind portfolio off Scotland's east coast.
Construction work on the 1.1 gigawatt (GW) Seagreen development is ongoing a relatively short distance away.
And SSE Renewables' planned 4.1GW Berwick Bank "super project" is also nearby.
Plans are already in the offing for another ScotWind round, meaning SSE Renewables may soon have a chance to grow its footprint in the region further.
Mr Wheeler said: "We are and will continue to be a national champion in terms of renewable energy in Scotland, the wider UK and Ireland. We have delivered against these auctions in the past, we're confident we will do this time, and we're confident we'll be participating in future auction rounds.
"Ultimately there is a huge amount that needs to be done to get to the Scottish Government's net zero target of 2045. The volume of renewable energy that needs to be built on a global basis is huge.
"Auctions are a key part of hitting green energy targets. I think we have the right skills, the right partners and we are making the right decision to make them a reality. Turning our promises into a reality is what SSE Renewables is focused on just now.
"We will review every auction as it comes around but we fully expect to be participating. As world leaders we should be participating and helping to bring much needed skilled jobs to Scotland."
Recommended for you

COP opens global floating wind centre in Edinburgh