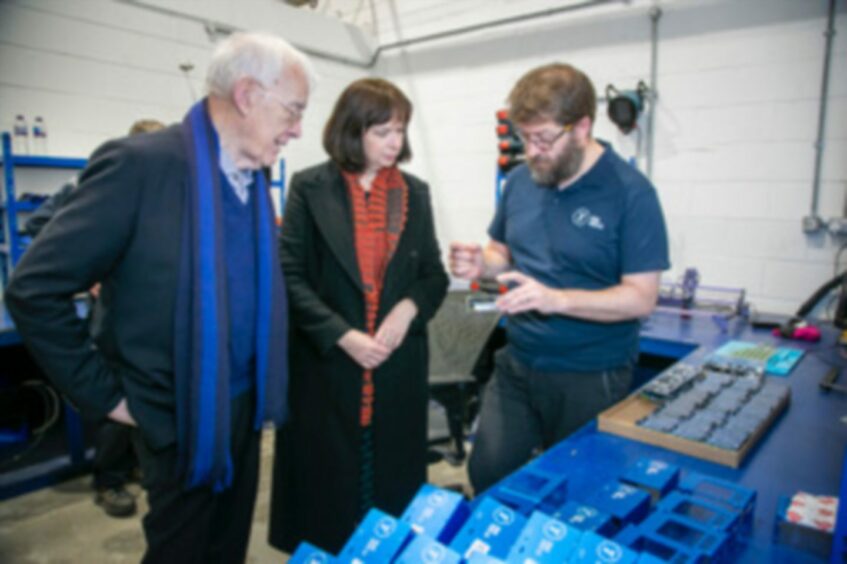 North-east electric vehicle (EV) charging firm Trojan Energy is to move its headquarters and production facility to the Energy Transition Zone within Altens Industrial Estate.
The new premises will see the cleantech business double its Aberdeen workforce to at least 50 by this time next year with the firm anticipating "significant growth ahead".
ETZ Ltd is providing bespoke accommodation for Trojan within the zone's W-Zero-1 building (formerly Richard Irvin House), alongside the ORE-Catapult National Floating Wind Innovation Centre.
Stonehaven-based Trojan was launched in 2016 to resolve the issue of charging for vehicle owners without access to off-street parking.
Customers use a lance that connects their vehicle to "flat-and-flush" charging points in the street, keeping pavements clear of clutter and fully accessible to pedestrians.
It currently has 135 charge points in operation in London and recently revealed its biggest order for on-street charging points anywhere in the UK with 510 to be deployed in Barnet.
'Proud of Aberdeen roots'
Trojan Energy chief executive, Ian MacKenzie, said: "Trojan Energy is proud of its Aberdeen roots and the opportunity to locate our new headquarters in the Energy Transition Zone is a hugely significant and positive milestone for the company.
"The move has allowed us to support our growth ambitions as we steadily build up our production team to deliver charging points for our current projects in London.
"I'm very grateful to the team at ETZ Ltd for their support in helping us to reach this point – the building has great facilities and the innovative ecosystem that is being developed in and around the zone makes this the ideal location to start and grow a cleantech business."
Since launching Trojan Energy has had support from organisations like Opportunity North East (ONE), which is chaired by Sir Ian Wood, Scottish Enterprise, Scottish Edge and Innovate UK.
The firm completed its first £1 million funding round led by Angel Investor group Equity Gap in 2020 and, since then, the company has raised a further £12.5 million investment including £9 million from the Scottish National Investment Bank.
Other investment has come from Ebico, Shancastle Investments, Scottish Enterprise, Equity Gap and Alba Equity members, and SIS Ventures.
The company is now preparing for its latest round to be completed within 2023, where it expects to raise more than £20 million.
Increased workforce
The firm currently employs 45 people at locations across the UK and expects to increase its headcount to 100 by this time next year.
Mr MacKenzie said: "Being able to draw upon the incredibly talented energy workforce across the region as we seek to increase our headcount is of major benefit to us.
"Electrification of everything that can be electrified is fundamental to addressing the climate emergency and that is the most important task for this generation's most talented engineers and technicians.
"Trojan Energy is keenly aware of the importance of achieving a 'just transition' and ensuring that the benefits of energy transition are felt by the people and communities our technology serves.
"This an over-riding purpose that all of us at the company share."
Hopes for ETZ
ETZ Ltd was established in April 2021 to deliver a purpose-built net-zero green space connected to the coastline and next to the Port of Aberdeen's new £400 million-plus south harbour.
By 2030 the project is expected to support 2,500 direct jobs and a further 10,000 energy transition-related roles across the region.
It is hoped it will play a pivotal role in establishing the north-east as a global leader in energy transition and a net exporter of products, services, technologies and skills.
Sir Ian Wood, who is also chairman of ETZ said: "It is a real privilege to formally welcome Trojan to the Energy Transition Zone. They are an extremely impressive company with ambitious growth plans both across the UK and internationally.
"The fact they have decided to commit their long-term future to Aberdeen is a major boost to the local economy and for our ambition to reposition this region as a global leader in energy transition.
"ETZ Ltd is continuing with our comprehensive investment programme to deliver market-ready properties and development sites for high-value manufacturing and the wider energy transition supply chain.
"We are confident of attracting a range of exciting companies, like Trojan Energy, to the zone as we progress with our plans."
The former headquarters of facilities management business Richard Irvin is undergoing a refurbishment which will provide Trojan space for manufacturing and office accommodation.