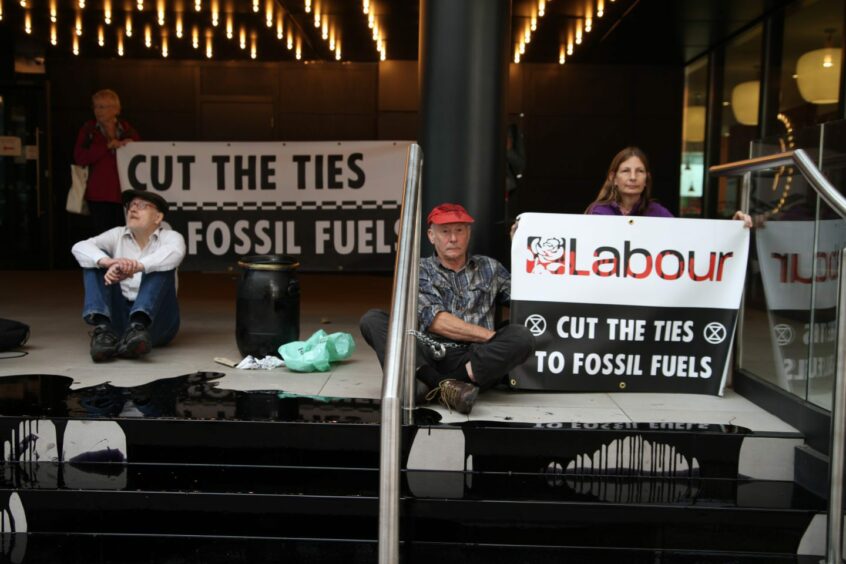 Climate change protesters from Extinction Rebellion (XR) poured fake oil and set off smoke grenades in a targeted protest at the headquarters of the Labour Party in London.
Several activists scaled the outside of the building, while others held banners demanding Labour "cut the ties to fossil fuels" as XR targeted the party for the second time in three days.
In a statement XR said protesters were demanding Labour "do more than stop issuing new oil licenses" if it wins the next election and called on the party to cancel any licences granted by the current Conservative government.
Earlier this year the UK government said it planned to issue hundreds of new licenses for oil and gas exploration in the North Sea.
The government is also expected to announce soon whether plans for extraction from the Rosebank oil field, the largest in the UK, will go ahead.
XR said campaigners are also demanding Labour include a manifesto commitment to "make the transition to renewables an urgent priority of a new Labour government".
In August, Labour leader Sir Keir Starmer said he would not rescind new drilling licences announced by Prime Minister Rishi Sunak.
Sir Keir said he would only ban the granting of new licences to explore oil and gas fields in the North Sea.
Meanwhile, Mr Sunak has said he wants to "max out developments" in the North Sea and has hit out at Labour's refusal to back new licences, claiming it would be "bad for the British economy and jobs".
XR said the latest protest is part of a series of 'Cut the Ties' actions the group launched in November last year, targeting organisations it says are "propping up the fossil fuel economy".
Recommended for you

Rosebank approval was 'litmus test' for UK offshore sector