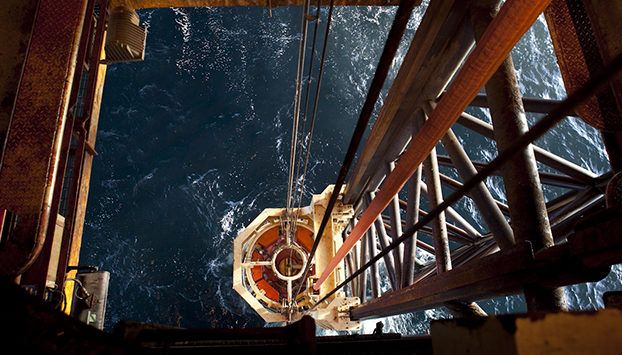 Like many North Sea oil workers, Colin McIntrye first got his big break in the industry during a chance meeting.
The 41-year-old had just completed his degree and was working as a barman in a Chinese restaurant in Aberdeen when he got talking to the then chairman of Richard Irvin.
After passing on his CV, he'd landed himself a job which saw his career go from strength to strength specialising in procurement.
But like many other workers since the global decline in oil price, McIntrye has also been victim to redundancy after losing his job in February.
He said the redundancy process had been "very hard" with being the main breadwinner in his household and a young daughter, aged four, to provide for.
Now, he has set up his own company Lean Procurement, which will specialise in consulting and training workers in the procurement field and advise on smarter supply chain management.
He has formed the first CIPS (Chartered Institute of Purchasing and Supply) training centre in Aberdeen in a decade and will begin courses from August in the city.
McIntyre said:"The redundancy process was a very hard process, among tens of thousands of others in the industry, but also I was the employee representative in the company at the time because I was heading up a department of about 12 people so I just felt because of my roll there I felt I had to be looking after the team even when I was at risk myself.
"Going through the whole process what I felt was, you learn a lot about yourself, more about your strengths and weaknesses because you're actually pushed, forced into a difficult situation.
When I was actually made redundant I thought what do I do now, I had already made inquiries for my MBA in Energy Management with Aberdeen University.
"I had selected the course because it was flexible in the sense of payment and how fast and how slow you progressed through the course. I still am juggling a lot of finances together but it was important for me to join the course just to get on the ladder."
He said since the decline in oil price he has seen changes in how procurement is managed, but the oil worker said now more than ever companies should be looking at how to purchase effectively without incurring further costs by trying to make short term savings.
"The oil price is low which means contracts from clients are harder to get so there's more and more focus on companies saving money than there ever has been.
"If you cut costs too much, areas such as quality and other costs could come in which means you're spending more money than you're saving so it's got to be done in a very clever way over the long-term.
"Production costs for a barrel of oil in the North Sea are one of the highest in the world so the whole industry just now needs to reshape itself it it's going to have a future in the long-term.
"Procurement as I said is perfectly placed to help the industry in that."
McIntyre plans to offer discounts at his classes to those who are also looking to add to their training but who may be facing redundancy after he benefited from a hardship fund as he carries out his MBA with the University of Aberdeen.
He says his advice to those also facing job losses would be to adapt to the ever-changing industry.
McIntrye added:"I've seen some people that are doing the same thing as me, waiting for job opportunities to appear, that's fine but there aren't a lot of jobs out there. I'm a big believer of doing something you haven't done before.
"The whole industry is changing, you've got to adapt along with the industry there. You can't keep doing the same thing and expect the same results back."