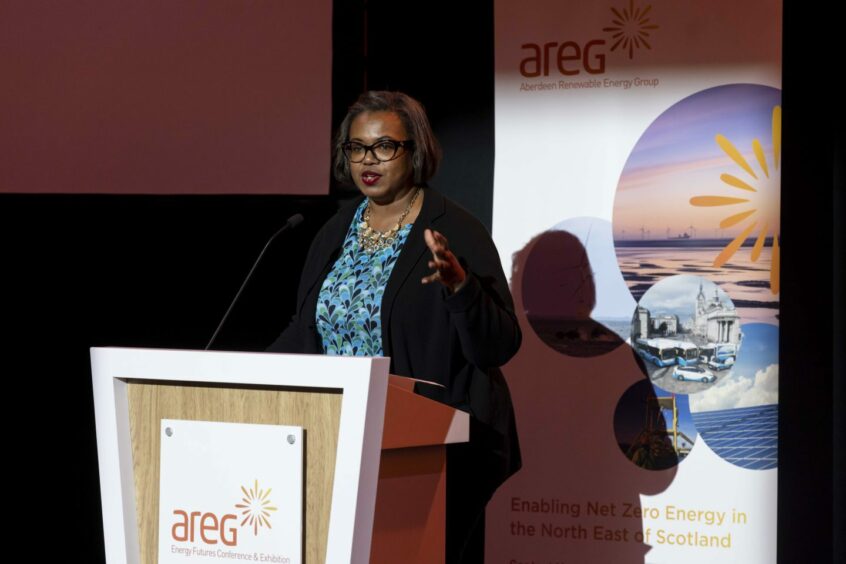 Lolita Jackson, a 9/11 survivor and sustainability investor, has told an energy event in Aberdeen about her career journey into green energy in the wake of the tragedy.
Ms Jackson was keynote speaker at Aberdeen Renewable Energy Group's (AREG) Energy Futures conference dinner this week.
She was working for Morgan Stanley on the 11th of September 2001, where she was based on the World Trade Centre's 72nd floor.
On that day 13 of her firm's 1500 employees in the South Tower died.
Reflecting on the attack, Ms Jackson recalled a key realisation: "If I can be killed at work, I better really like my job."
As a result of this thinking, Jackson left her job in 2003 and found herself working for the New York City Mayor's office three years later.
She worked in government for 15 years and has been working in climate for a decade.
Jackson moved to work in climate following Hurricane Sandy, a storm that claimed the lives of 44 people in New York City.
The New York resident now works for Sustainable Development Capital as its executive director of communications and sustainable cities where she acts as a link to governments around the world on climate business engagement.
Energy Voice asked Ms Jackson what advice she would offer Aberdeen in its energy transition.
She said: "Make it easier for the private sector to come in and bid for particular projects and don't make things take too long because you want people to be patient with you but patience can run thin really quickly.
"So to get the amount of money that will be needed to come alongside what the government plans to do, they have to get the private sector to come in but you can't have a procurement take two years."
'Groundbreaking work in Scotland'
In a conversation with Energy Voice, Lolita Jackson spoke highly of Scotland's work in the energy transition, highlighting the work of the Just Transition Commission.
She described the transition work being carried out in the country as "groundbreaking".
Jackson said: "LA used to provide one-quarter of the world's oil, so they've had oil wells for 130 years, there's significant oil infrastructure in the city now but they want to go to net zero, they want those oil wells to be closed which means those people need new jobs.
"When I was approached about this by LA I said 'Hay! There's something in Scotland called the Just Transition Commission and they're talking to people about this! They went up to Aberdeen and had a meeting with the oil workers.'
"So I connected the LA Mayor's office to the Just Transition Commission here. That's just one example of the learnings Scotland can be helpful with."
"The US has taken a back burner" to hydrogen energy, says Jackson.
During AREG's event in Aberdeen the sustainability investor was looking forward to hearing about hydrogen and offshore wind in Scotland, explaining that the country is "way further along" in those fields that the states.
"Obviously offshore wind is way further along here, in the United States there is one working offshore wind farm, the rest are piloted or in discussions but there's only one that is actually working.
However, there is still work to be done if Scotland wants to meet net-zero targets.
Lolita Jackson said that she is currently in talks "with people of all levels of Scottish Government, both council leaders and people in main government" and her main piece of advice to them on improving the transition is "have your mind open."