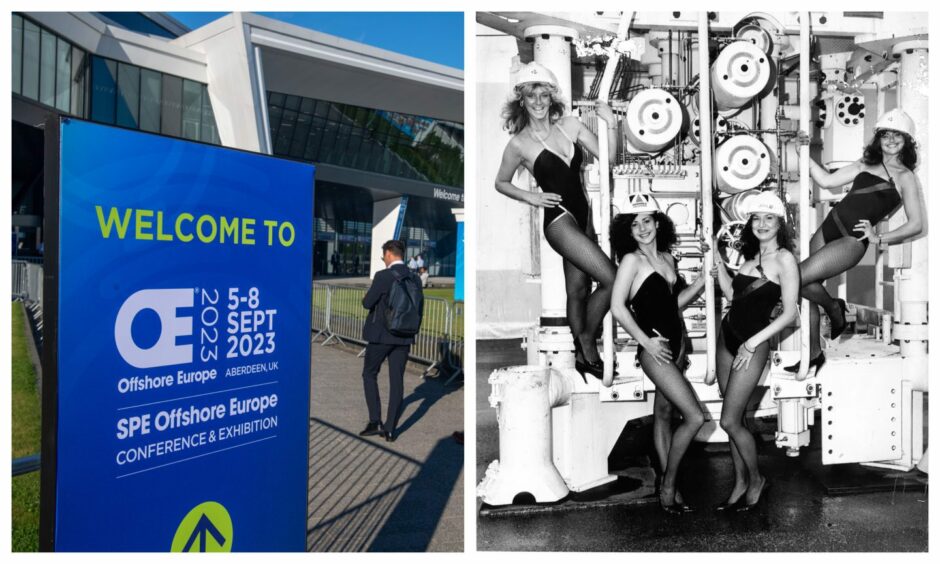 Aberdeen cross-industry gender equality group AXIS Network has published a scathing assessment of the lack of diversity shown at Offshore Europe, held in Aberdeen this month.
The group says that "the bikinis may be gone" from Aberdeen's premier energy conference but it left Offshore Europe asking the "same questions."
AXIS listed complaints about the event and how it missed the mark from an inclusivity perspective. The group highlighted the lack of gender diversity on panels, the irritations of parents at the event and industry policy being stuck in the past.
AXIS Network said: "Some of you may know AXIS was founded at Offshore Europe in 2013.
"We looked around at that conference in 2013 and asked ourselves, 'Where are all the women?'"
'Like the energy transition' diversity needs 'effort and investment'
The group turned its attention to the now infamous all-male panel at Aberdeen and Grampian Chamber of Commerce's business breakfast breakfast which kicked off the showcase.
Referring to what is now known as the 'manel', an AXIS blog post says "Not a single panel member gave an adequate response" when asked about the lack of diversity shown.
The group conceded: "It wasn't all Scottish voices, and we don't know their background stories – people are complex, and of course not all facets of diversity are visible."
However, it drew attention to one audience member labelling the panellists as allies.
AXIS said: "The problem with having 'allies' speak on behalf of others, is that it silences the voice of the marginalised."
The group likened the effort to increase diversity within the sector to the gradual transition that energy is making towards renewables.
The Group said: "Like the energy transition, changing the demographic of our employees, our conferences and our events requires effort and investment."
Aberdeen and Grampian Chamber of Commerce was asked for comment.
Following its formation, the end goal for AXIS Network "is to no longer exist, because we are no longer required," writes the group.
Looking at the points made by AXIS, it is clear that the gender equality group still has work to do a decade after its inception.
'One set of new parents took over an hour'
Ahead of the Aberdeen event, there was some confusion over the admission policy for parents and babies.
The Society of Petroleum Engineers (SPE), the team behind Offshore Europe, said parents with young children are welcome.
However, new mum Jennifer Maclennan was advised of a "blanket policy" that no children were allowed at the event ahead of doors opening on 5 September.
Conference organisers Reed Exhibitions (RX) later issued a clarification and an apology, noting that Ms Maclennan had received incorrect information.
Despite clarification that parents could bring their children to the show, AXIS reports that "One set of new parents took over an hour to get through the entrance"
AXIS say the parents took part in "a game of hokey-kokey-entrance" before being allowed onto the show floor.
The group said: "Many new parents are keen to remain connected to their sector during periods of caring leave and be involved in what is an important biannual event.
"For those with very young children, often the only practical option is to take the baby along – especially when breastfeeding. "
AXIS followed up by saying: "We could forgive the organisers if this was a blip as it was day one of the event, their first since 2019, and babies at a conference is a new concept expect this exact same issue made national headlines in 2015. "
Jonathan Heastie, portfolio director – energy and marine at RX, co-organiser with the SPE, commented: "D&I is an extremely important subject and is a cornerstone of the event planning for SPE Offshore Europe.
"By welcoming a wide range of voices, backgrounds and perspectives, we greatly enrich the SPE Offshore Europe experience and learnings.
"We believe that good progress was made this year, particularly with the launch of the Future Talent Hub and Talent Investment & Diversity Events (TIDE) programme which brought together a series of topic-specific sessions and workshops in the conference rooms and show floor theatres.
"Sessions such as 'POWERful Women', 'Fostering a truly inclusive workplace' and 'Does diversity help the energy transition?' were well-received.
"However, we recognise that there is always room for improvement and we would be pleased to discuss ways that AXIS Network can help us to shape the D&I content to deliver a welcoming and vibrant experience for all at OE25."
Workers 'demand something different'
AXIS says that Millennials and Gen Z "demand something different" as people look to work in more diverse spaces.
The group says the reason the changes being demanded by this generation of workers aren't being met is that "companies have systemic problems that do not support diverse employees."
AXIS says: "Our industries have policies and processes that were developed based on how people lived decades ago.
"Whilst some inclusive leaders are setting the standard for our industry and making positive progress towards inclusive workplaces, many leaders still demonstrate that they don't buy into the benefit of diversity."
The group later asked: "As an industry that needs to desperately change, and frequently asks, begs, and pleads for new talent to come in, why are we not weaving D&I into every discussion just like safety and ethics? Why is it always the side show, a tick box?
"Is it because leaders and organisers don't see it as important? Do they simply not understand the business benefit, or does having one D&I event mean the industry is ticking that box?"
Female representation in energy firms
POWERful Women found earlier this year that as little as 29% of board seats in the overall UK energy sector are held by women in 2023.
In the Annual State of the Nation report it was found that a number of firms had no women in their senior leadership teams.
Lack of female representation is an issue that comes from the top down as Alix Thom, workforce engagement and skills manager for the trade body Offshore Energies UK (OEUK) told Energy Voice earlier this year.
Ms Thom said that between 3.4 and 3.6% of the offshore workforce are women a figure that she said had remained "stubbornly static."
Recommended for you

Taking advantage of the 'internal talent marketplace'