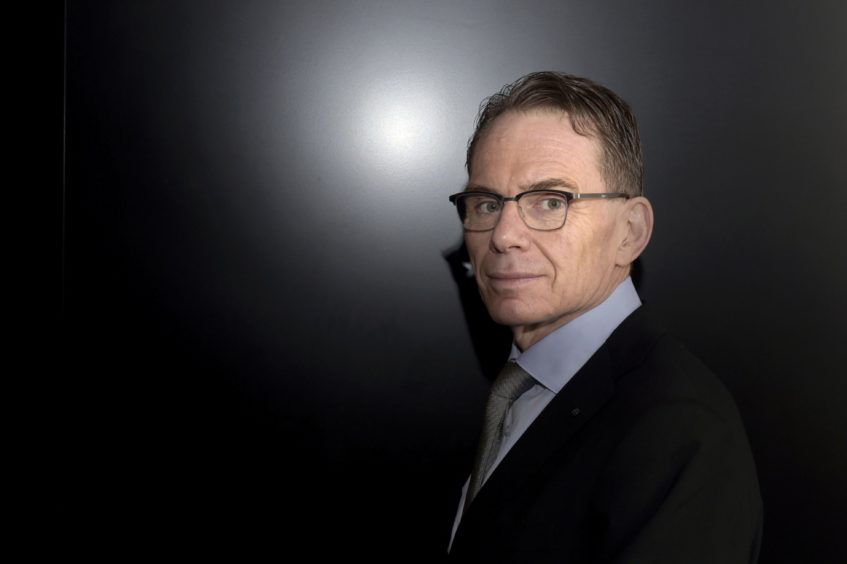 British-Dutch energy giant Shell has announced the appointment of Scotland-born geologist Sir Andrew Mackenzie as its new chairman.
Mr Mackenzie, who grew up in Kirkintilloch, near Glasgow, will replace Chad Holliday, who is stepping down on May 18 after six years in the role.
The company also published its annual report today, showing chief executive Ben van Beurden's total remuneration for 2020 came to £5.2 million, down from £8.75m in 2019.
Mr Mackenzie joined Shell's board last year after a distinguished career in the energy, petrochemicals and resources sector.
Most recently, he was chief executive of BHP from 2013 to 2019.
From 2004 to 2007, at Rio Tinto, he was Head of Industrial Minerals and Diamonds.
Prior to this, over a 22-year career at BP, he held senior leadership roles in exploration, research and development, and chemicals.
His contributions to geochemistry and earth science led to his appointment as a Fellow of the Royal Society in 2014, and he received a knighthood in 2020 for his services to business, science and technology.
Mr Holliday said: "I am delighted to welcome Andrew as my successor.
"I have nothing but confidence in Shell's bright future – the challenges of the past year only strengthened my conviction in the company as I watched colleagues across the business find strength to sustain vital energy supplies in the most exceptional circumstances.
"Andrew brings a wealth of leadership and sustainability experience, scientific curiosity and commercial acumen that ideally equip him to help Shell navigate the energy transition and deliver on the far-reaching Powering Progress strategy.
"His track record in business performance transformation also means he brings all the skills and rigour needed to guide Shell's management in all their most significant decisions."
Mr Mackenzie said: "It is a privilege to be appointed chair of this great company, particularly at such a pivotal time for the industry and wider society.
"I am honoured to succeed Chad, whose chairmanship of the board I have much admired and who I know will be warmly remembered.
"I have been delighted already to have played a part in the shaping of the compelling strategy that Shell has recently unveiled.
"I believe Shell has an exceptional portfolio of future-facing assets and I look forward to working with Ben van Beurden and the board to profitably accelerate Shell's transition into a net-zero emissions energy business that continues to generate substantial value for shareholders, customers and communities alike."
Mr van Beurden said: "Chad's first-class frontline business experience, tireless commitment to the highest standards and clear vision were all instrumental in making Shell the resilient business we have shown ourselves to be. We thank him for his leadership over the last decade.
"I am looking forward to working with Andrew. We are emerging from the Covid-19 pandemic with a clear and distinct strategy that I believe will enable us to seize the opportunities presented by the energy transition. I cannot think of anyone better than Andrew to take this role."
In addition, Shell announced that Sir Nigel Sheinwald, non-executive director, chair of the safety, environment and sustainability committee and member of the nomination and succession committee, will not stand for re-election at the 2021 AGM, having served as a director for nine years.
Shell also announced its intention to propose to the 2021 Annual General Meeting that Jane Lute be appointed a non-executive director of the company with effect from May 19, 2021.
Mr Holliday said: "I would like to thank Nigel for his contribution to the Board. His distinguished track record in public policy offered a unique perspective on important matters, including sustainability, that have come to form an intrinsic part of our strategy to power progress.
"I would also like to welcome Jane who brings diverse experience from the military, from security and public policy leadership roles in the United Nations and the US government, and most recently a focus on the critical risk area of cyber-security. She will be a valuable addition to the board."
If the proposed changes are approved by our shareholders at the annual general meeting, the Shell board will, for the first time, consist equally of men and women.
Recommended for you

van Beurden defends record Shell profits in face of soaring energy bills