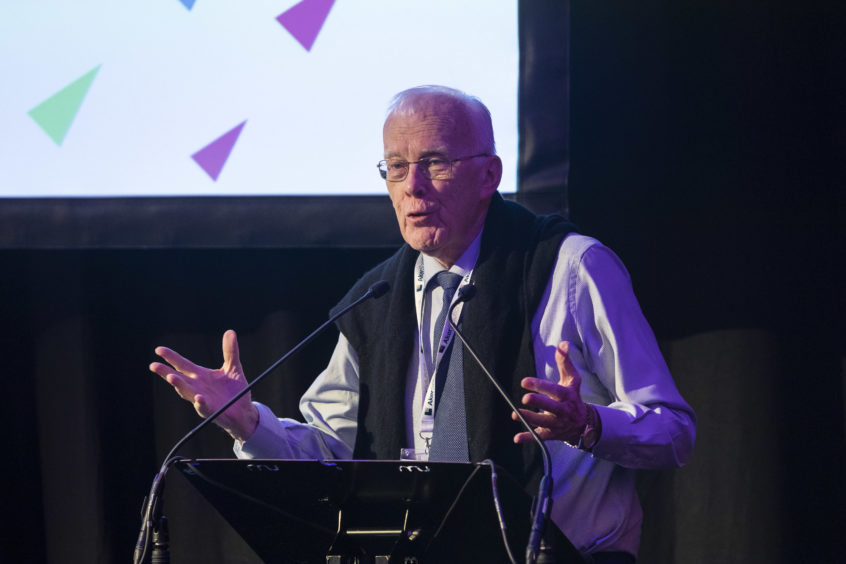 Sir Ian Wood has criticised governments for removing overseas trade support for oil and gas activities, saying it won't reduce carbon emissions "one inch".
On the day it announced the landmark North Sea Transition Deal, Westminster confirmed it was removing state backing for supply chain export activities involved in overseas hydrocarbon projects.
The policy kicked off in April, although there is a one-year grace period for small businesses to help them adjust.
Similarly, Holyrood is planning to call time on all overseas trade support for firms solely focused on oil and gas ahead of the COP26 climate conference in November.
The announcement in January sparked concern from industry chiefs, with fears the shift could deliver a hammer blow to firms still recovering from the industry downturn.
And Sir Ian has now added his name to the list of those worried about the potential ramifications of removing export support.
Speaking during the opening session at the Energy Industry Council's (EIC) Energy Exports Conference, the veteran businessman said: "It's a really bad decision. I can see no meaningful, positive outcome from withdrawing export support, especially for small and medium sized companies.
"What we need to do is develop our energy supply chain overseas – that would be greatly aided by having an oil and gas supply chain, which is now probably going to fall away. There's very high synergy between oil and gas, offshore wind and carbon capture and storage (CCS) – working together they could undoubtedly cooperate and help each other internationally.
"Stopping our SME oil and gas supply chain from operating overseas cuts off the development of energy transition activities there and what's more, it won't reduce carbon one inch. If small UK companies aren't doing it, then local companies will."
Instead of focussing on winding down oil and gas operations, Sir Ian called for policy makers to direct their focus towards hitting net zero.
Westminster and Holyrood have legally binding targets to reduce emissions to net zero by 2050 and 2045 respectively.
Meanwhile, several of the oil and gas industry's largest players have pledged to axe their operational emissions over the coming decades.
Sir Ian said: "The Oil and Gas Authority estimates that we may still be producing as much as 300,000 barrels of oil equivalent a day in 2050. But, to do this the UK must at least stay with our maximising economic recovery programme for oil and gas, which conflicts with the popular UK Government mindset that we must cut back our oil and gas production as soon as possible – all that will do is increase our imports and that simply doesn't make any sense.
"And we can do this within the net zero programme. We can cut back on the level of carbon being produced by oil and gas production to get it down by more than 60% by 2050 using carbon capture and storage, and the potential to convert gas into hydrogen should enable us to meet the net zero targets.
"It's also important to remember that the UK is second only to Norway in terms of successful programmes to reduce carbon from its production. Most other countries don't have the same focus and therefore imported oil and gas will definitely mean more carbon.
"So, our focus must be on achieving net zero and not on how quickly we can stop oil and gas production."
Sir Ian also said he was "absolutely delighted" to see plans to curb North Sea exploration shelved.
It had been feared earlier this year that Westminster was lining up to pull the plug on new oil and gas activities.
The UK Government subsequently confirmed that it wouldn't be pushing ahead with the proposals.
Sir Ian said: "I'm absolutely delighted that government has taken a much clearer line in terms of the suggestion that it might cut down the timetable for offshore exploration and production.
"That, I hope, has gone away. It makes no sense at all because the UK needs energy through the 2050 and 2060 and if we don't produce it, we'll import it – that's just crazy."
Recommended for you

Sir Ian Wood joins Energy Voice ETIDEX event