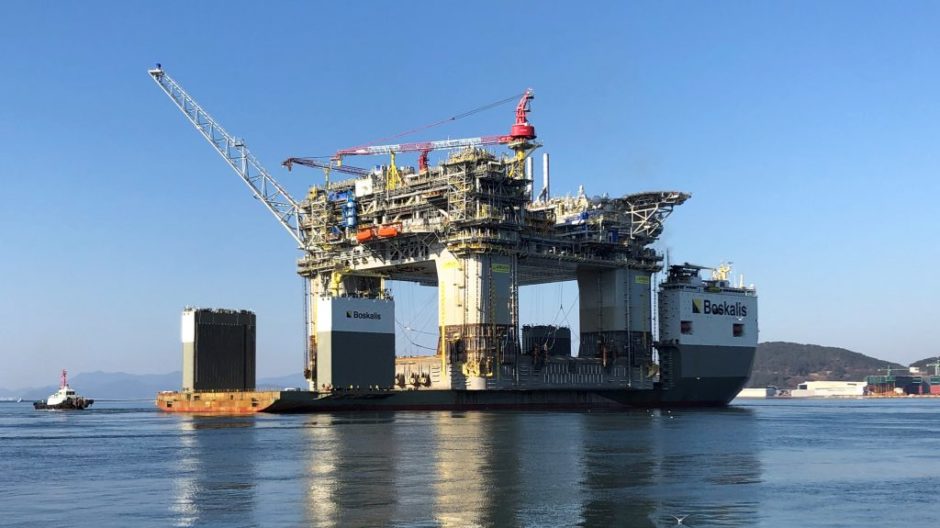 Gas and condensates dominate the top 10 largest oil and gas fields due online in 2022, according to new analysis.
Even as oil demand continues to outstrip supply, and prices look set to remain volatile this year, gas comprises seven of the largest ten field developments expected online this year.
Analysis compiled by GlobalData suggests these ten developments represent some 0.3% of total global upstream production in 2022, and 0.7% of remaining recoverable reserves.
While the fields are geographically diverse, resources are more concentrated, with reserves at South Pars Phase 11 and Semakovskoye developments comprising 45% of the total.
South Pars Phase 11, Iran
Phase 11 is the last phase in the process of full development of the South Pars gas field, which spans the Iran-Qatar border in the Persian Gulf.
National Iranian Oil Company (NIOC) had initially awarded development rights to a consortium of TotalEnergies, China National Petroleum Corporation International (CNPCI) and Petropars. However, with foreign firms tied by the impact of US sanctions, Petropars has been left as the sole remaining party.
Wells are currently being drilled and NIOC has said bringing the field into production remains a top priority for 2022.
With over 2 billion barrels of oil equivalent (boe) in recoverable resources, the Phase 11 development will have a production capacity of 2 billion cubic feet (bcf) per day, or around 370,000 boe per day (boepd).
GlobalData expects production of around 100,000 boepd this year.
Semakovskoye, Russia
The Semakovskoye gas field is located in western Siberia, around 75 miles north east of Yamburg. It lies on land at the Taz Peninsula and extends offshore under the Taz Bay in the Kara Sea.
Development is being undertaken by RusGazAlyans, a 50:50 joint venture between Gazprom and RusGazDobycha. The group made a final investment decision (FID) on the project in mid-2020.
A total of 19 wells are planned to exploit more than 2 billion boe in recoverable resources, or 320 billion cubic metres (bcm).
Later phases of the project will see additional extended-reach drilling (ERD) wells sunk, as well as construction of a production complex on an artificial island to target the offshore portions of the reservoir.
Gas output will be fed into Gazprom's existing transmission infrastructure.
GlobalData expects production of around 10,655 boepd in 2022.
25 Years of Independence (M25), Uzbekistan
25 Years of Independence (M25) is a sour gas field Uzbekistan's southern Surkhandarya region, near the Afghan border.
It is the country's largest undeveloped gas field, holding around 150 bcm in proven and probable reserves, or around 790 million boe.
The project is being led by a group of investors which include ALTMAX, and Gas Project Development Central Asia, backed by Russian entrepreneur Andrey Filatov and Uzbek state-owned Uzbekneftegaz (UNG), while Russian banks have signed up to provide $900m in finance.
Development of the field includes plans for a gas processing facility capable of handling 5bcm per year, scheduled for completion in 2022. A second phase would see a polymer gas-to-chemicals plant built by 2025.
GlobalData expects production to hit around 12,213 boepd this year.
Assa North-Ohaji South (ANOH), Nigeria
Assa North-Ohaji South (ANOH) is one of Nigeria's largest gas condensate projects to date, and one of the government's seven Critical Gas Development Projects (7CGDP).
Located in Imo State, around 47 miles from Port Harcourt, its upstream element is spearheaded by a joint venture operated by Shell Petroleum Development Co. (SPDC), alongside Seplat Petroleum.
Gas processing facilities are also being developed by Seplat and the Nigerian Gas Company, a unit of Nigerian National Petroleum Corporation (NNPC).
Recoverable reserves amount to some 784 million boe, spanning the OML 21 and OML 53 licences.
Gas will come from four wells in OML 21's H1000 reservoir and two wells in OML 53's H4000 reservoir, producing around 600 million cubic feet per day. Half of this output will feed a gas processing plant with 300 million cubic feet (8.5 million cubic metres) per day of capacity, located in OML 53.
Start-up for the delayed project is now slated for mid-2022. GlobalData forecasts that production will average around 18,535 boepd during the year.
Coral Sul, Mozambique
Coral Sul will see the development of gas resources in Area 4 of the Rovuma Basin, off Mozambique's eastern coast. The Coral reservoir holds an estimated 450 bcm, or around 782 million boe.
The project involves producing and selling gas from the southern part of the Coral field, using a floating plant for liquefying natural gas (FLNG), linked to six subsea gas producing wells in around 2,000m of water.
The 432m FLNG plant weighs about 220,000 tonnes and will produce up to 3.4 million tonnes of LNG per year. It arrived in Mozambique in early January 2022, ahead of deployment to the field later this year.
Partners in Area 4 include Galp, Kogas, the Mozambican state company ENH and Mozambique Rovuma Venture (MRV), a joint venture of Eni, ExxonMobil and CNODC, which holds a 70% interest.
Eni has led on upstream development and production phase in the offshore, while ExxonMobil leads construction and operation phase of LNG facilities onshore.
BP has signed up to buy production from the project for 20 years, with an optional 10-year extension.
First gas is slated for mid-2022, and GlobalData forecasts average production of 39,043 boepd this year.
Liza Phase 2, Guyana
The Liza Phase 2 development, located in the prodigious Stabroek Block off Guyana, is expected online by mid-2022. Targeting resources of around 680 million boe, the next phase of the project will output up to 220,000 bpd via the Liza Unity floating production storage and offloading (FPSO) vessel.
According to operator Exxon, approximately 30 wells have been drilled, including 15 oil producing wells, nine water injection wells and six gas injection wells.
Global Data expects around 78,910 boepd of production online at Liza Phase 2 this year.
The first FPSO, the Liza Destiny, is already producing 120,000 bpd. Exxon discovered Liza in 2015, and began producing from the prospect in 2019.
Exxon said it expects there to be six projects online by 2027. This could rise to 10, in order to develop all discovered resources.
Absheron, Azerbaijan
The Absheron gas condensate field is located in the Caspian Sea, about 100 kilometres south of Baku and around 35 kilometres east of the giant Shah Deniz field.
Gas was first discovered in 2011, and work began on a one-well US$1.2 billion early production scheme (EPS) in 2017, targeting resources of some 584 million boe in water depth of around 500m.
Production from the first phase is expected to reach up to 35,000 boepd, with about 2,370 boepd expected online this year, GlobalData forecasts.
TotalEnergies operates Absheron with a 40% interest, alongside SOCAR (40%) and Engie (20%).
Pegaga, Malaysia
Mubadala operates the gas field development offshore Sarawak in Block SK 320, alongside partners Petronas (25%) and Shell (20%). Resources at the field are estimated at 565 million boe.
Output is forecast at up to 5.2 bcm per year and will feed the Binutlu LNG export plant. GlobalData expects around 29,786 boepd of production online this year.
Drilling at the field wrapped up in August 2021, and first gas was initially slated for the third quarter of 2021, but was delayed due to additional requirements for a mercury removal unit.
Start-up was recently tipped for Q1, possibly as early as January.
Mad Dog Phase 2, US Gulf of Mexico
The BP-led Mad Dog Phase 2 is targeting recoverable reserves of 515million boe.
The second Mad Dog development comprises a new floating production platform – Argos – with the capacity to produce up to 140,000 gross barrels of crude oil per day from up to 14 production wells.
The platform will be moored approximately six miles to the southwest of the existing Mad Dog platform, which is located in 4,500 feet of water about 190 miles south of New Orleans.
GlobalData expects production at the project to average around 103,134 boepd this year.
BP has a 60.5% working interest in the field, alongside Woodside (23.9%) and Chevron (15.6%).
BP discovered the Mad Dog field in 1998 and began production with its first platform in 2005. Continued appraisal drilling on the field during 2009 and 2011 doubled the resource estimate at the field to more than 4 billion boe.
Vito, US Gulf of Mexico
Located 150 miles southeast of New Orleans in depth of 1,219 metres, the Vito field is operated by Shell (63%) alongside Equinor (37%). It will target recoverable resources of 300 million boe.
Once online, peak production is estimated at around 100,000 boepd, though GlobalData expects production to reach around 46,320 boepd in 2022.
Originally planned as a tieback to the Appomattox facilities, the field's size prompted a standalone development, which will now comprise eight subsea wells with in-well gas lifts, and a 39,000-tonne, four-column semi-submersible floating production unit (FPU).
The Vito regional production facility (RPF) was completed by Sembcorp Marine and delivered on 27 December 2021. The platform departed Tuas Boulevard Yard for Singapore's anchorage to prepare for loadout. Final sailaway to the Gulf of Mexico field is expected in summer 2022.
Recommended for you

Exxon starts up third Guyana FPSO, on track to double production