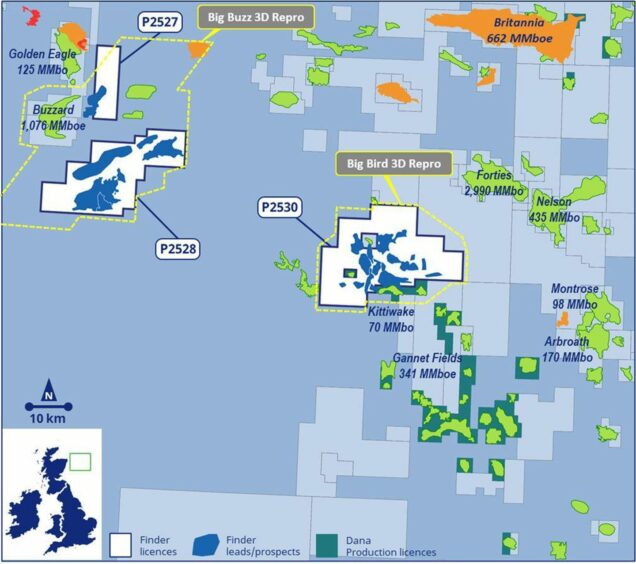 Australian-based Finder Energy has announced it has signed three farmout transactions with Dana Petroleum in the UK central North Sea.
The deal sees the Aberdeen headquartered firm take over a 40% interest in P2527, P2528 and P2530 (demonstrated in the graphic above).
Finder will receive cash payments on completion totalling £1.3 million (£1.13m).
Dana is an existing joint venture partner of Finder in P2502 in the East Shetland Basin.
Finder has licensed 3D seismic datasets and recently completed two major high-end PSDM-FWI 3D reprocessing projects over P2527, P2528 and P2530, called the 'Big Buzz' and 'Big Bird' 3D Repro Projects.
The Australian company has said: "The results of the reprocessed datasets have exceeded Finder's expectations with both showing significant improvement in imaging at the target objectives"
Regions P2527 and P2528 are near the CNOOC Buzzard oil field, and this news comes seven months after the Australian firm announced its acquisition of the licenses.
The licences lie around 62 miles east-north-east of Aberdeen, containing the "White Bear" prospect, however, at the time of acquisition Finder did not disclose estimates for recoverable resources.
Under the deal Finder struck earlier this year, the firm acquired a 100% interest in P2527 in return for granting Talon a right to 12.5% of gross income received by Finder in relation to P2527 (for example, any cash received for farmout or divestment).
Finder Energy chief executive, Damon Neaves, said: "Dana Petroleum's like-minded exploration strategy, development and production capabilities as well as ownership of proximal North Sea infrastructure makes them a partner of choice for Finder and demonstrates the significant potential for further value-accretive deals from our ILX strategy. We are very pleased to build on our existing partnership with Dana. These three deals represent a significant expansion of our mutual aspirations in the North Sea, with a focus on prospectivity around the giant Buzzard Oil Field."
Recommended for you

Well Slot: Who's drilling in the UK North Sea and Norway?